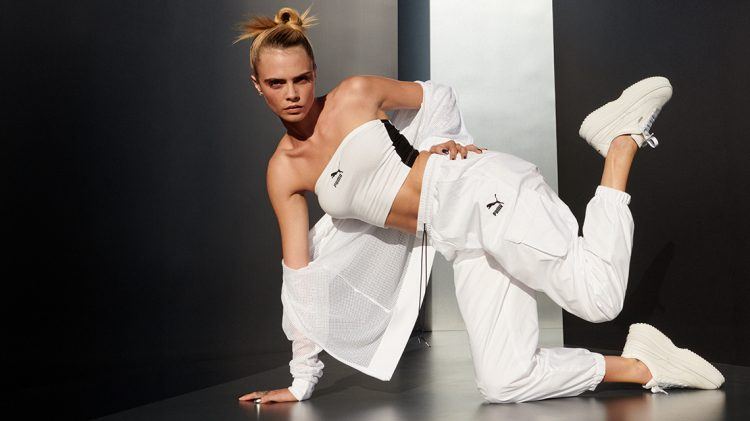 Steal the Style
Breezy & Bold:
Deva White
A bright white essential to light up your day
April 18, 2020
A bright white essential to light up your day
April 18, 2020
Nothing quite says spring like a crisp white top and blue jeans combo, made all the more stylish when matched with a killer pair of sneakers. We were inspired by the
bold PUMA Deva White

to create an outfit that shines bright and feels like a breath of fresh air.
The Shoes
Starting off with an impressive foundation: the PUMA Deva White presents an edgy all-white silhouette and stacked sole that encourages you to strut your stuff. This stylish shoe isn't trying to be subtle – we're talking confident curves and a chic monochromatic palette.
The chunky midsoles lend some extra height for a more elevated stance that will make you feel like you're walking on air. White leather PUMA Formstrips on the upper and a spotless rubber outsole for extra grip are the final details to finish off this breezy and bold shoe.
The whole Outfit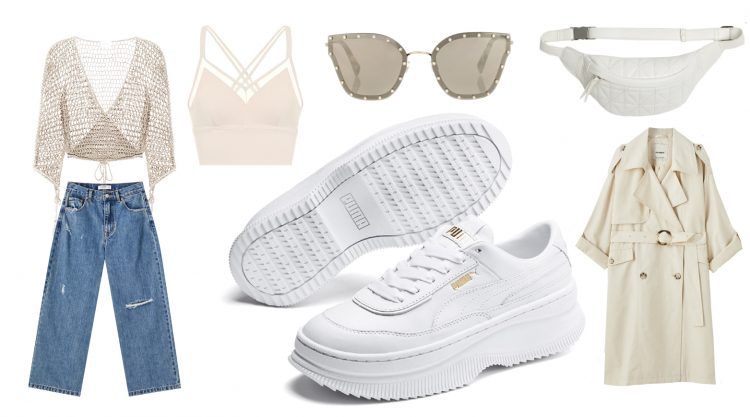 The Outfit
Simple yet eye-catching, a (mostly) all-white outfit expresses a personal poise that will be noticed. By playing with different textures and fits you can get creative and soften things up, to build a look that maintains the high-fashion monochrome effect but is comfortable enough for daily wear.
So, without further ado, we want to introduce this fabulous double-breasted trench coat. With a slightly exaggerated shape, trendy lapel and deep pockets, it is sure to get some appreciative nods. This style of collar has been trending on the runway and begins to hit the streets with its more modernized take on the funky disco collar.
Next up we have a playful crochet wrap top. Off-white and flowy, it looks a bit like an heirloom you discovered while raiding your beloved grandmother's closet. However, this classic and comfortable piece is going to be super popular this spring, as crochet and other nostalgic textiles are staged to make a major comeback in the contemporary fashion scene.
Beneath the casual cover-up we went with a cheeky sports-bra turned crop top. To be honest, crop tops are timelessly cool. We thought the criss-crossing straps were a playful take on the classic streetstyle basic, making it the perfect (slightly edgy) addition to harmonize the outfit.
Finishing off we have a pair of jeans culottes. Culottes are a mood in and of themselves, and a prime example of a classic favourite made modern. We love the way the bright blue of the jeans material supports the rest of the white ensemble and serves as a kind of vogue reference to the classic white T-shirt and blue jean garb. Plus, the blue jeans really make the bright Deva Whites pop.
The Accessories
Last but not least we arrive at the accessories. To shade your eyes from the emerging sunshine we choose a chic pair of butterfly-shaped sunglasses adorned with delicate white crystal. Stylish and elegant, you can hold your head high in these bad boys. Tying things up we have a quilted belt bag, once again bringing an alternative texture and white hue to keep things creative even when sticking to a single shade.
With the PUMA Deva Whites you will feel light and confident every step of your way. In this outfit, flowing fabrics and interesting details interplay with the all-white essential to keep things creative and fun. Play around and see what works for you, knowing you can't go wrong with this fresh and fun shoe.