Get the Look
Get the Look:
PUMA CALI REMIX
Where nostalgia and progression go hand in hand
October 2, 2019
Where nostalgia and progression go hand in hand
October 2, 2019
Sunshine, bright colours, living in the moment – what seems like a utopian fantasy can be reality on the Westside – in California to be precise.
Commemorating the 80s Californian lifestyle, PUMA's CALI Remix is a stylish ode to retro vibes, Venice Beach mornings and,
the feeling of a never-ending vacation.
Free yourself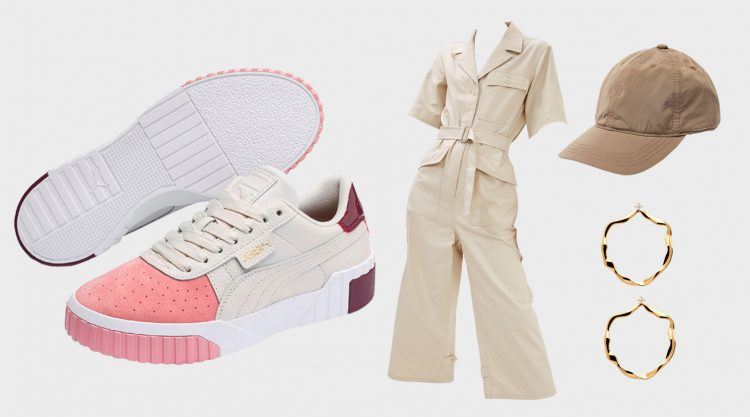 The Outfit
What could transfer that feeling into your casual everyday (work) life better than a jumpsuit, that frees your mind from unnecessary concerns, offering a space of freedom and flexibility. A model in a lighter colour allows the shoes to be the star of the outfit and fits into nearly every lifestyle and closet.
Those who like to be more independent, outside and inside their closet, can chose a simple skirt and shirt combo. Be it a black denim or a airier, pastel coloured model – this combination works every day and throughout the transitional season. In combination with the CALI sneakers you can be both: casual classy on the way to a meeting while fitting in countless activities in your free time.
While PUMA kept the original form and the model's characteristic rubber sole colours-wise the new version got a bold remake. While they still come in classic black and white, PUMA also just launched the hibiscus coloured pair, that reminds us of famously breathtaking sunsets in California.
Casual classy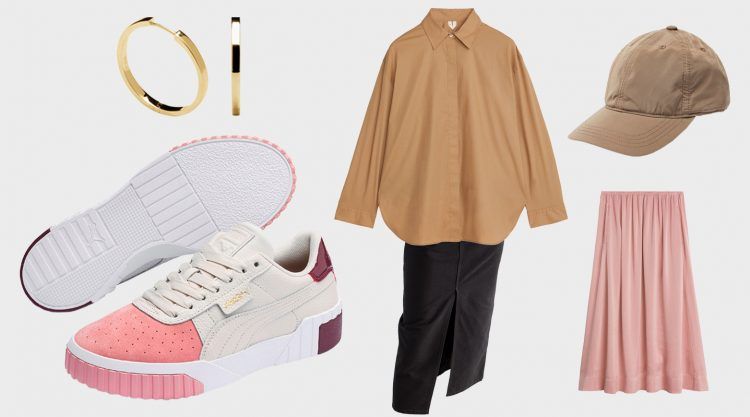 The Shoe & Accessories
But not just the colours are eclectic – the material mix of suede, leather and patent make the CALI sneakers a perfect blend with other accessories.
Apropos accessories – what would be a better fit than the timeless easiness of a base cap to make sure you are safe in every (weather) condition – be it to protect you from boiling Californian sunshine or a shield to hide from autumnal rain drizzle. Missing a glamorous addition to your overall look? A pair of thin hoops will add some last sparkles to your outfit.
Extra tipp: just keep them in your bag during the day and put them on as a nice gesture when the work day is done, to celebrate the freedom.
The only thing you might still be missing is that plane ticket to California….