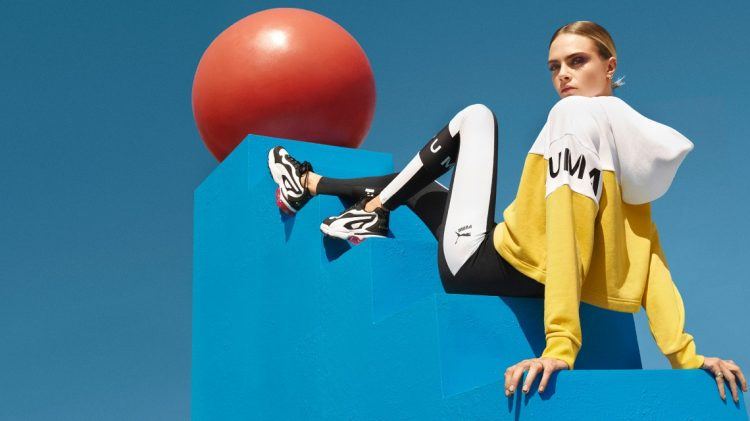 Get the Look
Two ways
to style
CELL Stellar
Retro has landed in the Blogosphere
August 19, 2019
Retro has landed in the Blogosphere
August 19, 2019
PUMA Cell stellar is out and surpassed our stellar style expectations. The
classic 90's Retro-Vibe combined with distinct feminine overtones turned heads all year long.
The trippy layer-arrangement of black and white with the intense pink cell bubble is a sure star in every outfit. That's  why we made the
Cell Stellar crash into the Blogosphere.
Today we present you
two style-guides

our two Bloggers have come up with. Get ready to get launched into new heights of Style with the Cell Stellar!
Style Guide from Kristine
Athleisure at it's best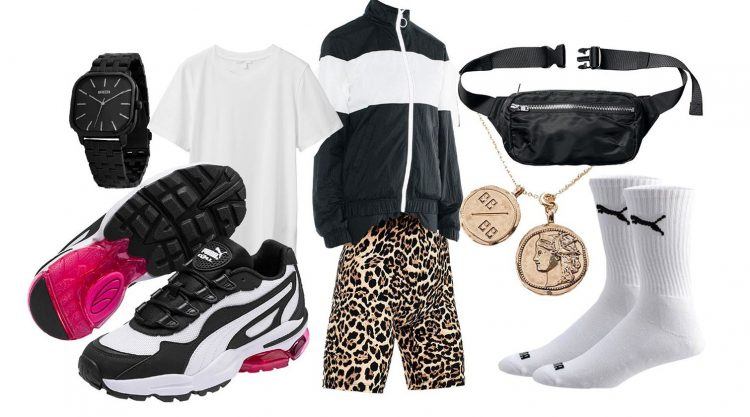 The PUMA CELL Stellar shoe is a simple yet bold item, perfect for making a statement on the streets. In case you were wondering how to incorporate these sneakers into your everyday look, I have rounded up the latest fashion trends and paired them together with a few classic pieces to give you some unique outfit inspiration.
Athleisure is a trend that keeps on giving and these bike shorts lend this outfit an effortlessly cool look by combining cycle style with another statement fashion trend that is roving wild at the moment. Loud leopard print is proving to be a favorite amongst the fashion-aware and has appeared in a variety of garments this season. The playful animal print turned into low-key cycle shorts makes a bold statement that is still comfortable enough for everyday use.
Stylish and functional, the black waist bag we have chosen is a popular "It" item right now. A retro accessory that has made a massive comeback, the bag is a nod to the popular fad of the 80's and 90's making it the ideal accessory to pair with the equally retro CELL Stellar sneaker. Small, slung over the shoulder and out of the way, it is a practical and stylish compliment to any outfit.
A crisp white jersey tee is a wardrobe staple, here acting as a neutral base to balance the other (louder) outfit items. Paired with simple, minimalistic pendant jewellery, a black watch and super-comfy white PUMA crew socks you have the perfect foundation to build the rest of the outfit from. By incorporating a few simplistic elements into a bolder look, you can keep the overall statement comfortable and flawless.
Wrapping it up, this blocked tracksuit jacket is another reference towards sport-inspired street style. Classic and fresh, the white and black blocking is versatile and agrees with the overall statement while still being slightly out-of-the-box. Plus, the layered colours match with the sneakers to effortlessly link the outfit from top to bottom.
Last but not least, the CELL Stellar shoe ties the whole look together. With its chunky design and clean black and white colour scheme, the shoe has a distinct 90's aesthetic. But it's the little details — the vibrant splash of pink, translucent rubber outsole and metallic heel branding —that gives the shoe its fun and feminine twist. Super comfortable, designed with CELL cushioning technology, this shoe is made for stepping out and hitting the streets.
Bright colors and bold prints, this outfit dares you to put your best foot forward with confidence. Don't be afraid to play with what makes you different — it is probably your most interesting quality.
Style Guide from Jeanne
A bold choice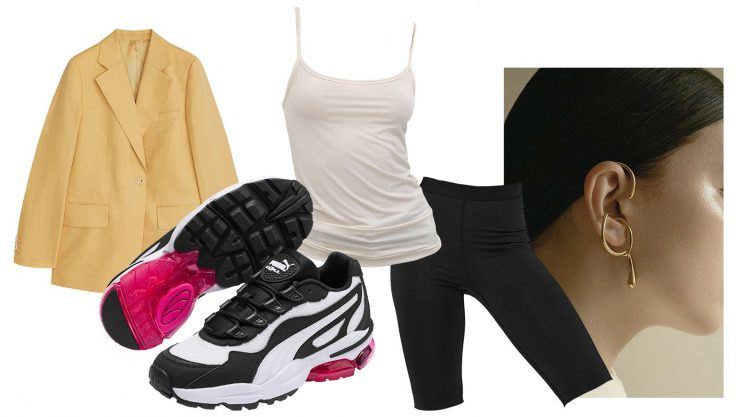 If there is one trend to be named this summer that is both surprising and also inevitable it's the bicycle shorts. Who would have thought the stretchy and certainly not always flattering item, only Princess Diana could pull off in a fashionable way, would make it from high street to runway and back on the streets across the globe. Yet, seeing it in the various implementations, suddenly it all makes sense. It is a comfortable item to last with you throughout long days at the office and short nights, bold but wearable. Characteristics it shares with the Puma CELL Stellar.
The CELL Technology, was introduced and celebrated in the 1990s for its cushioning and flexibility enabling strong movements – characteristics that remain relevant – even more so than trends based purely on aesthetics. Back to the future, the CELL Stellar – modeled by no one less than the bold Cara Delevingne – comes with a new silhouette and feminine touch that blends in with the style of confident women who live an active lifestyle, without needing or wanting to fit in a(ny) box.
In combination, the CELL Stellar and a simple pair of bicycle shorts are a match made in style heaven. No matter if you choose the black-white color blocked or the vibrant pink model, you will bounce and dance from your morning workout to business meetings and onwards to the after-work drinks with friends. And all of that without the annoying habit of stressing and changing in between? How? Just layer it! A minimalistic will be a practical yet beautifully simple companion for both morning and evening activities while the comfy linen-cotton blazer will add a casual-chic and comfortable element to go with and on your working day self.
Craving for more eye (and ear) candy? How about an edgy ear peace that will add an extraordinary highlight to your everyday look and make a statement:
Be confident and let your look underline, not define, you.