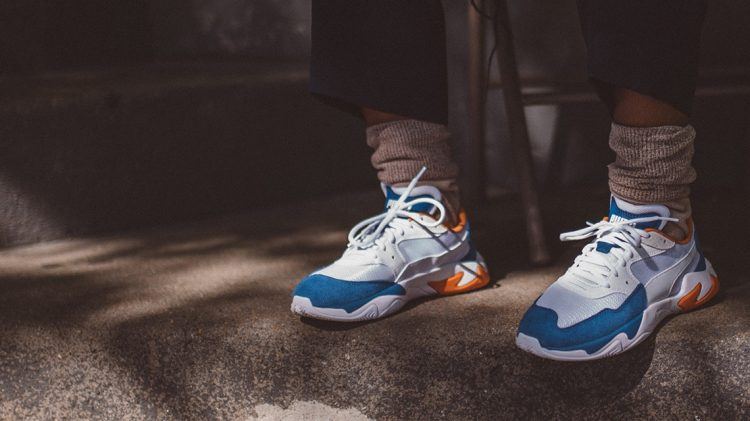 Get the Look
Get the Look:
Storm Adrenaline
A fashionable outfit for your "everyday look" inspired by the PUMA Storm Adrenaline
September 11, 2019
A fashionable outfit for your "everyday look" inspired by the PUMA Storm Adrenaline
September 11, 2019
Modern yet classic, funky but subdued; an
outfit inspired by the PUMA Storm Adrenaline is all about
subtle juxtaposition.
Celebrating the elements of nature, this fashionable ensemble is still perfect for an 'everyday look' that lets you stroll into the autumn months in style.
PUMA's Storm Adrenaline comes in a simple yet sporty design. The sneaker features a breathable mesh and light blue suede set off by pops of orange detailing, all complemented by a clean white base.
We see the orange peeking out and think of the sneakers crunching through fallen leaves of the same colour soon to be scattered on the ground, while the blue tone is a nice reference to dramatic and adrenaline-inducing storm clouds.
The Outfit
Zipping up, we jump to the cheerful striped shirt, rocking a color pattern similar to the sneaker.
This is deliberate — the matching colours draw the eye in a line to create a sense of movement and harmony in the outfit. The modern, vertical stripes and funky colors add a dash of playful energy to the entire piece.
The whole Look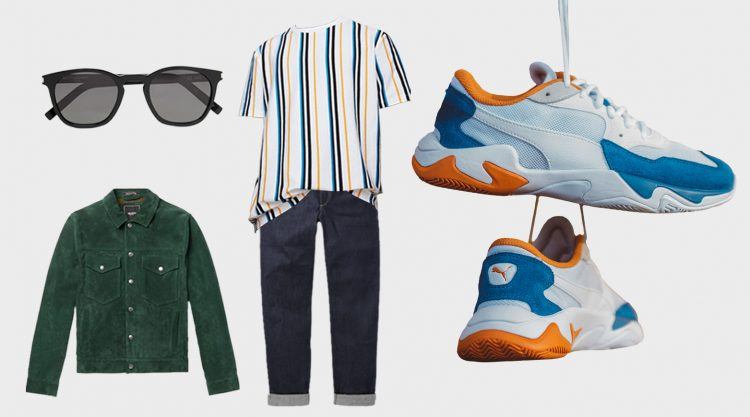 Framing the t-shirt, we have an earthy green suede jacket reminding us of a thick forest.
The rich colour has shown up liberally in the fall/ winter 2019-2020 color trends, guaranteeing this piece to be a fashion-forward choice.
Now let's talk about the material — suede is perfect for that breezy transition between seasons and gives off a low-key luxury statement. Suede jackets are a timeless item, a classic that remains effortlessly fashionable. Plus, the suede on top matching the hints of suede in the Storm Adrenaline shoes below is another tiny outfit ingredient elevating the whole look.
Dark wash blue jeans are the foundation of this outfit.
Comfortable mid-rise, clean and slim shape, the quality matches the rest, but keeps the whole thing casual. Lightweight, slightly rounded black sunglasses continue this casual-cool feeling, while protecting your eyes from the elements.
The colors
Natural greens and dark blues are the perfect accompaniments to the coming of the colder months, staples that open up a range of wardrobe options.
Going with earthy colours is a good way to stay on trend, without falling back into the monotony of grey and black. Add to these staples some funky patterns, playful colours and an awesome shoe, and you have a look that is all about the contrasts—casual and cool enough for everyday but still fashionable.