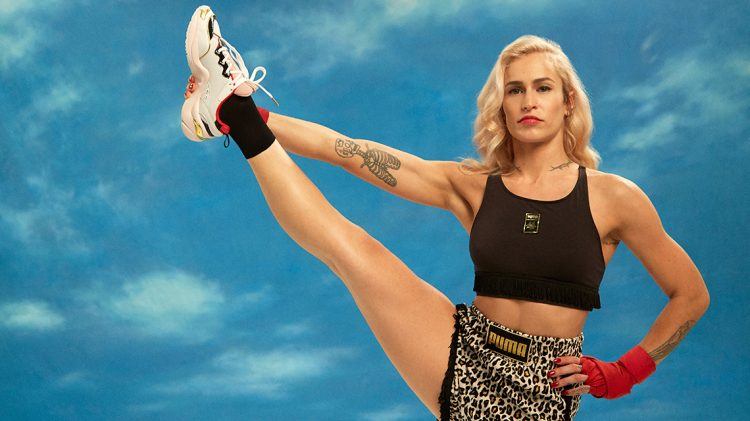 Steal the Style
Cozy Meets Sexy:
Charlotte Olympia Rise
Your Springtime knockout transformation
April 4, 2020
Your Springtime knockout transformation
April 4, 2020
The weekend is here, and we set out on a reader-inspired mission. The challenge: to find an outfit that was
glamourous yet totally cozy,

while still managing to radiate an effortlessly chill vibe.
That look is here — inspired by the new PUMA x Charlotte Olympia Rise collaboration. We went for a style that screams low-key luxury. A runway hybrid, where the home-leisure look meets fashion. Let's start at the bottom, and work our way up. Then we'll end with some fresh ideas on how to match the look with the figure with some home-based workouts.

The Shoes
Streetstyle meets Hollywood glam in this footwear friendship. Charlotte Olympia, known for high-end shoes and accessories, delivers a signature playful and flashy aesthetic to the characteristically cool PUMA sneakers. The two have teamed up for a collection of boxing-inspired footwear, apparel and accessories to help you knockout your spring fashion looks.
In the new PUMA x Charlotte Olympia Rise a mesh upper with black leather overlay frames the feminine silhouette, while glitz and glam detailing draws full attention to the shoe. Its pale pink midsole and glittering gold heel speaks to those with a penchant for luxury and an eye for detail.
The Outfit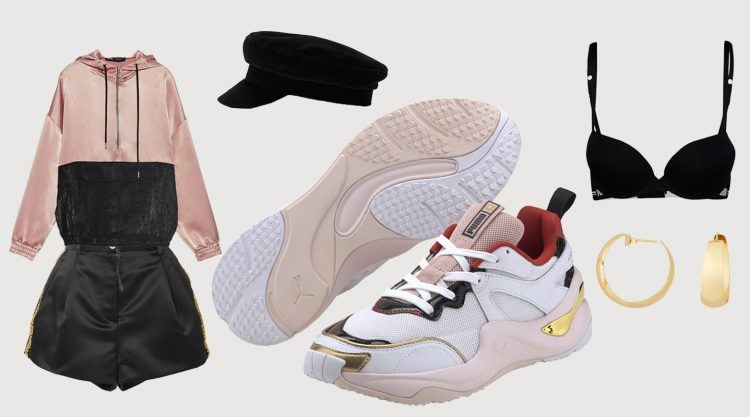 The Outfit
Running with this theme of old school Hollywood glamour with an athletic twist, we chose a satin pouch pocket jacket to go up top. The soft pink colour and lavish material plays off the colour scheme of the shoe and showcases the same extravagant, urban feel. Tucked below the jacket (for only you to know) we went with a classic black T-shirt bra by PUMA. Comfortable as heck, but still stylish.
Next up: who wears short shorts? Honestly, a lot of us — especially when the sun starts to shine. Hot pants are staging a triumphant comeback on the runway this spring, and we aren't mad about it. These tailored shorts are embellished with gold detailing and have a slightly high-rise waist to give you some structure below the slouchier jacket. We thought that they were also a more subtle take on the flamboyant boxing shorts seen up in the ring. Plus, they are made of that delicious satin material, further blurring the line between sleepwear and streetwear. Who ever said fashion couldn't be comfortable?
If the weather is still a bit cooler where you are, take inspiration from the Chanel runway and try styling a pair of black tights with these short-shorts for a chic and chill addition.
The Accessories
The final blow — simple and stylish accessories.  A pair of golden dome hoops flash from the ears, emphasizing that elegant and effortless feel that emanates from the entire ensemble.
Topping it all off we have a black corduroy newsboy cap, the trend that has come and gone and now come again. Casually stylish, newsboy hats are a fun change of pace from the usual ballcap, making them the perfect wildcard accessory.
The Workout
If you need a workout to go with those knock-out looks, check out the PUMA Instagram channel this weekend. You'll find some fantastic live workouts there with Kory Flores, golfer Tisha Alyn (Saturday @12pm EST), Ricardo & Nadine (Sunday @12pm EST) and another great workout with Bradford Rhamlow at @PUMAPerformance (Sunday, time TBD). All workouts are available for 24 hours after they take place from a mobile device. And stay tuned for plenty more great workouts in the coming weeks!!!
With the PUMA x Charlotte Olympia Rise crossover enjoy a luxurious take on the classic sportstyle. Pair with an outfit that is equal parts comfort and glam to stay stylish and serene as you soar into spring.
This Springtime is ours for the taking. Make these days count by becoming the hottest, fittest, most ambitious version of you.