Get the Look
Get the Look:
FUTURE RIDER
Ride On!
Casual and cool get your retro on
February 22, 2020
Casual and cool get your retro on
February 22, 2020
Channelling
80's vibes for the modern fashionista,

the recently released FUTURE RIDER Ride On is

vintage, vibrant, and oh so comfortable.

Sometimes the trendiest pieces require an understated touch, so for the accompanying outfit we went with a kind of aggressively casual athleisure look. Styled in not one but two amazing ways.
The Shoes
A reimagining of the iconic FAST RIDER that was first released on the streets in 1980, the FUTURE RIDER Ride On maintains the signature playful and casual-cool feel, just slightly revamped for the next generation.
Neon colour blocking radiates a distinctly retro vibe, and while the lightweight deconstructed upper lends a more subtle silhouette, the tech within the sneaker is anything but. Federbein shock absorption, new RIDERFOAM and bright red TPU heel stabilizers mean that this shoe is super versatile with strong performance capabilities (on top of being super stylish).
Outfit #1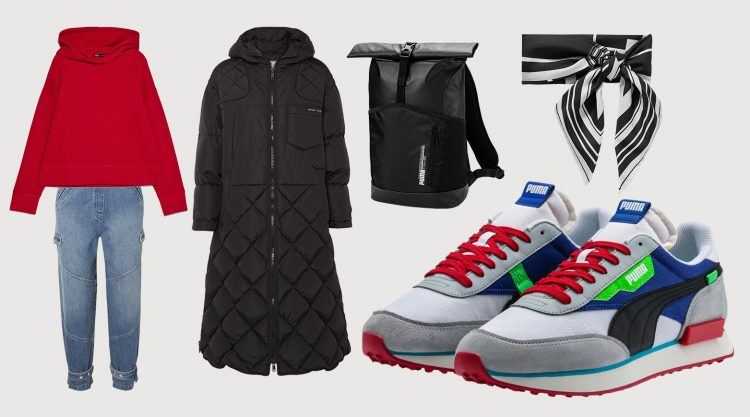 The Outfit(s)
As the FUTURE RIDER Ride On is a unisex creation, we present two outfits with overlapping, interchangeable elements.
Up top we went with a puffer jacket—a practical winter item that is all the rage at the moment. The puffer experienced a huge fashion spike in the 1980's and is seeing a resurgence everywhere on the streets today. Cosy and cool, it depends on the outline you desire: a trench coat style is slightly bolder and creates a long slimming line, whereas the regularly cropped jacket gives a milder and more laidback statement look.
Below we went with a bold red hoodie, matched to the vivid colour of the sneakers and working to brighten up the whole look. If you want to experiment a little, try an unusual, A-line cropped hoodie, otherwise you can stick with the classically oversized sportstyle fit; both are effortlessly cool.
Once again, with the bottoms you have choices. One option is to go with a more fitted pair of tapered jeans to give you some shape in all those draping fabrics. Their light wash and blue tone also lighten up the overall colour palette. Otherwise opt for a comfy pair of black trackpants—perfectly versatile and fashionable, ready for the street or the gym.
Outfit #2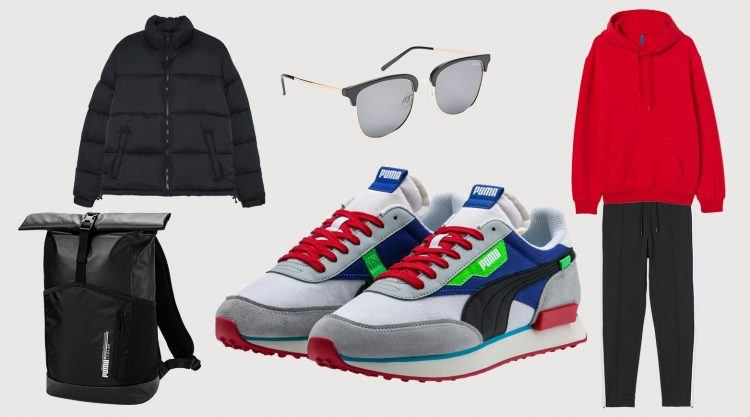 The Accessories
Sticking with the bold retro theme, a flashy patterned scarf makes for a delightful final addition. Tie it around your hair or neck for a playful and fun flair. Or slip on a sophisticated pair of aviator sunglasses for that subtle and understated aura.
Finally, grab yourself a sturdy backpack to store all your belongings. With a highly structured and industrial design, this style of bag is seen everywhere in contemporary fashion and wraps up either ensemble perfectly.
With the FUTURE RIDER Ride On think fun, flexibility and freedom to explore. The unisex design reminds you that you can be fluid in your expression: go bold or slightly more subtle depending on what you feel. Taking cues from the athleisure trend that began to emerge in 80's, we move into a comfy and stylish future where anything can happen.