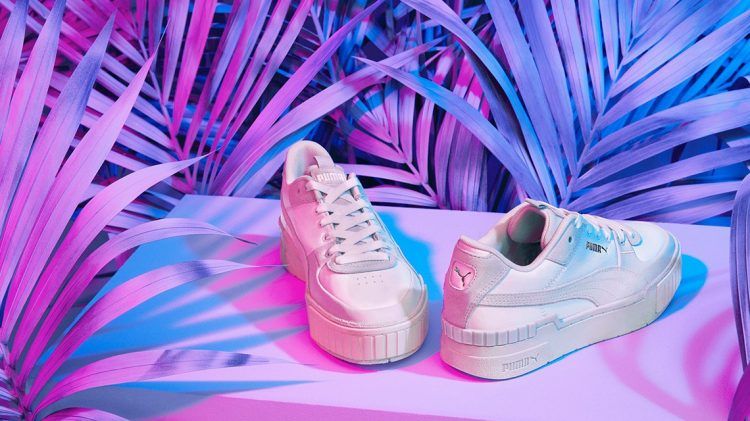 Get the Look
Get the Look:
CALI Sport
Level up your femme style
March 16, 2020
Level up your femme style
March 16, 2020
Futuristic femme, but retro… is that a thing? In this look, it sure is. Tones of crisp white and soft pink framed by chic black, this ensemble draws its inspiration from the newest evolution of the classic California sneaker.
Mixing elements of old while exploring what is currently in vogue,

say hello to the darling-yet-daring CALI Sport.
The Shoes
A crisp silhouette with a chunky white platform, these sneakers provide lightweight, cushioned support while serving you retro vibes. Sporty and stylish, with a soft fusion of nude, white and grey shades. The CALI Sport also layers up on textures: leather, suede and rubber. With a delicate zigzag stitching to finish, they are basically the perfect everyday sneaker, able to pair well with whatever look you are in the mood for.
The Outfit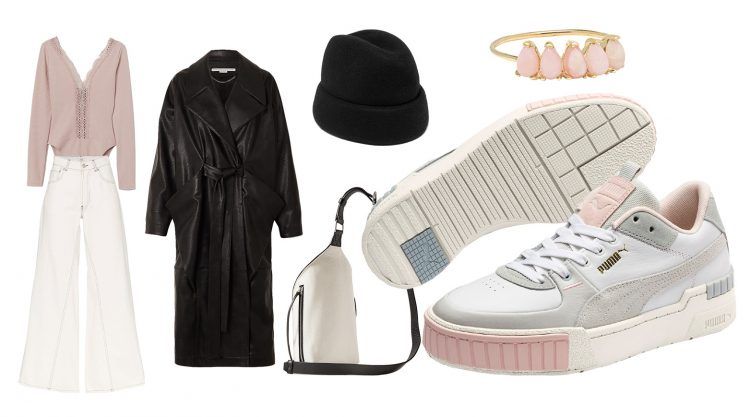 The Outfit
Because of the CALI Sport's inherent flexibility, we decided to explore some more edgy fashion trends in this outfit. Think leather and lace meets feminine cyber-punk. On the bottom we went with a bold pair of flared white denim trousers.  Flowing and long, the fashion world is nuts about the wide leg pant; these trousers are a modern take on the classic 1960's trend. As they do have a lot of fabric going on and really draw the focus to the waist, it's best to pair them with something tight on top, such as this gorgeous lacy nude bodysuit.
Wrapping it up, we come to our ultimate statement piece, the (faux) black leather trench coat. It has been a major trend in 2019 and 2020, but really, does a leather jacket ever go out of style? The oversize shape is also a great strategy for staying warm while looking incredibly put-together. The minimalist feel fits well with a 90's cyber aesthetic (The Matrix, anyone?), again offering a fresh and feminine perspective on something rather retro.
The Accessories
Final touches: a pink pearl-drop ring on your finger is a super gentle and feminine addition.
A black felt hat with a turned-up cuff perches on your crown while exposing the tops of your ears—practical? – maybe not, but totally on trend.
Finally, we have a casual backpack with a cool multi-way design: wear it cross-body or slung over one shoulder. The off-white textured-leather and black trim match perfectly with the other aspects of the outfit and shoe.
With Spring approaching, take the opportunity to layer up while exploring different combinations of colours and textures. We love to play around by matching a theme that runs from head to toe, and the CALI Sport provides a great foundation to get a little daring and dive deeper into the different fashion trends of the past, present and future.