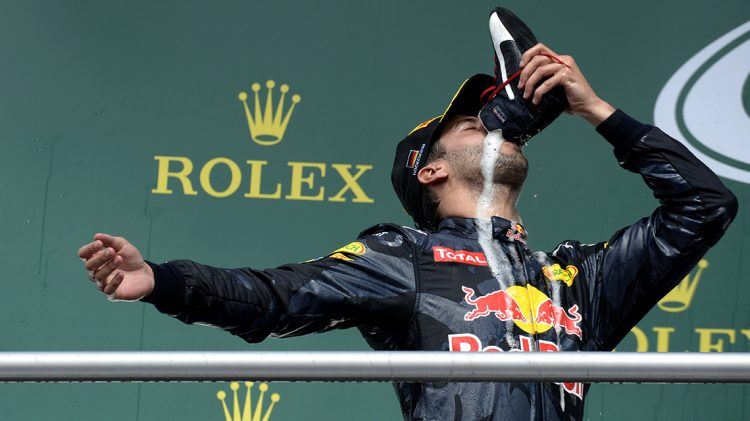 The Bull
and the Cat
What a success it has been with Red Bull Racing
August 26, 2016
What a success it has been with Red Bull Racing
August 26, 2016
Celebratory champagne drunk from a shoe, Lederhosen race suits and podium places: Six months into our partnership and at the start of the second half of the Formula 1 season, our partnered team
Red Bull Racing

shows how great things are achieved when two strong, determined brands work together.

With 274 points, Red Bull Racing is currently the second-best team in Formula 1 – and the rest of the season is still to come. Its drivers, Australian Daniel Ricciardo and Belgian-Dutch Max Verstappen, have represented the PUMA brand in many races since the partnership came into effect in February and currently hold the third and sixth place respectively in the drivers standing.

Max Verstappen is one of the biggest newcomers in recent F1 history. The youngster has obviously inherited his father's racing talent and has made history as youngest Grand Prix winner of all time, when he stepped onto the podium at this year's Spanish Grand Prix. He proved that his performance was not a one-hit-wonder, as he raced to second places in Silverstone and Melbourne. He also underlined his abilities by finishing third at the German Grand Prix. At this season's half time, Verstappen ranks sixth in the overall driver's championship.

His teammate, Daniel Ricciardo, has been able to combine talent with growing experience and has become one of F1's most respected drivers. His performances are consistent and he is ranked third best driver in the championship, with two third places in Monaco and Hungary and two second places in Germany and Belgium. The latest podium place for Ricciardo was in Spa, a diverse circuit anticipated eagerly by many F1 drivers for its hilliness, turns and chicanes such as "Eau Rouge" or "Blanchimont"; and by fans as one of the most entertaining races to watch. On location, PUMA colleagues like Gregor Huebner from the Sports Marketing Motorsport team, take care of our partners and ensure that the PUMA race wear is ready to take on the heavy duty of this weekend.

We, as the official licensed partner and supplier of team and race wear, equip the Formula 1 Red Bull Racing drivers with the fireproof suits and footwear they need on track. Whether our 'usual' suits or a special traditional Lederhosen version for the Austrian GP – our PUMA race wear products have already withstood extreme weather conditions and have been successfully proving themselves in the extreme heat of Spain or Abu Dhabi and heavy rain of Spielberg.
We launched the partnership six month ago and it has been a success ever since. They are right now the second best Team in the Formula 1 and have represented us on many podiums. Highlights were definitely the launch of the partnership in London in March and both Max Verstappen and Daniel Ricciardo wearing the Lederhosen Racesuits at the Austrian GP. We are looking forward to many more highlights in the coming months.
PUMA & Red Bull
Highlights