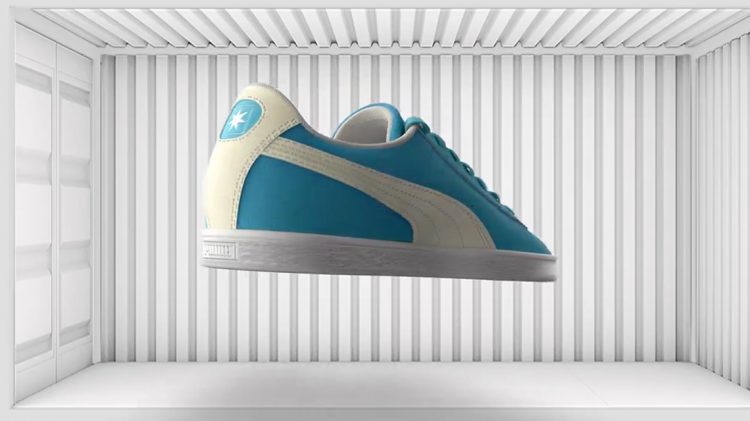 The Maersk
PUMA Suede
Maersk x PUMA Suede shoe
June 2, 2022
Maersk x PUMA Suede shoe
June 2, 2022
Good partnerships grow closer over the years. We are proud that this is the case with our long-term logistics partner Maersk. To celebrate our good relationship with each other, we became creative. To honour the entire Maersk family, we created an exclusive Maersk x PUMA Suede sneaker. Every Maersk employee will receive a pair by the end of this year. The design was a result of the collaboration between our two companies. It turned out beautiful. Have a look yourself!
"I am excited to see how the partnership with Maersk has developed over the past years. The partnership evolved from a transaction driven business relationship into a true collaborative partnership, where we share strategies and insights to jointly define the future. The Maersk PUMA shoe shows that Maersk has become part of the PUMA family."
– Thomas Liske, Global Director Logistics at PUMA
More than 100,000 pairs will be produced, for every single Maersk employee around the world and the Maersk PUMA Suede will be shipped later this year.
The whole idea started with a Maersk colleague, who spotted a bright blue Suede shoe in a PUMA presentation during a meeting. She wondered if the shoe could be sold in Maersk´s Brand Store. After exploring the options, Maersk and PUMA decided to create an exclusive Suede sneaker.
The design was finalised over the summer of 2021. They are branded with the Maersk star and corporate colors. Maersk employees will receive the shoes as part of Maersk's integrator journey.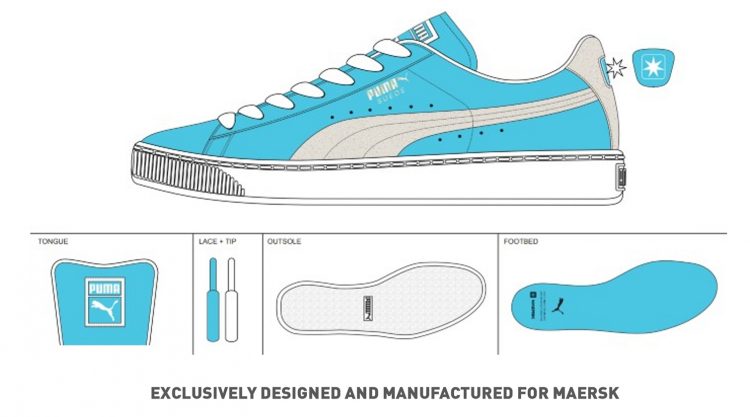 "It is amazing to see how the collaboration with PUMA transformed into the strategic partnership that we have today. For me, these iconic PUMA shoes with the Maersk flavor all over, are the ultimate representation of this long-term partnership."
– Mark van Grinsven, Head of PUMA, Key Client Manager at A.P. Moller – Maersk
"I am immensely proud of those shoes. They are the result of a three-year-long turnaround process of both companies driven by our strong working cultures and a common strategic vision."
– Peter Stockhammer, Senior Teamhead Global Logistics Procurement at PUMA
Fun fact: The shoes will be also available in children´s sizes. Maersk ordered a limited amount of both infant and kids´s sizes too. They will be available through the Maersk Brand Store.
Together with our subsidiary, product licensing company, Stichd we set up the final manufacturing process and are collaborating on an e-commerce order and fulfilment solution that will be available later this year. Every person working for Maersk will be able to order a pair in their size.
We are proud to have such a trusted and reliable partner. Here's to more joint projects!