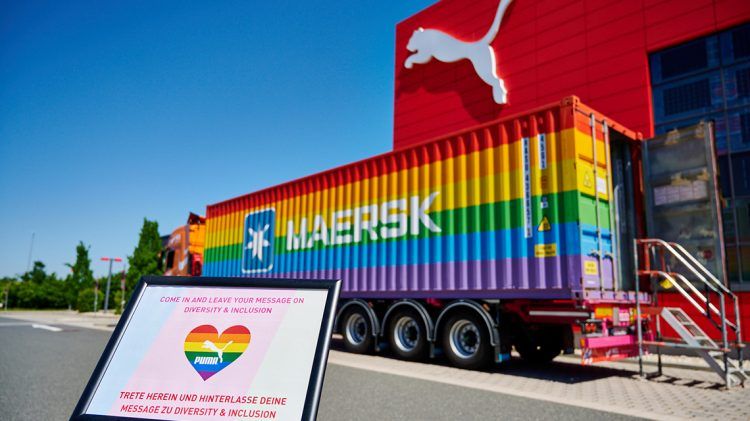 Rainbows,
Ice Cream
& Diversity
PUMA showcases rainbow container at its HQ in frame of Pride Month celebrations
June 15, 2021
PUMA showcases rainbow container at its HQ in frame of Pride Month celebrations
June 15, 2021
Shine your true colors! In frame of our
Pride celebrations

we welcomed a rainbow container at our PUMA headquarters in Herzogenaurach. While the outside of the container represents our stand on

diversity and inclusion

, the inside of the container represents our

employees' personal commitment

.

Also this year we are planning numerous activities and events to raise awareness of issues that affect the community of lesbians, gays, bisexuals, transsexuals, transgender and intersexual people (LGBTQI+).

Yesterday, a sea freight container from our logistics partner MAERSK in rainbow colors visited us in front of our PUMA stores in Herzogenaurach. Here, PUMA employees and customers had the opportunity to immortalize their personal messages on the topics of diversity & inclusion inside the container.

SHARED VALUES AND OPEN DISCOURSE
In global logistics we live and share a working environment where diversity and inclusion are core values and all of its team members and external partners can be their authentic selves. We foster a working culture in which people wake up inspired each day, feel safe wherever they are and end the day fulfilled by the work they do to make PUMA Forever Faster.
Diversity is a key component in our working culture and is expressed in our employer value BE YOU. It fosters innovation and leads to better results and smarter ideas.
Equality and non-discrimination are a key part of our corporate culture. We will keep on working on improving a respectful and inviting atmosphere, so everyone can simply be themselves.
The container will continue its journey in Germany, celebrating diversity and inclusion along the way, with a grand finale in the Danish capital, at the World Pride, celebrated in Copenhagen in August.
FREE ICE CREAM
To cool off on a warm summer day, we offered free ice cream for all PUMAs and customers of our shops. The selection of the flavors had the colors of a rainbow. 🙂