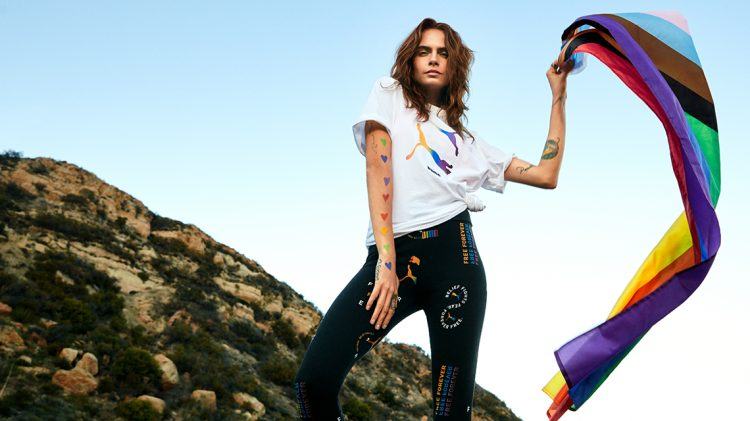 Get the Look
Get the Look:
Forever Free Pride Collection
Be Proud to Express Yourself
June 7, 2021
Be Proud to Express Yourself
June 7, 2021
With LGBTQIA+ activist Cara Delevingne we team up for a second capsule collection, this time in honour of Pride Month.

The Forever Free Pride Collection is all about supporting the community, encouraging everyone to step into their true potential and believe in their unique identity.

In celebration of Pride, we've mixed and matched two distinct looks based on items from the collection to help you proudly and freely express yourself.
The Shoes
The collection weaves a head-to-toe tribute to the LGBTQIA+ community, featuring a Pride-inspired take on classic hoodies, shorts and sneaker silhouettes such as the PUMA Suede. However, we had to go for these joyful rainbow embellished slides and their black and purple counterparts as the base for the outfits. If you're all about prioritizing comfort, then the slide is about to become your go-to footwear. Ultra trendy for the upcoming summer months, they're a lowkey way to elevate any look and prove that dressing up doesn't require much effort in order to stand out.
Outfit 1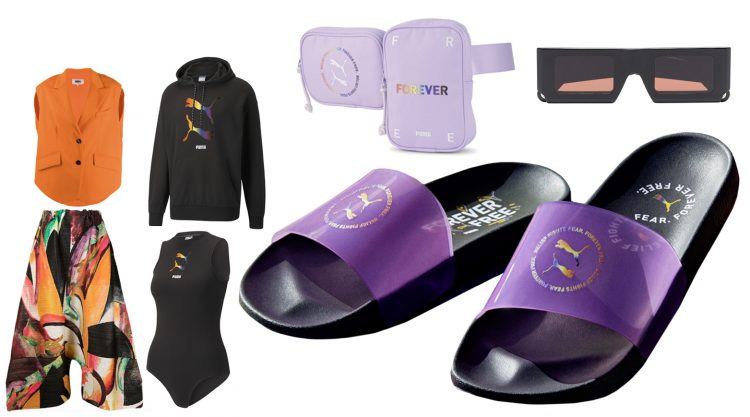 Outfit 1
This month, community members and allies alike are embracing bold and colourful styles to celebrate the brilliant diversity and inclusion that encompasses Pride. Our first look leans into a slightly more edgy expression of these concepts. At the heart of it is the collection's sleek and form-fitting black bodysuit with the logo Forever Free emblazoned on the back. Building up from this essential piece comes a billowing pair of wide-legged trousers exploding with crazy colours beneath a Y2K-inspired oversized single-breasted vest in a gorgeously daring orange. For when the sun goes down, a comfy black hoodie with rainbow detailing roots the outfit back to its athleisure essence.
Outfit 2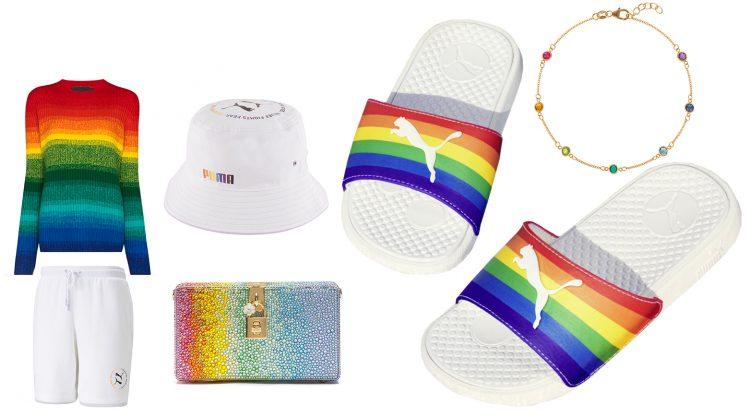 Outfit 2
There's no need to label, but if we were going to, the second outfit would be classified as the more laid-back of the two. These crisp white unisex shorts simplify the look, giving it a relaxed sportstyle attitude. Perfectly paired with a luxe and cozy cashmere sweater proudly displaying the many colours of the rainbow to deliver an on-point and effortless Pride ensemble. Both looks are about embodying your individuality by playfully mixing and matching different fabrics, prints and fits until you find a look that lets your flag fly high.
The Accessories
A chunky rectangular pair of sunglasses with a slight orange tint gives a modular and gender-fluid vibe that complements the slides and vest in the first outfit. Finish off with the vibrant purple belt bag from the capsule, matching the purple elements of the shoes and showcasing the utilitarian components being favoured this runway season.
On the other hand, a bold and beautiful rainbow clutch with crystal detailing amps up the glam factor for an otherwise chill look. An iconic white bucket hat from the collection perches on top, while a delicate gold bracelet or anklet with glittering rainbow gemstones completes the aesthetic in a subtle and classy manner.
Pride Month gives millions of individuals around the world the
chance to come together to express themselves and feel proud of who they are.

In an effort to raise awareness and support for the community, PUMA is offering 20% of proceeds from the Forever Free Pride Collection to the

Cara Delevingne Foundation to channel back towards LGBTQIA+ charities (up to $500,000 USD).

This month, step into your true potential and feel free to really express yourself.