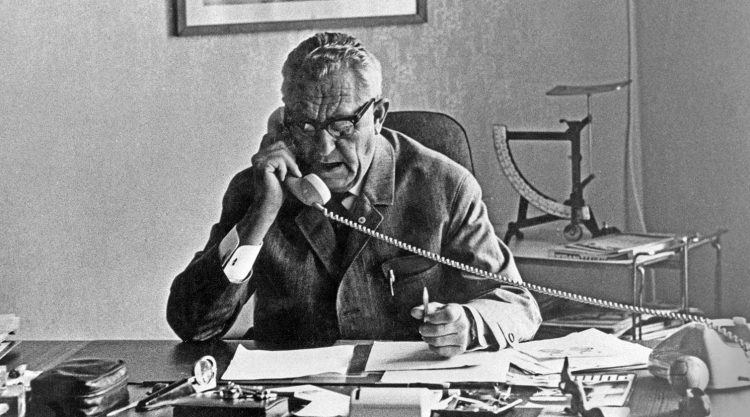 PUMA Archive
How the jumping cat
was invented
A look at PUMA's history
March 15, 2016
A look at PUMA's history
March 15, 2016
Have you ever wondered how PUMA's jumping cat logo was born and advanced to one of the most famous trademarks in the world today?
When Rudolf Dassler founded his own shoe manufacturing company in 1948, he first named it "RUDA" – a combination of the first two letters of his first and last name. Fortunately, he quickly dismissed the idea and picked the name "PUMA". Helmut Fischer remembers why: "Rudolf's vision was that all of his products would embody the characteristics of a Puma cat: speed, strength, suppleness, endurance and agility – the same attributes that a successful athlete needs as well."
While the first PUMA logo of 1948 did not quite reflect this agility, a more fashionable combined word and picture logo was introduced in 1957. But it was not until 1967 that the first version of today's PUMA logo was created like we know it today. "Rudolf's son Gerd Dassler was friends with the caricaturist Lutz Backes, who was assigned to design a new PUMA cat logo", Helmut remembers. Backes was offered a cent of every PUMA item sold with his logo, but decided to charge the company 600 marks for this job. In addition, he got a pair of shoes and a sports bag. "Lutz would have become a multi-millionaire, if he had agreed to receive commissions instead of this one-off payment."
Soon after, the PUMA cat started to appear on many PUMA products, but slightly changed over the years: The eye and nuzzle are gone and the ears are more pronounced today. Though Rudolf Dassler once joked that a long tail cost him more advertising money, its length remained pretty much like Lutz Backes had originally drawn it. PUMA's world famous 'No. 1 logo' was born.
Suppleness, endurance and speed are the attributes of a Puma with which our athletes will succeed.