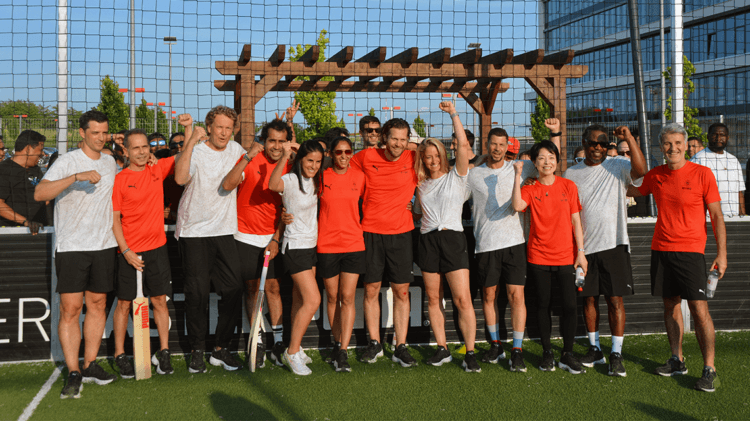 A Cricket Showdown
Recap on a spirited battle between Team Arne and Team Maria, joined by special guests
June 23, 2023
Recap on a spirited battle between Team Arne and Team Maria, joined by special guests
June 23, 2023
Cricket fever hit the NOHO PUMA Arena as our CEO, ARNE FREUNDT, Captain of Team Arne, and our CPO, MARIA VALDES, Captain of Team Maria, rallied for an epic clash. Both teams featured special guests – Harmanpreet Kaur, captain of the Indian Women's Cricket National Team, joined the fun on Arnes side while Maria had the support of Roc Nation's Emory Jones. The game was packed with laughter, excitement, and true PUMA spirit!
Spectators gathered at the NOHO PUMA Arena of our Herzo HQ, on the evening of the 21st of June, for an unforgettable cricket showdown between two star studded PUMA Teams, witnessing the motto "Cricket is everyone's game" coming to life. Laughter filled the air as both teams showcased their cricket skills in the friendly yet very competitive match.
Team Maria batted first, scoring 26 runs in 5 overs (with 30 Balls). The momentum shifted as Team Arne stepped up to bat. While Marias team excelled in catching, and creating a formidable defense, the game stayed tight until the end.
Right until Harmanpreet Kaur, our special guest, joined Team Arne as the last batter. With six runs needed from six balls, the tension built. Facing some challenges, she struck the third-to-last ball for a six, securing a sensational victory for Team Arne!
The game showcased cricket's universal appeal, uniting people in celebration of sportsmanship and enjoyment.
Together, our PUMAFam was able to prove that Cricket truly is everyone's game.
Thank you, Harmanpreet and Emory, for joining us in this unforgettable Cricket spectacle!
Let sports continue to connect and inspire our PUMAFam to reach new heights in our journey to FOREVER.FASTER.!