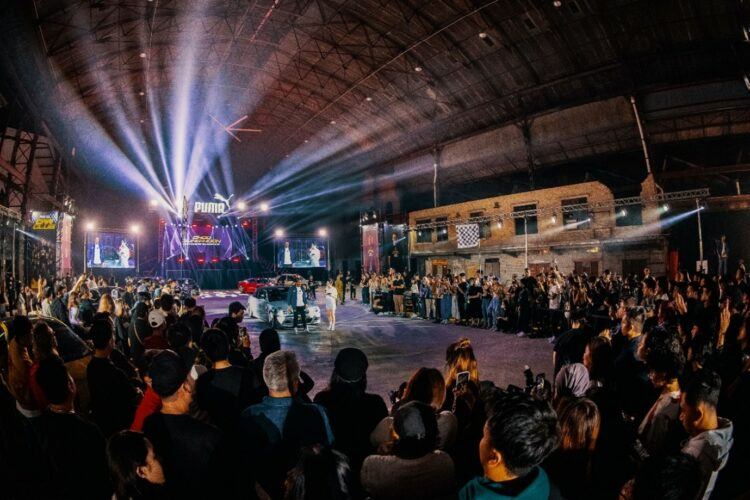 Car Club
debuts
in SE Asia
PUMA'S CAR CLUB DEBUT IN SOUTHEAST ASIA REVS UP A STORM OF SUCCESS!
September 13, 2023
PUMA'S CAR CLUB DEBUT IN SOUTHEAST ASIA REVS UP A STORM OF SUCCESS!
September 13, 2023
PUMA's first-ever Car Club event

in Southeast Asia, held at Sentul Depot, Kuala Lumpur – once the finest integrated railway engineering hub in the 1900s, now regenerated into a must-visit lifestyle destination, was an adrenaline-packed success as it merged Motorsport, style, entertainment, and gastronomy in a spectacular show of passion.
Echoing the tagline "Forever Faster", the Car Club event represented PUMA's dedication to the fast-paced, ever-evolving spirit of Motorsport and car culture. By introducing it into a new region, it celebrates the sport on a grand scale and has garnered a growing audience, breathing new life into the motorsport community across Southeast Asia.
"There is so much excitement for our car brands and for car culture in general in Southeast Asia. The potential is huge in the region. And we are happy to bring the Motorsport and car culture communities together to celebrate our passion through the PUMA Car Club"
The SEA Car Club event celebrated the power of endurance, resilience, and excellence in performance and style, inspired by the spirit of Motorsport and car culture, featuring a community of changemakers and Motorsport enthusiasts, who breathe life into the automotive culture, fueled by their passion and exhilaration for speed. At the helm of the Car Club community is PUMA's first SEA Motorsport Ambassador, Choo Sung-hoon (a.k.a "Sexyama"), a global MMA superstar and finalist of Netflix blockbuster reality series Physical 100! As passionate as he is in mixed martial arts, he is also a die-hard fan of Motorsport.
Mr. Choo has also been appointed as the face of the AW23 PUMA x BMW MMS: 24 Hours of Thrill Motorsport Collection.
With The Car Club event being the finale to the SEA AW23 Motorsport Collection, Choo undeniably became the driving force that drew attention towards the collection's vibrant, high-performance pieces. Choo made a show-stopping entrance into the Car Club event decked out in the brand-new PUMA x BMW MMS: 24 Hours of Thrill collection, radiating race-ready energy!
"Motorsport is among the most exciting things in the world to witness, which is why it's one of my favourite things in the world. I am thrilled to be given this opportunity to be a part of PUMA, and I cannot wait to share more about how much racing, MMA, and life in general have in common. PUMA's tagline is to be Forever Faster, which is exactly what Motorsport is meant to be!"
Apart from the Car Club community's leaders who graced the event, among the crowd were some of the biggest names in the influencer arena of SEA. 
The Car Club event transported visitors into an immersive realm of racing and high-speed thrills. A slew of electric performances and on-site activities were  prepared for visitors, which gave them a taste of what it meant to be a part of PUMA's exhilarating world of Motorsport. Some of them included funky BMX peformances, great musical performances and even a Graffiti Yard!
"Looking ahead, our commitment to support the motorsport community will continue to be one of our main priorities. We're thrilled by the strong support we've received from the Car Club community in Malaysia and we are actively working on initiatives to enhance our engagement with the community on a more regular basis. Additionally in 2024, the Car Club event will be making its way across other countries in Southeast Asia, expanding our outreach and delivering even greater excitement to the fans in the region" added Eleanor Wang, Head of Marketing, PUMA Southeast Asia.