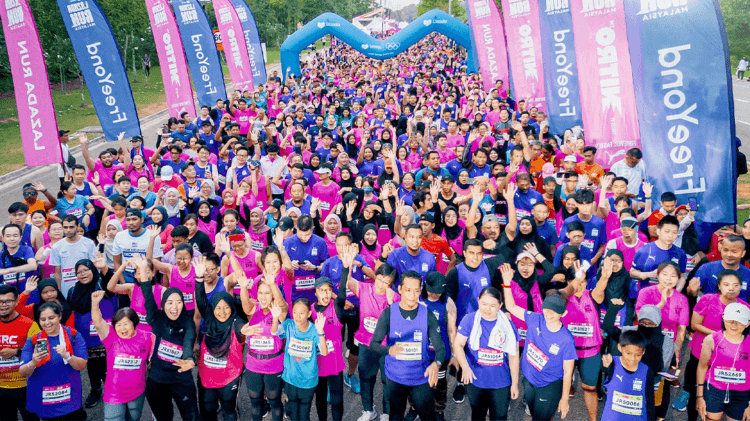 PUMA Running Takes Southeast Asia
in a Splash of Blue and Pink 💙🩷
PUMA sponsors the inaugural Lazada Run across Southeast Asia
September 8, 2023
PUMA sponsors the inaugural Lazada Run across Southeast Asia
September 8, 2023
Over four thrilling months, we had the pleasure to officially sponsor the much-anticipated Lazada Run, which unfolded across six bustling Southeast Asian cities – Ho Chi Minh, Jakarta, Bangkok, Manila, Kuala Lumpur, and Singapore. The epic race witnessed nearly 55,000 runners, from seasoned pros to hobby racers and even families, conquering the 5K, 10K, and 21K race categories.
But this wasn't just about the run; it was a full experience brought to life by unique brand activations of official sponsors, including us! The sweat, the energy, the smiles, and the cheers that filled the air during the races were absolutely unforgettable. Let's dive into those electrifying race day memories!
PUMA Race Gear: Get Ready to Paint the Town Pink and Blue!
First things first, let's talk about the boldest and brightest stars of the event – the running tops! As the name suggests, it was all about a sea of pink and blue on race-day. For the very first time, we teamed up with LAZADA to create official running gear, including high-quality dry-fit race and finisher tees – perfect for those intense sweat sessions. Runners got creative, mixing and matching the running singlet with shirts underneath, going solo, or tying it up stylishly.
With everyone donning neon pink or blue, the visual spectacle they created infused a dynamic burst of energy into the entire event!
PUMA NITRO Shoe Trial: Step into the Future of Running
PUMA also made an appearance with interactive booth activities aiming to introduce our NITRO running technology to the public. Our expo at the event drew an impressive crowd, with countless attendees taking our NITRO shoes for a spin. We're sure to have made an impression, since many left with a newfound love for our cutting-edge footwear!
In the Philippines, runners had the chance to choose from our lineup of NITRO performance shoes, which included the ForeverRun NITRO, Deviate NITRO 2, and Velocity NITRO 2 collections for a test drive on the treadmill. They were left in awe of the cushioning and bounce, offering an extra boost to their strides.
But that's not all; we also handed out PUMA stickers and set up photobooths for runners to capture and cherish lasting memories of their incredible runs.
In a sea of blue and pink, PUMA ran the show and left an indelible mark on the inaugural Lazada Run across Southeast Asia. What a ride it was!
PUMA is proud to have been part of the LAZADA Run. Congratulations to all our PUMA Fam who ran the marathon! #ForeverFaster.