Interview with Nessi:
Female Empowerment,
Pop Hits & Powerlifting
"The key is to understand that the cake is big enough and tastes even better when we share it."
November 16, 2023
"The key is to understand that the cake is big enough and tastes even better when we share it."
November 16, 2023
Our PUMA Ambassador Nessi, German singer and songwriter, gym aficionado and advocate for female empowerment took the time to chat with us about her thoughts on empowering women in the music industry, her gym preferences, and her experience on stage with various hip-hop artists. Read on to learn more about her favourite PUMA products, how she breaks gym stereotypes and who she would choose as her training buddy!
Get to know Nessi in FOREVER.FASTER. style:
Pop or punk rock?
Nessi: Pop.
What's your all time favourite song?
Nessi: Wow that's a hard one! I think it's Everywhere from Fleetwood Mac. I got married to that song!
Chips or protein bars?
Nessi: Chips!
What's your favourite gym exercise?
Nessi: Olympic Weight Lifting! Well, that's actually two exercises but those are my favourites.
Your favourite PUMA Product?
Nessi: The Nano Shoe – I have it in several colours and wear it every day – it's so cool!
View this post on Instagram
Who is Nessi – could you please quickly introduce yourself?
Nessi: So, I'm Nessi. I'm a singer and songwriter. I love my job, sport, nature and puppies. That's me.
You've been in the music business for over 15 years and have done everything from punk rock to hip-hop. How would you describe your music style today?
Nessi: In my own project as Nessi, my focus is on pop music. I love the combination of real instruments and electronic elements, I love writing catchy hooks, all this is essential for my music and shapes my style. Even though I open myself up completely to different genres when writing songs for other artists, my own project always remains in the pop area. I absolutely love the diversity in all aspects of my career, but personally my style is always pop.
You have been on tour with several German rap and hip-hop artists. Have you ever encountered challenges as a woman in this rather male environment?
As a woman in the music industry, there are of course challenges, but I wouldn't relate them specifically to the male artists. Since the start, I have focused on perfecting my craft, constantly working on singing and writing and improving myself. In my first band, where I played with two guys, I always felt respected and I also received a lot of respect on tour with Samra. For me, equality means that you no longer have to talk about gender, and I experience that in everyday life. So far, I haven't had any unpleasant situations; on the contrary, it's super enriching for me as a woman to be active in this environment. For me, it has always been crucial to excel in my field, and I feel that applies to both men and women. In my opinion, success depends on how good you are at what you do, regardless of gender.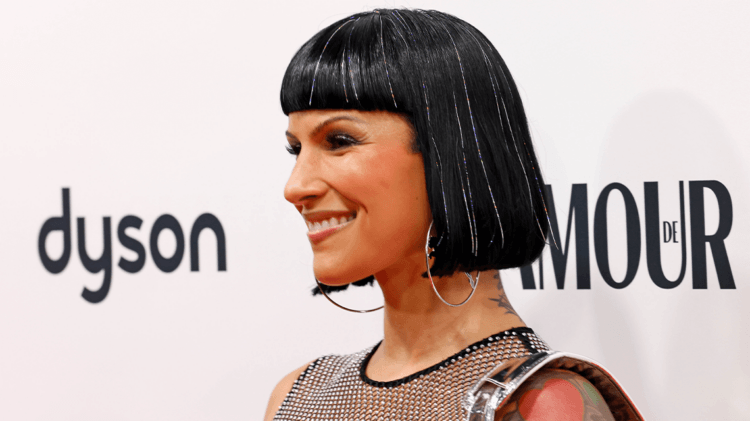 You were with us at the GLAMOUR WOTY Award, where we celebrated women who break barriers and stand up for female empowerment and equality. How do you think music can help break stereotypes and help women achieve more equality?
Nessi: I think especially women with an established presence in the music industry should start to make the women in the background visible – songwriters, producers, managers, studio technicians – you name it. It's crucial to create more space for them to be recognised. Although we often see one woman in the spotlight, there are usually many people involved in their success. Us women should hire more women and push for them to become more visible. In general, we need to learn to support each other unconditionally without expecting anything in return. It's about wanting other women to succeed. The key is to understand that the cake is big enough and tastes better when we share it. This starts with passing job opportunities to each other, sharing contacts or supporting other women's social media posts. Mutual support among women is just so important.
What does female empowerment mean to you personally? How do you live it in your everyday life?
Nessi: Personally, I always try to network women, I like to share job opportunities and names because I also benefit from them myself. There are people around me who do the same for me. But I think I also have a strong feminist voice, especially in environments where you wouldn't expect it. I go on tour with gangster rappers and write songs for them! For me, female empowerment doesn't mean that only women have to be visible, but that it becomes normal to have women everywhere without them being afraid to be visible. Of course, it is important to talk about how women can be in all positions and be seen more. But for the future I wish that we no longer have to talk about this. It shouldn't matter what gender or identity someone has – what matters is that they are convincing with their skills. That would be my vision in an ideal world.
View this post on Instagram
On your social media, we see you a lot in the gym – lifting weights – an area that is typically associated with men with big muscles. How did you get into that sport?
Nessi: Honestly, I just saw women in the gym, especially in Crossfit where I started, and found it totally impressive. Superficially speaking, I was just inspired by their bodies and thought, "I want to look like that." The more I got into it and started doing it myself, the more I realised how great it is to be physically strong as well as mentally strong. My goal is to still be fit and active at 60. I think it's important to lay the foundations for this in your twenties, thirties or as long as you're young. Also, it's great to be independent and not to have to rely on someone else to carry my suitcase for example. It just feels great to be strong!
Have you ever felt uncomfortable as a woman among all the muscular guys at the gym?
Nessi: Actually, no! As an outsider, you might think that the gym is the spot for macho behaviour, but honestly, the men with the biggest muscles are often the nicest. With people who focus on weightlifting and strength training, I experience a very positive atmosphere. It's about achieving personal goals, not staring at women. The focus is on the sport, regardless of gender or background. The nice spirit in the gym motivates me, even if I sometimes procrastinate at home. People on Instagram write to me about how disciplined I am. The exchange with motivated people is extremely inspiring and motivates me to push through.
View this post on Instagram
Speaking of motivation: how does your gym outfit contribute to your well-being during your workout and what is your preferred training outfit?
Nessi:
When I started out with fitness, my motivation for training was often to buy new sportswear. In clothes, freedom is particularly important to me when weightlifting – leggings have to sit high, be opaque and comfortable – you need to have confidence in the clothes to be confident in the clothes. My classic training outfit is a sports bra, leggings and good sports shoes, and luckily PUMA combines comfort and style perfectly. I recently started running and discovered the importance of the right shoe. For weightlifting, a stiff sole is crucial for stability, whereas in running there are really big differences with soles and suspension – it's fascinating! I would therefore say that the outfit and the shoes make a huge contribution to your well-being and to your motivation when doing sport. You want to feel good and look good at the same time!
Who would be your favorite PUMA workout buddy?
Nessi: So I've been watching a bit more football recently and I think I'd definitely like to have a session with a footballer, just to see what it's like. I'd really like to see what a footballer's day actually looks like. I find that super interesting because it's also something that's completely out of my comfort zone. I hate running, but I'm doing it right now, so I'd be really interested to see what a footballer's training plan looks like.
So maybe let's just say if Jack Grealish, or Kai Havertz, would invite me for a training session, that would be really cool.
We'll see what we can do 😁⚽️.
Thanks for your time, Nessi!