Get the Look
Get the look:
Cali Sport WildCats
Fierce Fashion for the Free Spirit
August 24, 2020
Fierce Fashion for the Free Spirit
August 24, 2020
Take a walk on the wild side with the newly released PUMA Cali Sport Wildcats.
Featuring fierce animal print decal,

this latest addition to the Cali Sport footwear collection inspires us to unleash our inner animal.

Embrace your wild nature

with this outfit inspo and see where it takes you.
The Shoes
The Cali Sport Wildcats feature bold contrasting prints paired with synthetic leather and a cool suede upper. Mixing it up with different textures and patterns, these sneakers have us feeling funky and feline. With a comfortable platform rubber midsole and hints of metallic gold accents, you can stride with pride in these ones.
The Outfit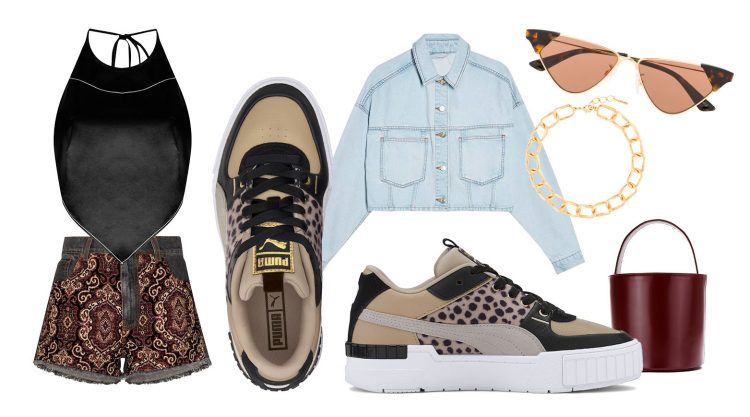 The Outfit
We went with an outfit that was as savage as the shoes. First up, a cropped denim jacket gives the look an effortless edge. Lightweight and light wash, this item is perfect for the summer months.
Double up on denim for ultra-impact. In the fashion world, double denim often alludes to a rugged sense of adventure and a free spirit. That's also why we went with these embroidered-panel denim shorts. They are breezy and bold — part boho chic and part fierce fashionista. Plus, the hypnotic pattern pairs with the prints on the sneakers, playfully making the eye jump from piece to piece. The best looks don't stop with just one print, and by mixing prints and patterns within the same ensemble you get the chance to show off your daring nature.
Finally, this retro satin halter neck makes a bold closing statement. With an asymmetric hem and rear tie fastening (plus a mostly open back) let down your hair and feel free and fierce.
The Accessories
There's big love for the bucket bag this season. If you are into retro vibes and love all things bohemian, then go for something like this burgundy leather bag as the perfect practical pouch to store all your belongings.
Next up, who doesn't love a classic chunky gold chain? This jewellery trend can do wonders to any outfit and is rumoured to be one of the 'It' items for the upcoming fashion season. We also like the symbolism of sporting a chain while breaking chains and freeing your fashion fears.
These cat-eye sunglasses are the perfect final touch. Feline and funky, they are the ideal statement piece for this look that is all about letting your animal nature roam wild.
We're feeling wild and free with the new PUMA Cali Sport Wildcats. Take inspiration from these savage sneakers and free your inner wild thing.