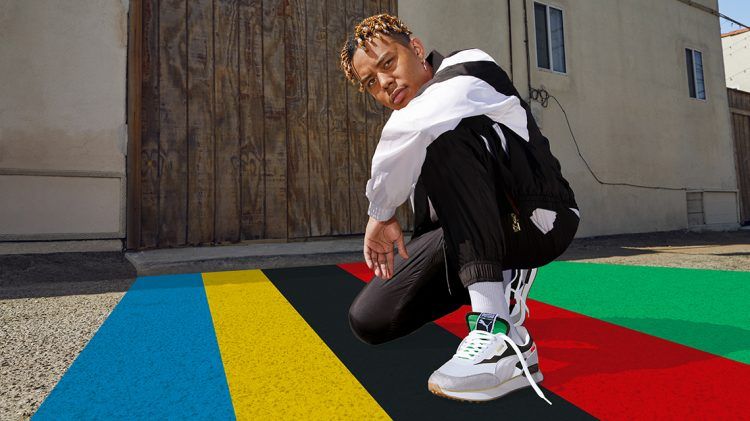 Get the Look
Get the Look:
Future Rider Unity
Peace, Love & Stylish Sneakers
August 2, 2020
Peace, Love & Stylish Sneakers
August 2, 2020
The brand-new PUMA Unity Collection celebrates

the power of sport to unite the world,

and we're totally here for it. Today we ran with this theme, styling the newly made-over unisex Future Rider in two ways. Both outfits are inspired by

styles that are popular around the world

—behold the unifying power of sport (and funky fashion).
The Shoes
The featured sneakers are our favourite Future Riders, looking ever so fresh. The classic sneakers have seen a makeover and are now displaying a crisp black and white base offset by vibrant pops of colours, an homage to international flags from around the world.
The vintage 80's design recycles what works—shock absorbing Federbein outside and ultra-comfortable Rider Foam midsole—and incorporates a new design that makes it effortlessly modern as well (future, it's in the name).
Outfit number #1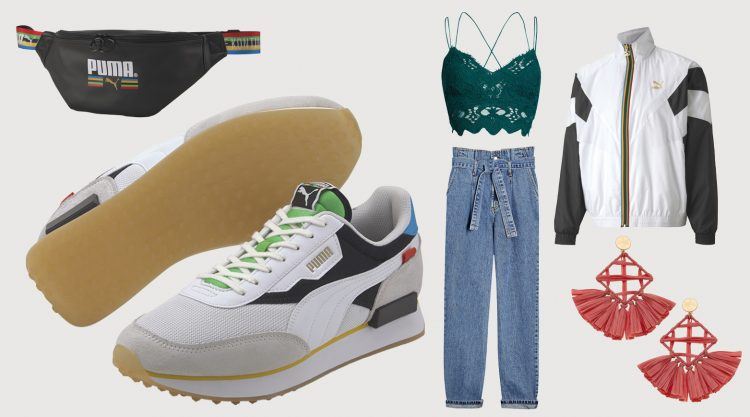 The Outfit(s)
For the first outfit, bralettes are your best friend this summer. A statement of modern femininity, the bralette has no definitive global point of origin, but continues to grow in popularity worldwide. This humble little lace piece represents body positivity and inclusivity for women who want to dress for themselves and feel at ease in their own skin.
Speaking of ease, over this piece we went for another item from the collection, the TFS training jacket, chosen for its comfortable design and eye-catching colour blocking. For the lower half, try some vintage-style denim like these unique jeans and get on board with the global upcycling movement.
The second look features a collared button-up with an awesome Ikat abstract design. Ikat is a dyeing and weaving technique used to make mesmerizing patterns, produced in traditional textile work all around the world, from Central and Southeast Asia to Africa and Latin America.
Below these we went with the iconic TFS Unity Training pants. Retro athleisure wear that gets you where you need to be, feeling and looking good.
Outfit number #2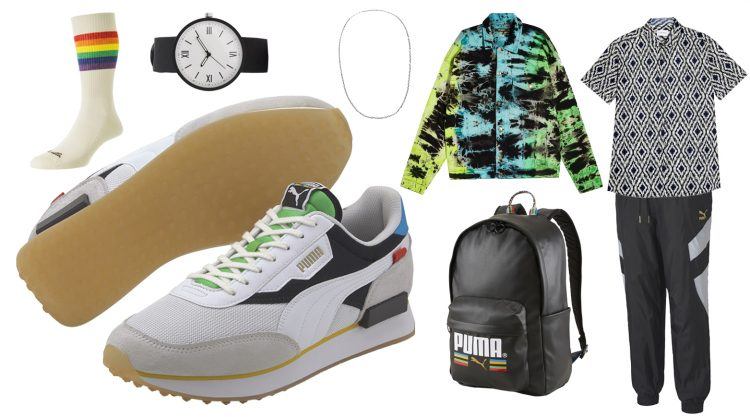 The Accessories
First up: the fanny pack—one of the world's oldest trends. This item spiked in popularity in America in the 1980's but has recently seen a global resurgence. We liked the simple yet dynamic aesthetic of this belt bag. Up-to-date modern style, but also timeless.
Dangling tassel earrings are the finishing touch. Found in every form of decoration across time and culture, the humble tassel is a universal adornment.
In the second outfit, this vegan leather (yes!) backpack with colourful accents looks good and is good for the environment—double score. Final elements of this look include a stylish watch and a subtle chain necklace which adds unique character without feeling overdone.
With the new Future Rider and Unity Collection, our cross-cultural curiosity is piqued. A celebration of peace, love and the unifying power of sport, these outfits also remind us how fashion can be a form of artistic expression and can honour the positive aspects of global mingling.