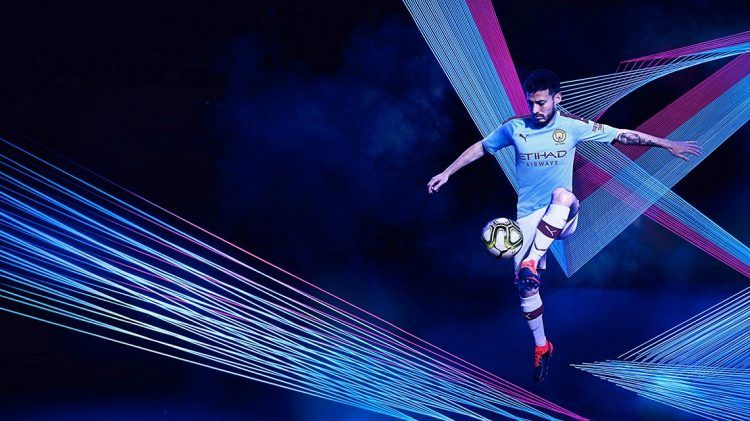 Second Quarter:
Continuing our Growth!
PUMA released its second quarter results
July 31, 2019
PUMA released its second quarter results
July 31, 2019
Having started the year 2019 with our strongest quarter ever, PUMA continued its
strong sales growth

in the second quarter!
Sales in the second quarter increased by 15.7% (if adjusted for currency effects) to € 1,227 million compared to the same period last year and our operating profit (EBIT) increased by more than a third to € 80.3 million compared to € 57.6 million in the second quarter of 2018.
"All divisions and all regions saw healthy improvement," said PUMA's CEO Bjørn Gulden. The Asia/Pacific and Americas regions continued to grow by double-digits, while growth in the EMEA region was at a high single-digit rate.
On the product division side, Apparel was again the strongest growing segment with an increase of 22.7%. Footwear, too, grew by double-digits. Having a look at our categories, Sportstyle, Motorsport and Golf showed the highest growth rates in the second quarter of 2019.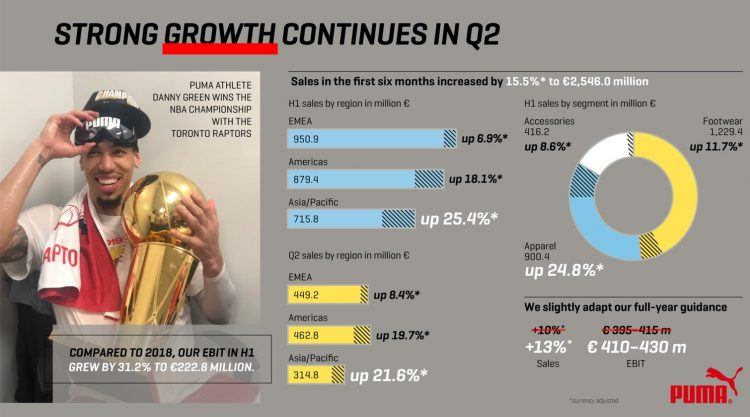 Highlights in the first half of 2019
PUMA can look back on an exciting first half of the year 2019. In Football, we signed our largest deal ever both in terms of scope and ambition: Teaming up with the City Football Group, we partnered with five teams on four continents including reigning English Premier League champions Manchester City. For the 2019/2020 season, PUMA will also supply the official ball used in all professional matches of the Spanish LaLiga Santander and LaLiga 1I2I3. 
We would also like to mention that we are extremely happy with the cooperation with our new partner Manchester City and the entire City Football Group. The launch of the new football kits has been very successful and the initial sales have been higher than we both expected.
PUMA's first full NBA Basketball season after our return to the sport was a very successful one: Toronto Raptors shooting guard and PUMA hoops star Danny Green became the first PUMA athlete to win the NBA Championship since Isiah Thomas in 1990!
In Track and Field, we are getting ready for the Olympic Games in Tokyo 2020: having teamed up with several new athlets such as 400m hurdler Karsten Warholm, rising pole vault star Armand "Mondo" Duplantis and sprint sensation Divine Oduduru, we can look forward to the games next year.
Based on the continued strong increase of sales and profitability in the first half-year, PUMA slightly adapts its guidance for the full year 2019 and is now expecting that currency-adjusted sales will increase around 13% with a full-year EBIT to come in between € 410 million and € 430 million. Earlier this year, we had expected an increase of sales (currency-adjusted) of around 10% in 2019.