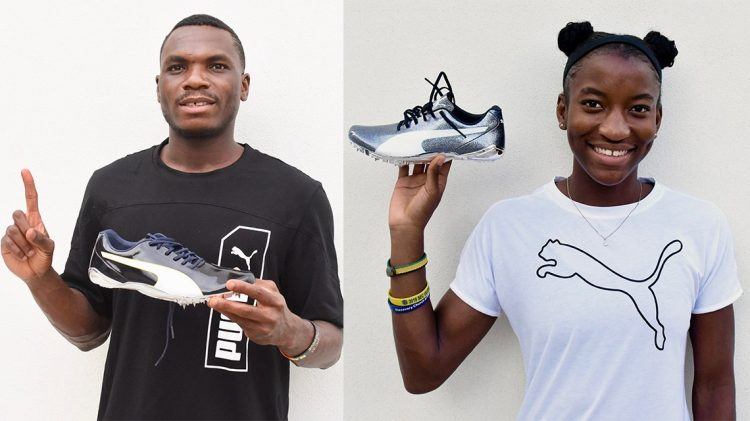 "I believe everything
is possible"
PUMA signs sprinting sensation Divine Oduduru and Jamaica's record-holding hurdler Janeek Brown
July 19, 2019
PUMA signs sprinting sensation Divine Oduduru and Jamaica's record-holding hurdler Janeek Brown
July 19, 2019
How does it feel to 
run against Usain Bolt,

the fastest man on earth in an Olympic race? How do you prepare for major competitions?
Nigerian sprint sensation Divine Oduduru and Jamaica's standout 100-meter hurdler Janeek Brown know and told us about it!
Divine Oduduru competed against Usain in the 200m heat at the Olympic Games in Rio. Two years later, the 22-year-old is well on his way to write history himself:  Only recently he was crowned the Collegiate 100m and 200m Champion in the US. His 100m race resulted in an impressive time of 9.86 seconds, the second fastest time ever run by a collegiate athlete. 45 minutes later, his 19.73 seconds in the 200m race made him the second fastest collegian of all time.
21-years old Janeek Brown just set a new Jamaican national record in the 100 meter hurdles, with a time of 12.40 seconds, which also resulted in the second fastest Collegiate all-time mark. In 2019, she ran all of her races (11 so far) in below 13 seconds.
We took the chance and asked the PUMA newbies about their careers and about partnering with PUMA:
Divine
What was it like to compete against Usain Bolt?
It was a great experience to run against Usain. I was very excited. All my friends were saying "oh you are running against the greatest runner of all time. Are you scarred ?" But I took it as an honor and opportunity and I ran a personal best in that race !
Do you think you could be the one to break his 9.58s world record?
I believe everything is possible. Before Usain nobody thought running under 9.60 was possible. He opened the way for athletes not to put limit on themselves.
Despite your young age, the list of your records and titles is impressive. What is your key to success?
The key to my successes is my determination. I'm focused and hungry for success. I know where I come from, and I use that as a drive whenever I'm on the track.
When did you discover your talent for sprinting?
It is funny because I discovered my talent for sprinting when I was little: When I was in trouble I used to run away and nobody would catch me. I started to run track in high school and was the fastest and in 2013 I represented my country at the World Youth Championships in Athletics. That was when my career started.
Who inspires you?
I have two role models. The one is Blessing Okagbare, the fastest woman in Nigeria. She would train with us with the same coach and I always wanted to become as successful as she is. The other one is Usain Bolt. I watch his races a lot before my competitions and I love his phrase when he said: "No matter who you are, no matter what you are doing, you're not gonna beat me, you're not gonna catch me" that has always been a great motivation for me over the years.
Why did you choose PUMA?
I chose PUMA because they will offer me great opportunities in my running career.
Janeek
How do you prepare yourself for major competitions?
I'm 100% focused on the race and do not let anything else interfere. I listen to music, watch television, speak to my coach and then get ready to execute my race and do my best.
You became the new Jamaican national record holder in 100 meter hurdles earlier this year – what is your next personal goal?
I just need to focus on myself to get better and better because If I improve my running I will clock a faster time.
Who inspires you?
Mainly Usain Bolt. I listen to his interviews and look how he prepared his competitions, how he trained and I'm trying to implement what he said or has done.
Why did you choose PUMA?
I chose PUMA because a lot of Jamaicans have done great wearing PUMA in the past. I love the brand, I received good recommendations from other athletes wearing PUMA and my high school in Jamaica was sponsored by PUMA, so it was a natural choice for me.