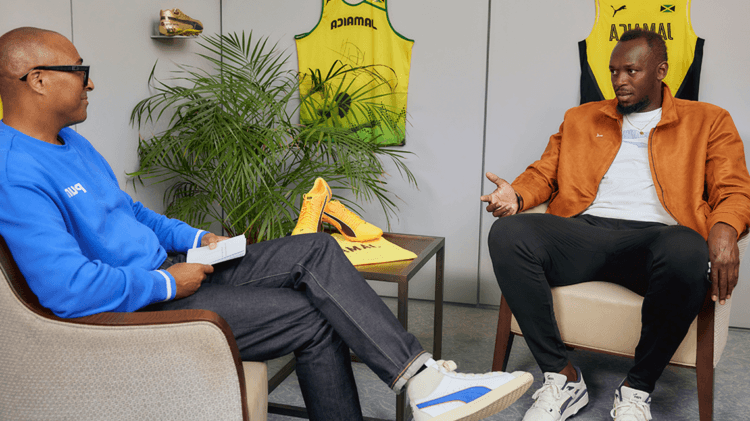 NEVER GIVE UP
USAIN BOLT AND COLIN JACKSON ON RECORDS, PUMA FAMILY, AND FUTURE
July 21, 2023
USAIN BOLT AND COLIN JACKSON ON RECORDS, PUMA FAMILY, AND FUTURE
July 21, 2023
This July marks 20 years of partnership between Usain Bolt and PUMA! To celebrate this impressive anniversary, we had the pleasure join the fastest man in the world, Usain Bolt, and sprint and hurdling athlete, Colin Jackson, for a chat about career, records, PUMA and the future. Take a look at the fun in the article!
Reflecting on his remarkable journey, Usain expresses his deep connection with PUMA. When the conversation comes to his early days as an aspiring athlete, he shares his excitement upon receiving his first PUMA kit, describing the moment as a dream come true.
"This brand has always been my choice. We've become a family, doing incredible work together. I'm proud to be a part of it."
As the conversation turns to Bolt's record-breaking accomplishments, the sprinter emphasizes that his focus was always on winning medals rather than chasing records. He attributes his success not only to his exceptional performances but also to his magnetic personality, which won over fans worldwide.
Take a glimpse into the life of a true sporting legend!
🎬 Watch the video and witness Usain Bolt and Colin Jackson chatting about records, partnerships, and the thrill of athletics.
Great to have the fastest man on earth in our PUMAFam ⚡️
Thank you Usain!