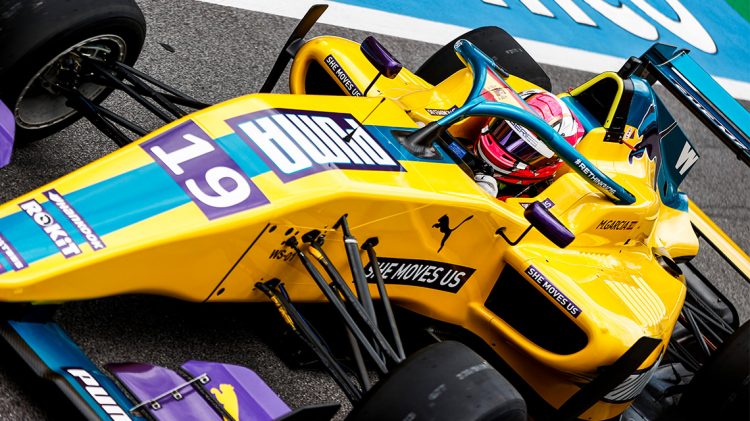 SHE MOVES US
Speed and
adrenaline
Interview with W-Series Driver and PUMA Athlete Marta García Lopez
August 9, 2021
Interview with W-Series Driver and PUMA Athlete Marta García Lopez
August 9, 2021
Marta García Lopez is one of the five athletes competing for the PUMA team in the W-Series. As part of our
She Moves Us

series, we asked Marta about the benefits of the new PUMA race suits for female racing drivers, her biggest challenges and why she decided to become a professional racing driver.
How do you like being a part of our newly formed PUMA W-Series Team?
Marta: I enjoy being part of the W-Series. I really love the car and its colors. I feel very honored to be a part of the PUMA team and I am confident that I will achieve good results for the team this season.
When was the moment you knew that you wanted to be a professional racing driver?
Marta: I was 10 years old. Back then I won my first race in karting. I knew I could do it. I knew I could be good. From that point on it was my goal to become a professional racing driver.

Who were your role models when you grew up?
Marta: In my childhood my role model was Fernando Alonso. He won the World Drivers Championship in 2005 and 2006. I always watched him win. I loved watching Formula One races when I was six years old. Nowadays I look up to Lewis Hamilton. He is really nice, and I like his driving style.

What fascinates you about motor racing?

Marta: What fascinates me is the speed and the adrenaline you get when you're competing against the other drivers to battle for each position. I am a very competitive person. Racing with speed is simply the best thing for me.
You are only 19 years old, but you already participated in more than 500 races. What has been your favorite car so far?
Marta: My favorite car so far is my current one at the W-Series, the Tatuus 318. I really like it. It is a heavy car, but it's cool to drive. We get to go 260 kilometers per hour and you can reach the full speed by the first corner.
Where do you see advantages of the tailor-made race suits for female drivers?
Marta: It is far more comfortable to wear, and arms and legs of the suit fit now. It really is a big difference and I really appreciate that PUMA is doing this because I think no one else is doing it. PUMA thinks about women more than many other brands in my opinion and they really focus on doing a good job for us.
What has been the greatest moment in your career so far?
Marta: It was my win in 2019 at the W-Series. It was really cool as it was my first win in the series. I was very proud of myself. At that moment, the work I had been doing for the past ten years of my career paid off.
What are the biggest challenges you've faced and how have you overcome these?
Marta: I think the biggest challenges for drivers are the moments when a race isn't going the way you want it to go and when you feel a bit down. When you have doubts, you have to face the reality and you need to know, that you are good enough. You have to push hard and focus on the job.
What advice would you give to young women starting out on their career in car racing?

Marta: My advice is: If you like it, just do it. Obviously you have to work hard and it's a big sacrifice to be a racing driver. It's not an easy job. But, if you like it, do it. I am here. I am in the W-Series. If I can do it, you can do it, too.