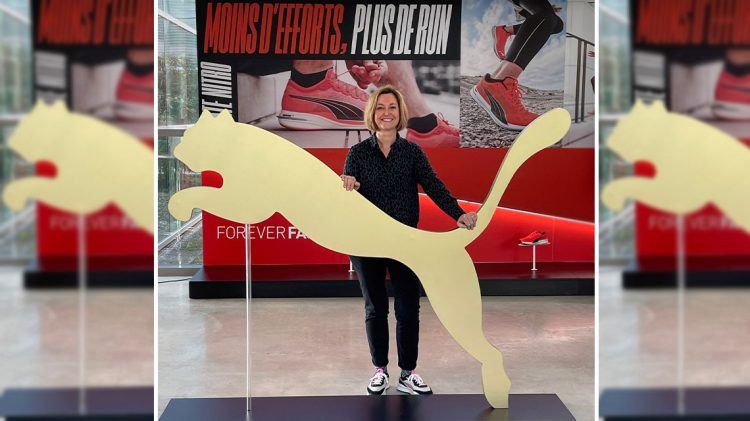 SHE MOVES US


"In sales your numbers count,
not your gender"
She Moves Us - Interview with Alexandra Welsch, Senior Team Head Sport PUMA France
April 15, 2021
She Moves Us - Interview with Alexandra Welsch, Senior Team Head Sport PUMA France
April 15, 2021
As part of our "She Moves Us" series, CATch-Up spoke to Alexandra Welsch, Senior Team Head Sport at PUMA France about combining a successful career in sales with a family, the role models she looked up to, why egos aren't necessarily a bad thing and why in sales, your gender does not matter.
Alexandra is a woman with a strict schedule; she wants to be sure to allow enough time for everyone around her to be listened to and to be heard. At home with her husband, there is a double calendar, as both parents travel a lot and want to guarantee that one of them is home for their two sons. "When one of us has a mandatory business meeting, the other one makes sure his or her calendar is free. In order for everything to function smoothly, though, everyone has to be on board with this kind of lifestyle, the kids even more so," Alexandra says.
Julien, 15 and Arthur, 13 are teenagers now and can already manage a lot on their own but Alexandra will take their call without fail, on her breaks between business meetings, and help them with homework if she is away. "I'm very careful to be present anytime they need me. Whatever the circumstances, I make sure to dedicate some alone time as well as family time to them".
Alexandra is constantly juggling both her professional life and her private life. At work, she also is very attentive to her different teams and colleagues. "I want to make sure the people I work with can come talk to me at any moment. I want to notice it myself if they are overwhelmed, if they are tired or aren't feeling well… it's important for me to catch those difficult moments. I try to maintain an open dialogue not only when we have our annual review but all year long. We can only work properly together if everyone is feeling at the top of their game".
When she was around fourteen, Alexandra Welsch looked up to two of her female cousins, twelve and eight years older than her. "I would hear them talk about their job and it was fascinating to me. They were both living abroad and working in a foreign language. The possibilities they both had seemed endless". Little by little, the idea of going to business school grew in her mind. Later on, Alexandra would follow in their footsteps and attend the same business school.
There, she specialized in marketing and sales as well as in management. After that, she worked with different large companies before joining PUMA. "What I was the most pleased with through my different business experiences was that work was never boring. What you do is based on the same principles but it's never really the same. I worked for local as well as international teams, I worked as a negotiator, as a manager… I have had the opportunity to try numerous things that helped me grow in my career. I need my job to be dynamic and for it to keep me motivated. I found that again within PUMA. Even in the way we work; we are ambitious and our assignments use the services of our team as well as those from other departments, still we all have the same goal to perform better".
"My older son Julien noticed that when he did a week of "discovery internship" with PUMA. He had a glimpse of the various departments. It was an eye opener for him and brought us even closer. He and Arthur are always trying to understand what I do at the company and what the company is about. They now even follow PUMA on Instagram; sometimes they know things before I do"!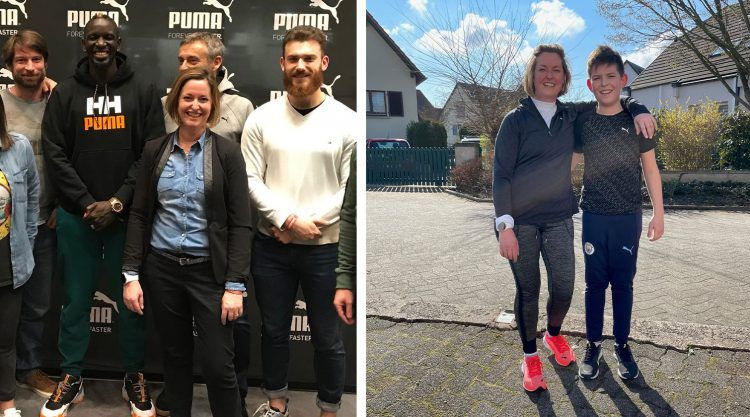 There are still not a lot of women in her line of business. Alexandra said she never paid much attention to inappropriate comments. "I have better things to do and I was never faced with anything major, to be honest. In sales, we all have the same goal. You want to come out of your business meetings with a good deal. Being a woman or a man doesn't change that. We work on numbers, facts and data, not on gender and that's the way it should be kept."
She says to feel respected for who she is and what she accomplishes in her work. "For me that is most important". Furthermore, it's something she wants for her team. "Women and men are treated equitably on my team. They are rewarded because of the hard work they do, for their talent. A woman should not have more rights than a man BUT a man should not have more rights than a woman".
Someone with a big ego is often seen negatively but for Alexandra a certain amount of ego is necessary to succeed in business. "You need to believe in yourself. You need an ego to be in sales. If you don't believe in your product and that you are going to sell it well, it will never happen. You also need to have self-esteem because people are often going to challenge that part of you. However, this type of work also requires you to be a hard-worker and to be self-aware".
"Nobody ever believes me now when I tell them I used to be a very shy person", says Alexandra "Even so, thanks to my hard-work and success, I have gained the confidence others see".