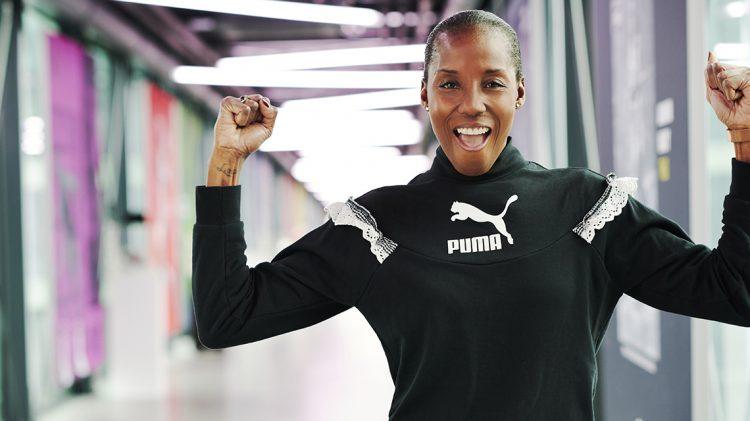 SHE MOVES US
Don't
be
afraid
She Moves Us - Interview with PUMA supervisory board member Fiona May
March 29, 2021
She Moves Us - Interview with PUMA supervisory board member Fiona May
March 29, 2021
She is a former World Champion in the long-jump, she is a successful businesswoman, she's an actress and she has even won the Italian edition of "Dancing with the Stars". So if you ask PUMA supervisory board member Fiona May what her most important life lesson is, she responds full of resolve:"
Don't be afraid!"

.

Fiona grew up in the Midlands in England as the daughter of Jamaican parents. She wasn't the most eager student, as she recalls, and spent her free time taking dancing classes. She looked up to her mother, who worked as a midwife. "My mother was the queen of all my role models because she worked really hard. She worked during the night and still found time to spend quality time with me," Fiona says.

Her athletic abilities were spotted early on by her teacher at school. "When I was eleven, my PE teacher called my parents to say, why doesn't she do athletics? My father started laughing and asked why. Well, in school sports I beat everybody with these long legs of mine," she recalls.

But the athletics club didn't accept her at the time because she was too young. A devastated Fiona made her father promise to return with her a year later and she did. The track became her second home. She ran, she did hurdles before she decided on becoming a long-jumper. "Don't ask me if I ever dreamt of going to the Olympic Games because that didn't come until I was about 17, 18," she smiles.

While she found her calling in athletics, she struggled in school. She was ready to throw in the towel and work in a supermarket instead. "But both of my coaches told me 'Don't even think about it! You're intelligent, you just don't know it.' So I was very, very lucky. I went back to school after I failed and repeated everything to pass," Fiona says.

It was during that time that Fiona found her new love: economics."It wasn't that I wanted to be an economist, but business and corporations and politics were all put together with economics and I just loved it," she adds.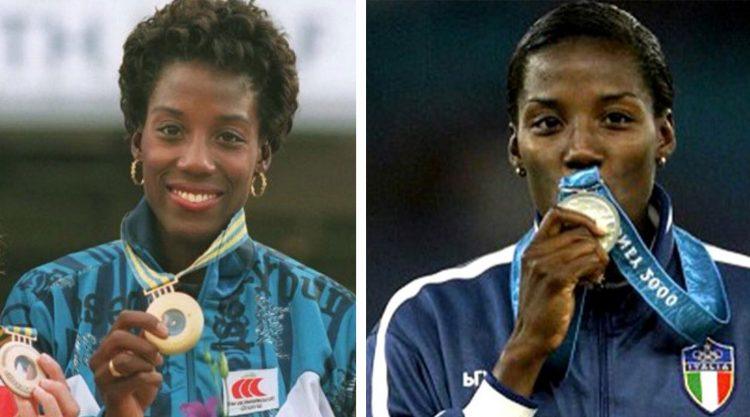 In 1988 she won the Junior World Championship and also decided to study Economics at university. The Olympic Games in Barcelona in 1992 were a disappointment as she slipped and injured herself in the first round, but it set into motion a chain of events that would change her life completely.
To unwind from the challening Games in Barcelona, she decided to go on a holiday to Italy. Earlier, she had fallen in love with Italian track & field athlete Gianni Iapichino and decided to visit him. "And now I'm still on holiday in Italy, with two kids and a divorce and everything else," Fiona laughs.
It was at that time that Fiona's world was turned upside down. In Italy she found love and got married, but she also found great training conditions as well as supportive coaches. When she approached the British federation about wanting to train in Italy, they refused, even when she told them she would one day break the British record, which then stood at 6 meters 90. When her husband told her that she should just represent Italy, she was shocked. She had grown up in Britain and still felt a strong connection to the country.
Her husband nudged her into the right direction with a simple comparison "He said 'If you're a Ferrari and they treat you like a Mini, then I think I think you're making a mistake.' I think that's the first time in my in my life, at twenty three years of age, that I had the courage to change everything just for what I wanted for my dream. I didn't give a toss. I said, I'm not going to fail. I'm going to get there. I'm going to be the best," Fiona explains.
For Fiona a dream had come true: She was supported by her family and friends and she had everything in place to advance her career. She became a World Champion, twice outdoor and once indoor, and won two Olympic silver medals. Fiona is convinced: "If you've got a dream, sometimes you will have a hurdle to go over, don't be afraid."
After her career in track and field came to an end, Fiona got a call from a director to appear in a TV series. She took elocution lessons and the TV show she appeared in was a hit with viewers. But she also built on her economics degree to reinvent herself as a businesswoman and find her feet in sports administration, as a member of the Italian Olympic Committee (CONI) and for a project at the Italian Football Association (FIGC) to combat racism in football.  So she became used to ruffling feathers and breaking down barriers. "Italian sports politics at the time was an all male affair. You had to bang your head against the wall a few times. I also had to learn to become less emotional and become more aware of the procedures, the laws and so on." 
A member of PUMA's supervisory board since 2019, Fiona has also made steady progress in her career as a business woman. Day in, day out, she studied the company to see how it ticked from the inside. "As women, we tend to be more thorough, so be thorough. Learn the game and then you can be helpful and then you know how to compete," Fiona summarises her career advice to young women starting out their careers.
"Women think 100,000 times about signing a contract before they do. They consider all the options first before they do something. I also found that I procrastinated too much, I found excuses and I sabotaged myself. But I had to find myself, I wasn't just Fiona May the long jumper," Fiona remembers.