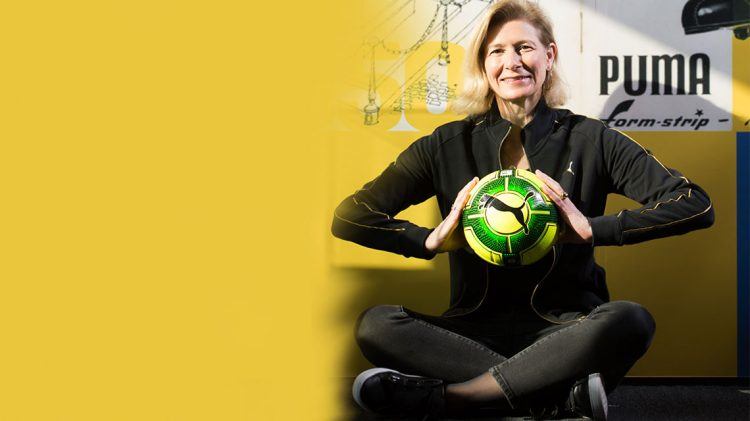 SHE MOVES US
"I am not a Superwoman,
I have a Superteam!"
SHE MOVES US - Interview with Anne-Laure Descours
March 1, 2021
SHE MOVES US - Interview with Anne-Laure Descours
March 1, 2021
How does a French girl who dreams about becoming a stewardess end up as the Chief Sourcing Officer of PUMA?
In the first interview of our
"She Moves Us"

series, CATch-Up sat down with PUMA's Anne-Laure Descours to talk about career plans, discrimination, the women who inspired her and her uniquely relaxed way of seeing life.
"When I was little girl, I wanted to become a stewardess."
Anne-Laure Descours, PUMA's Chief Sourcing Officer and one of the company's three management board members, attributes her girly career plan to her love for travelling. "I wanted to be a stewardess, so that I could travel to many different places and meet people from different backgrounds. Funnily enough: I never thought about becoming a pilot."
Being born in France in the mid-sixties when women usually picked jobs that were typical for women, and kicking off her professional career in the fashion business some 30 years later, Anne-Laure entered a corporate world that was still not an easy one for a young woman. "There was little gender equality when I started to work, and discrimination of women was unfortunately still present in my daily work life."
"Thank you for working part-time"
One specific incident jumps to her mind. She once had to leave the office at 5:30pm for a parent-teacher conference. The Head of the department looked at her and said: 'Thank you for working part-time.' "I had comments like this regularly, but I chose to focus on what was important to achieve: my family, my children. Being focused gave me the will power."
Even more, such behavior forced her to perform better. "It really made me push my limits and give everything to overachieve. I now believe that the sky is the limit and if you want it, you can get it."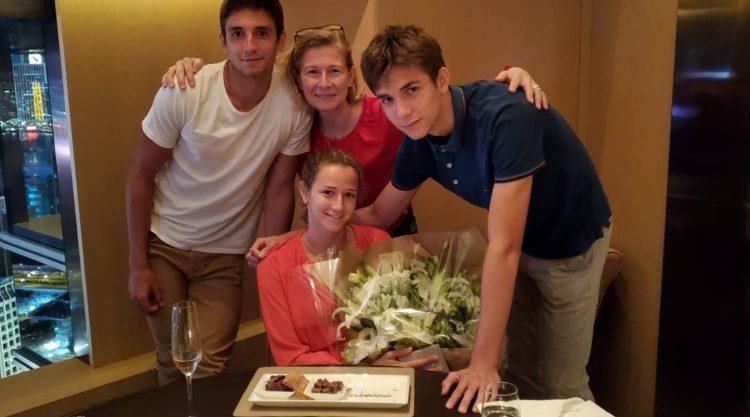 Strong family role models
Ignoring sexist remarks and not wasting energy on fighting things she cannot change have become Anne-Laure's credo throughout the years and she credits her grandmother and parents for this attitude. "My Grandmother was a very strong woman. During the second World War, she had to flee from the bombs with a toddler, had the German police raiding her house, and her husband was a war prisoner in Poland. I think she passed her strength and this attitude and confidence of 'just deal with it, things always end up working out' on to me". Anne-Laure's parents were also instrumental, with an education centered around the values of openness, kindness, humility and hard work."
Anne-Laure took on the position of PUMA's Chief Sourcing Officer in February 2019. After joining PUMA in 2012, she became Global Director Sourcing Apparel and Accessories.
Was she nervous when PUMA's CEO Bjørn Gulden offered her the position? "Of course I was. I thought: Honestly? Me? I am not qualified for the job."
An ex-boss and mentor of hers responded to her concerns that this was the big difference between men and women: women would think everything through – not just once but multiple times, before saying yes. Men just go for it.
Growth comes from the hard Stuff
There is no life or professional career without any personal setbacks. For Anne-Laure, however, failures and hardships seem to be nothing but learnings. A serious health condition at the age 20 – she calls it a gamechanger – made her realize that life can be over very quickly. "I then made the decision that I will live my life to the maximum. Just get rid of all the negativity and non-sense in your life, enjoy and be grateful for what you have."
Another lesson she wants to make especially the younger generation understand is that growth comes from the hard stuff. "Don't get depressed by the tough times. Accept the setbacks and learn from them."
To ensure that her own growth continues, Anne-Laure appreciates feedback from her team. "I value people who kick my ass and I appreciate their feedback and honesty to help me to get better. I'm not a superwoman. I have a super team. Transparency, collaboration and courage help you to build a super team and only a super team can make things happen."
What is striking about our energetic Chief Sourcing Officer – who tends to speak very fast – is her modesty and down-to-earth nature. Only 11.5% of all board positions of the companies listed in the German stock indices DAX and M-DAX are held by women and Anne-Laure is one of them. She has undoubtedly reached the top of her game in the predominantly male sourcing business and still thinks that it's not a big deal. "I never had the ambition to sit at Board level and maybe, looking at my career from the outside and having reached this level, is probably something that is significant. However, I don't see it. I am a normal, lowkey, very pragmatic person."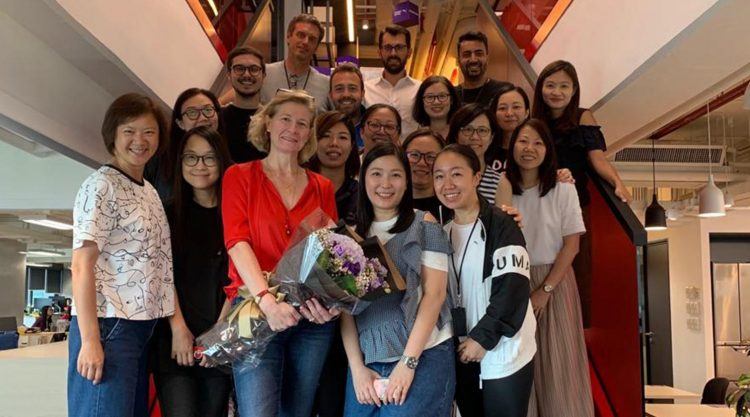 There are no Superwomen. There are just Women.
Pragmatic is probably very true. Being a mother of three children, whom Anne-Laure raised partly as a single mum in addition to her job requires most likely a huge deal of pragmatism. And a huge deal of self-forgiveness. "I have missed birthdays, teacher conferences, and school parties. And I have always felt guilty."
Having three children and a high-profile career was obviously a deliberate choice. "I learned that I cannot have it all. You have to accept that you need to make sacrifices. Don't dream that you can be gorgeously in shape, do your training, take care of the kids, and have a full-time, leadership job. These superwomen images are terribly misleading, because there are no superwomen. There are just women."
Strong support in tricky situations has come – again from women: a solid group of girlfriends was always there to help out – looking after the kids, listening, talking, going out for drinks and having a laugh together. "Being in Hong Kong, miles away from my family, these friends helped me to survive. They have been an amazing assistance and without them, I don't think I would have ever made my career." For her, this is also one of the big differences between men and women: "Most women support and protect each other while men tend to be more competitive."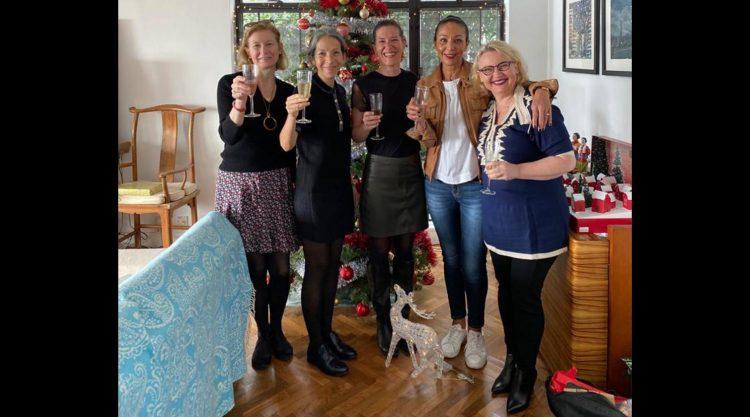 Managing the COVID crisis the Female Way
This characteristic transcends – obviously – into the female management style and the way how women lead. "Women tend to be more inclusive in the way they manage people," she claims. "We try to bring people together, giving space for discussions and debate in order to foster collaboration and trust" It's rather a horizontal type of management and less the vertical top down 'I decide, because I am the boss' approach. "I believe that people and teams networking internally and dynamics of interactions create innovation and novelty."
For Anne-Laure, this collaborative management style is crucial for companies to survive the COVID-19 pandemic. "When you look at the countries that have managed the COVID crisis best, quite many of them are led by women. The best way companies can survive in this time is to set up a safe and connected environment where people can learn, exchange and contribute. The energy will then not be centered about protecting oneself but focused on fostering collaboration and innovation which then will turn into business. Women can plug in this collaborative style very quickly."
Other indispensable ingredients for personal success are – in her view – curiosity, openness and social engagement. "Be this person who loves talking to others, ask questions, don't come to a meeting or conversation thinking you know everything. Be engaged, but not in a superficial way. Don't just ask, but also listen to the answers and don't forget that you don't know what you don't know! When you really care about people, you will get so much back."
GATE 3, please!
Exemplary that you get what you wish for if you are open and interact with the people around you, is Anne-Laure's Gate 3 story.
Once on a flight from New York back to Hong Kong, she had to get home after landing as quickly as possible to say good-bye to her daughter, who was about to leave for University in the UK. Talking to people all the time, Anne-Laure started chatting with the crew and during the 16-hour flight they had a lot of fun together. Before landing she then asked the chief purser: "Do you know which gate we will be arriving? My dream would be Gate 3," and added that she did not want to miss her daughter. The Hong Kong airport's Gate 3 is right next to immigration and would save her 20 minutes. When they taxied to the terminal building, the chief purser came up to her and said: "Guess what? It's Gate 3." It turned out that the captain had requested Gate 3 from the control tower and luckily it was free. "When we have such nice passenger, we will do whatever we can to please her," he said to her when she left the plane.
"Be curious, nice and open to people, and it will open a lot of doors for you."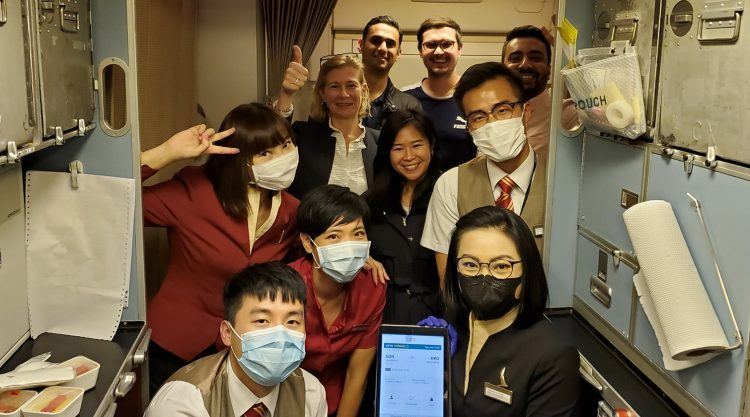 "I think too many women try to please too many people. You can't please everybody, this is impossible. You will just exhaust yourself. It's ok, when people don't like you. You are not going on holidays with them. I have learned this over the years when I started moving into a leadership role. I realized very quickly that I was not here for people to like me. I was here to make things move. "