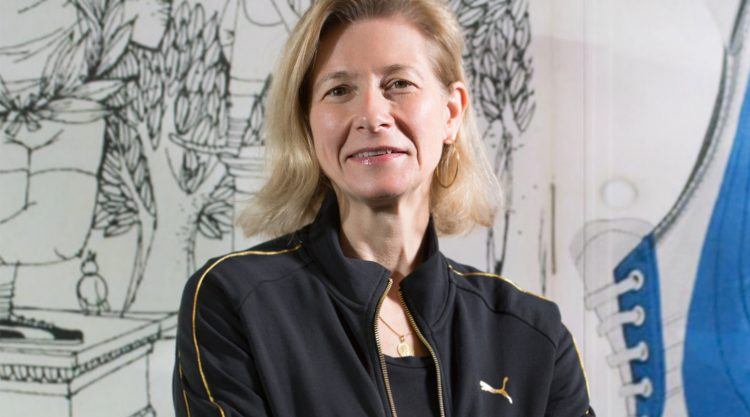 Get to know...
Anne-Laure Descours
CATch up gets you to know your colleagues
February 4, 2019
CATch up gets you to know your colleagues
February 4, 2019
Anne-Laure Descours is
Chief Sourcing Officer

and

the newest member to the Board Management.

In this function, she is also responsible for sustainability.
She came to PUMA in 2012, overseeing the product development and sourcing activities of all global Apparel and Accessories for the PUMA Group. Originally from France, she has lived in Hong Kong for nearly 25 years.
Find out why she screamed like crazy in front of hundreds of people and what she watches on her Ipad before she falls asleep.
You are on your own in a city you do not know. How do you spend your evening?
That depends on the level of security in the city: If it's okay, I will walk around and check on competitors! And if I am with colleagues, I will try local food. If the location not safe, I will stay in the hotel, cleaning up my emails …
What or who do you find embarrassing?
Stubbornness and clichés.
What does success mean for you?
"Success in not final, failure is not final; it is the courage to continue that counts", Winston Churchill. For me, it means staying true to myself and to my values.
What do you appreciate most about yourself?
Being trustable and straightforward, always putting people and teams at the centre of what I do.
Your favourite pastime?
A good dinner with people I love.
Which character from literature can you identify with most?
There's no particular character. Instead I have been inspired by intelligent and generous individuals, among them Simone Veil, a French lawyer and politician who gave women the freedom of choice, never gave up and always displayed modesty.
What was your biggest achievement?
My three children: watching them becoming responsible adults, able to manage setbacks while appreciating their accomplishments is my biggest pride.
What was the first PUMA product you have been wearing and when?
A PUMA hoodie that I used for travelling.
Which book is currently on your bedside table?
No book, but my Ipad connected to Netflix.
What do you appreciate most about other people?
Openness, loyalty, courage and a genuine smile.
When can you laugh about yourself?
When I go out with my group of girlfriends, they never take me seriously.
What is it that you do NOT want to know at all?
Nothing, I am curious of everything
When was the last time you did something totally untypical for you?
Two weeks ago, during my son's first football game as a professional player in Hong Kong, when I was screaming like a crazy mum from the stand in front of hundreds of people.
What are your principles?
Give more than you take, be genuine, make sense of what you do, and have fun.
Which mistakes can you forgive?
Apart from cheating, I can forgive any mistake if people are honest in sharing what happened.