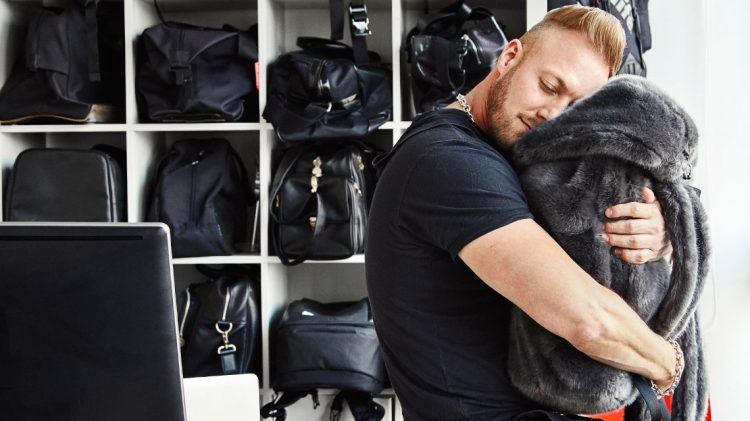 "YES!
This is us!"
What is it like working for PUMA? We have defined our Culture
February 1, 2017
What is it like working for PUMA? We have defined our Culture
February 1, 2017
Five years ago, salary and benefits were the top reasons a candidate would choose one company over another, a recent survey by Korn Ferry Futurestep revealed. Today, culture is the number one reason, claim the recruiting experts. Culture is what differentiates us from our competitors, what characterizes PUMA as an employer and it's what makes PUMA unique.
But what exactly is PUMA's culture? "When you asked people before: 'What does PUMA stand for as an employer?', most of them did not know what working at PUMA was like," says Dietmar Knoess, PUMA's Global Director Human Resources. That needed to change.
Nine months ago, a global project group of three people set out to trace down PUMA's company culture. "Everybody feels our strong PUMA culture, but it was very hard to put into words what makes us unique", says Pia Madison, Global Project Manager Employer Branding, who spearheaded the mission. It was a no-brainer, that it was an absolutely necessary thing to do. PUMA needs talented employees to design and market cool products, to drive our strategy and to achieve our goals. If possible, we want the best ones out there. "Defining and communicating our culture is a competitive advantage, because people then understand our values and it helps them to decide whether they are a fit and if they want to be part of this team," she adds. "The sharper our profile is, the easier it gets to recruit."
The project group went on a global investigation tour to various PUMA locations to check out what it is that makes it so special to work here. They talked to employees, listened and workshopped. In the end, they identified PUMA's values as an employer and put a label on our company culture: SPEED & SPIRIT.
"'Speed & Spirit' is our Employer Value Proposition and it is linked to our Brand Proposition of "Forever Faster", says Pia. "As an employer, we are looking for speed, but we want to make sure that we are not losing our spirit in what we do. It means, that we are respectful to each other, take care of the other one and think before we run."
Is it coincidence or simply the fact that PUMA's values have been there for ages that 'Speed and Spirit' dates back to Rudolf Dassler times? "Back then, Rudolf always talked about 'The Speed and Spirit of the Cat', but it is also linked to our current mantra 'Forever Faster'", adds Dietmar. "So it is a perfect fit to what we are today, but also to the fact that we have always been like this."
But what is it that makes PUMA such a unique place to work at? "Through our meetings with employees, we identified four values", explains Pia. "Be Driven. Be Vibrant. Be Together. Be You."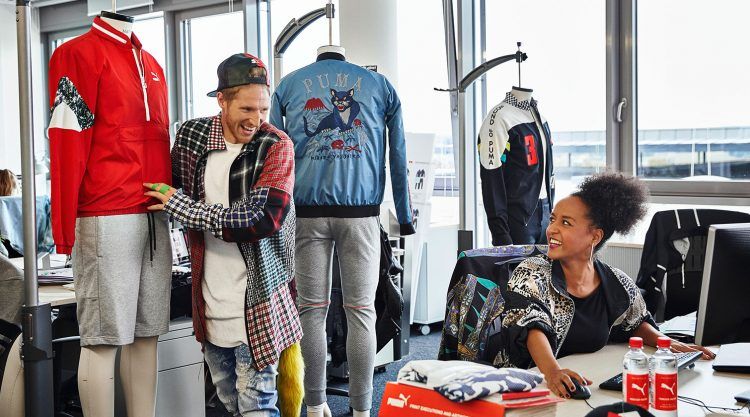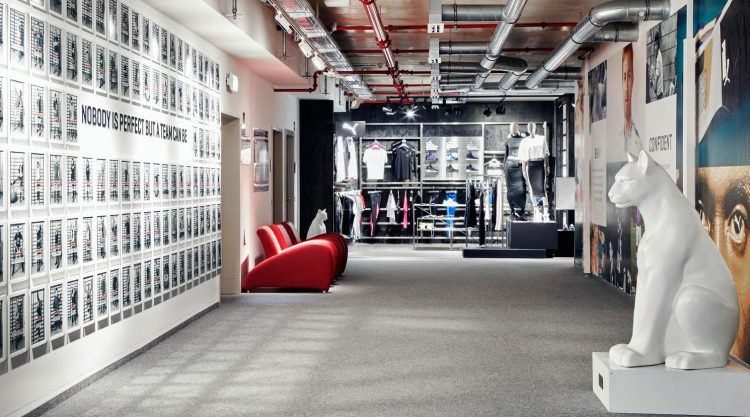 "Be Driven": It means that you are having a very clear mind of what you want to achieve. PUMA is very performance-oriented, so you need to know what you want in our culture. Because it is a fast-changing culture and it's very agile, you need to not forget where you want to go, otherwise you will get lost.
"Be Vibrant": This is about our sporting goods heritage. It is this energy that we have when we launch new products, when we go to market, when we see our football teams wearing PUMA jerseys on the pitch. Everyone feels this energy and it is also reflected through our employees, because it is them who make all this happen.
"Be Together": This is about our team spirit. We are always talking about our PUMA Family. We have a very strong glue among our employees. You need to work in teams at PUMA, and if you are not a team player, you are not right here.
"Be You":  This is about your personality. Literally, everyone can be themselves at PUMA. You do not need to hide in an office outfit and then go home and drop the mask. It is also about speaking up. If you have a different view on things, you can express them.
These values help us to communicate clearer what PUMA's corporate culture is like and what we expect from our employees and future candidates. "After we had defined these values, we showed them to quite a few people and they immediately said: Yes! That is us!", says Dietmar about the on-road test.
This sharp and precise employer image will help us to attract the right people. "Candidates will learn what sort of people PUMA is looking for as new employees," says Pia, adding that individualistic characters, who are not mainstream and who might not get hired by other companies because of their individuality, have a good chance to feel home here. "They can dress like they always dress and they can behave like they always behave, because we are a tolerant company."
On the other hand, PUMA has a hard time with people who are not team players. "Also, if you are someone who likes a lot of structure and rules, you will struggle with the amount of freedom you have here," Pia points out. "You have a lot of ownership by yourself, which is great, if you love that. If you don't, then it's just difficult." Communicating these employer characteristics is important before we hire people. "Otherwise, they will just be unhappy in the end."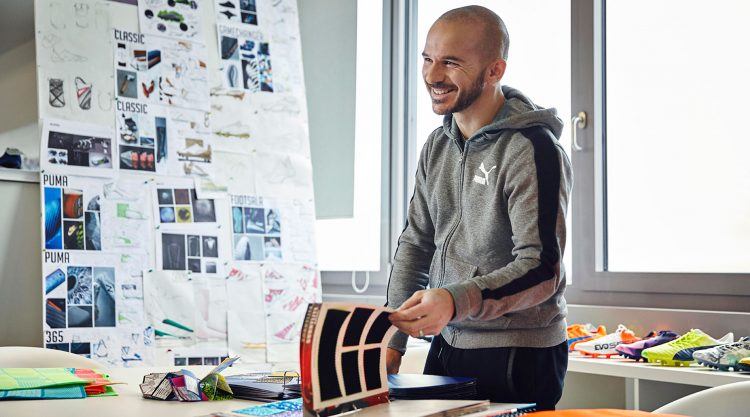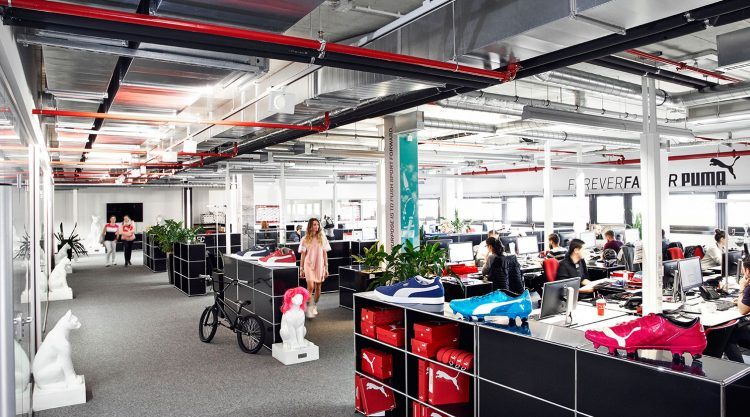 DIVERSITY IS KEY FOR OUR SUCCESS
As a global player, we sell our products in more than 120 countries. Therefore, it is crucial to have cultural diversity and different views among our workforce. "We need to make sure that we have know-how about the global market", Dietmar points out. "There are many views and probably the best result is a mix of them, so diversity is very enriching for the whole organisation."
Alone in our headquarter offices in Herzogenaurach, we employ more than 50 nationalities. "What is good to see is that in offices such as Boston and Hong Kong, we have more and more foreigners working there," Dietmar adds. "Mobility takes place at PUMA and it is good to see that the organization is more and more mixing up." As a consequence, intolerant people will most likely feel misunderstood. "People, who are not open to other cultures and other opinions will probably be quite lonely here."
Needless to say that the culture push is more than mere words. "We have designed new communication tools to make it easier for our people to check out our HR offering and navigate between our services," says Pia. The services are clustered in four pillars: People@PUMA, Learn@PUMA, Wellbeing@PUMA and Careers@PUMA. They all come with new colour identities and a clear structure what is behind them. "If you are looking for a career opportunity, you will know where to go and if you want to check out our training offers, you will easily find them."
Go and give it a try: The new training catalogue with close to 100 training courses has just been released. "In terms of the content, I think we are offering state-of-the-art development tools," claims Dietmar.