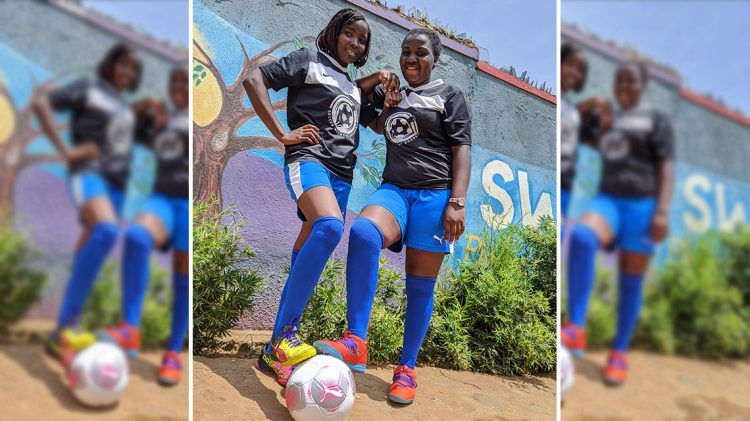 SHE MOVES US
"First of all, you need
menstrual products"
She Moves Us - Women Win's Executive Director Maria Bobenrieth talks about what is really needed to get girls to do sports around the world
March 9, 2021
She Moves Us - Women Win's Executive Director Maria Bobenrieth talks about what is really needed to get girls to do sports around the world
March 9, 2021
Sports can be a powerful tool to empower women and girls around the world in ways that are not always obvious. That is why as part of its "She Moves Us" campaign, PUMA announced a partnership with Women Win last month, an organization which oversees sports projects for women and girls around the world.  CATch-Up spoke to Women Win's Executive Director Maria Bobenrieth to learn more about her work.
Maria learned about the power of sports early on in her life, when she moved from Chile to the United States at a very young age without speaking a word of English. But by joining sports clubs, she made friends and felt like a part of the community. When later on she worked in the sporting goods industry, she realized that the approach big brands took to activate grass roots sports programmes for girls around the world didn't always work.
"I realized that the barriers that were keeping adolescent girls and young women from playing sport were the absolute same barriers that were keeping them from going to school and from participating wholly in their communities," Maria told CATch-Up. "If adolescent girls cannot manage their menstrual periods, they cannot play sports but they also cannot go to school and miss a week of their lives."
So a sports brand showing up with money and some products simply didn't do the trick.
"You need menstrual products. You need bras. You need underwear. You need basic footwear. You need female coaches," Maria added.
Women Win works together with many small organizations around the world and has made projects in more than 100 countries possible. Often, getting girls to do sports is a door to door, family to family conversation. The families also need to be assured that their girls are safe when they travel to the sports pitch and that there's a safe place for them to change into their sports outfits.
For girls and women, being part of a sports team can change their worlds and also instill self-confidence and social skills. One example Maria loves to give about the transformative power of sport is Women Win's netball project with the Naz Foundation in India. This project uses netball to reach some of the most marginalised girls in India to also address issues such as forced marriage and gender based violence.
"If you get to go see the girls when they first become part of a programme, they won't speak up. They were told all of their lives that they should be lady like, be seen but not heard, not to make eye contact," Maria explained. "Then you come back a few weeks later and they are on pitch screaming 'give me the ball'. They become competitive in the sense of really wanting to win for the team. What gets me most about this is the sheer joy of it all. Joy is transformative. Play is transformative."
Women Win supports projects around the globe, from indigenous communities in Guatemala, to refugee camps in Uganda or in the outskirts of Berlin, helping marginalised girls to access opportunities through sports or even getting girls to make their mark in esports.
With PUMA, Women Win will work on several projects over the next three years and support projects for 5,000 girls across the world. PUMA will support Women Win's ROLL Models program, which is designed to support female leaders in skateboarding and to fund the projects they've designed. Ignited by the re-launch of PUMA RUN, PUMA and Women Win will work on the "spark change" programme for girls, women and LGBTQI+ people through running. PUMA will also work on the ONSIDE Fund project, which will give core financial support to girl and women-led groups around the world to advance gender justice in sports.
With so many exciting stories and projects planned over the next couple of years, you may also want to volunteer or donate for Women Win. To learn more about the organisation, visit https://www.womenwin.org