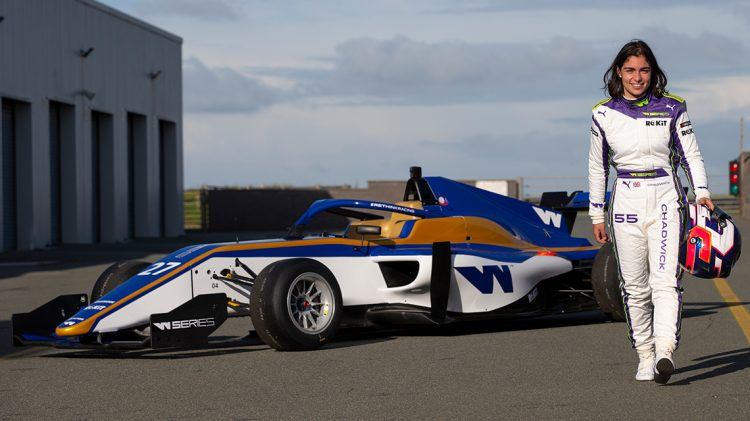 Women
in motorsport
PUMA Motorsport and W Series tailor its racewear with a female-first design in 2021
May 19, 2021
PUMA Motorsport and W Series tailor its racewear with a female-first design in 2021
May 19, 2021
Race suits for female racing drivers have traditionally been redesigned versions of those initially made for their male counterparts. This will end now! As part of our partnership with W Series, PUMA tailors racewear specifically for the female body. Don´t miss out on the season-opening race at Circuit Paul Ricard, France, on 26 June when for the first time a fully female grid will compete in racewear tailored for women.
Motorsport is in PUMA's DNA, just like our brand's principles of equality, diversity and inclusion. Hence W Series is a perfect fit with the values we share. For us at PUMA, it is irrelevant whether a driver is male or female, the only thing that matters is the passion for motorsport. We are very proud that we have been the official racewear supplier of W Series since 2019 and that this will continue in 2021. With our 'She Moves Us' platform we celebrate females who have moved culture and sports forward and will inspire women around the world. In terms of motorsport, there could not be a better ambassador for this campaign than W Series. We want to make sure that the W Series drivers feel safe, competitive, and comfortable in the cockpit. So PUMA has designed tailormade race suits for female drivers to ensure a perfect fit.
What is W Series?
W Series gives talented female racers a platform since 2018. It was never about separating men and women; instead about providing a top-level platform for the fastest women on the planet to showcase their speed on a global stage. The knock-on effect of this is that increased representation that inspires and encourages more women and girls at a grassroots level.
Is the future of Formula One female?
This year, W Series will stage eight races in partnership with Formula 1 which shows the drive for more women in motorsport. It is about time! It's been 46 years since a woman last scored points in a Formula 1 Grand Prix. Jamie Chadwick for instance is a big female talent. At 17, she was the youngest driver ever to win the British GT Championship. At 20, she became the first woman to win a British F3 race. At 21, she won the inaugural W Series. This year, she's been retained as a development driver for Williams. A few more steps, and Jamie will be on the F1 starting grid.