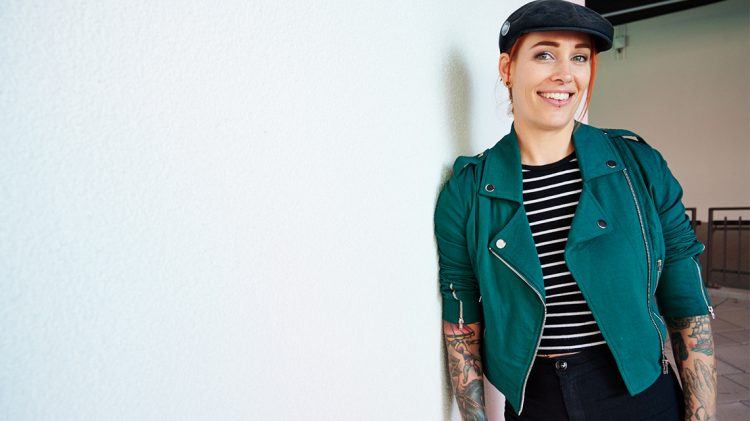 SHE MOVES US
"Don't see your gender.
Be who you are."
She Moves Us - Interview with PUMA's Head of Marketing Central Europe, Anja Egger
May 6, 2021
She Moves Us - Interview with PUMA's Head of Marketing Central Europe, Anja Egger
May 6, 2021
As part of our
SHE MOVES US

interview series, CATch Up had a chat with PUMA's Head of Marketing Central Europe about different types of bravery, sports and the importance of being passionate about something.
Growing up in Germany, Anja Egger always had a passion for athletics, but fell into marketing by chance.
"I guess I was a tomboy when I was a kid. I played football with my brother and my dad and I went skateboarding and snowboarding. I never really did the girly girl sports. I always did what I felt was fun," Anja says.
"I was always a really avid snowboarder. My entire background was from action sports."
During her university studies in the UK, that passion led her to a side job working for a snowboard company. She cleaned snowboards and drove around the UK performing demos for prospective customers.
"Because I worked for that company, after university I applied for an internship with the head office in Innsbruck. I was studying, but it wasn't my studies that set the path for my future career, it was the job on the side," she said with a laugh.
Different types of bravery
While she toyed with the idea of becoming a professional snowboarder, Anja channelled her passion for sport into working with and supporting sportspeople.
"I knew from the first day onwards it was the right thing. Literally, what I did in my spare time I was now doing in my whole day. I was working with athletes and I was working with a product I liked," she recalls.
While she says she never really had specific role models, she has looked to people who carve their own path and are resolute in what they do.
"I admire people that are adventurous and brave and that don't feel a need to conform. There are some people I admire for their skills, like some of the top female snowboarders. But then at the same time I admire my Mum for being a professional and a strong woman, and my Grandma for having fled Romania during the war," she says.
Avoiding the glass ceiling
Anja says she never worried much about being the only woman in a meeting, but that it can also be important to see pathways for career growth.
"When I was snowboarding, I was riding with the guys, when I was skateboarding, I was riding with the guys…I never had a thing where I thought, oh, I'm the only girl here," she remembers.
Yet her first company didn't have any women in management.
"Austria is always quite traditional still, more so than Germany. At that time, I didn't really think about it that much because it was my first job. But then obviously, I wanted to progress, and I also thought eventually there's a stopping point to what you can achieve there."
She says that woman need to take such things into account when they plan their career, as well as other factors.
"You need to plan it differently. Overall, I think women might not be as straightforward as men in their career plans…women follow their heart more. They worry about how to combine work balance and family."
Be bold and ask for it
When it comes to their work life, Anja thinks that women need to be bolder.
"Don't see your gender. Be who you are. It should have no impact on your career at all," she says.
"Women are way too humble when it comes to asking for salary, especially early on in their career. I know there are examples from where I would hire a guy when they would ask for double what a woman might ask for. For women, when are young we are taught to be nice and don't want to be "bitchy." We need to stop doing that."
Looking back, she believes one of her most important experiences was knowing when a job was not a good fit and not being afraid to switch gears.
"Go and don't complain. It's in your hands to change it. I am super passionate about what I do at PUMA," she says.
"It's also essential to ask. People don't know what you want to achieve…you need to ask for it."
Don't forget to have passion
Anja also feels that women have something extra to add as managers.
"Overall, I think women tend to be a bit more of consensus builders. I think that especially when it comes to leadership you can be more empathetic. Me being a woman, I put a lot of emphasis on the team feeling comfortable. They should feel safe to try things and fail. I want to empower them, and I want to make sure they know that I as a manager am there for them."
She thinks part of that comfort is also making sure that there is a balance between work and play.
"I believe that if you don't have a balance you start to lose your motivation. I have sports, I have activities that have nothing to do with my work life. In the summer I started wakeboarding again, I really got into it last year. My passion now is aerial acrobatics," she says.
Keeping up such activities in free time help her to do better at her job and is her key advice to women coming up in the ranks.
"Be motivated, be passionate and know your shit," she says with a smile.