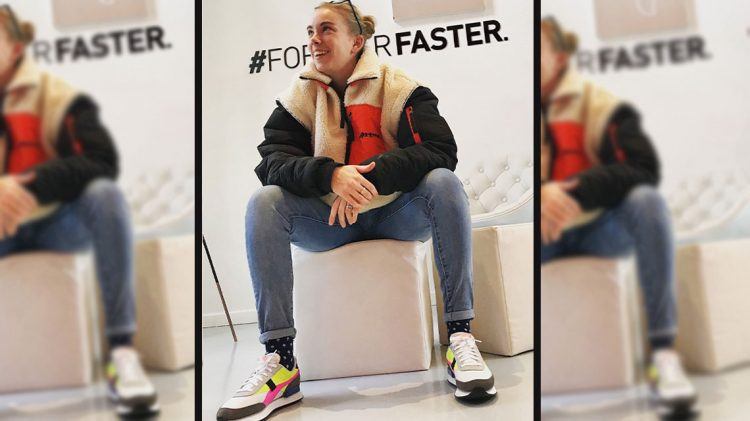 SHE MOVES US
Go get
what
you want!
She Moves Us - Interview with Elise Rocher, Team Head Merchandising at PUMA France
April 27, 2021
She Moves Us - Interview with Elise Rocher, Team Head Merchandising at PUMA France
April 27, 2021
Elise Rocher is only 25 years old but already leads a team as Team Head Merchandising at PUMA France. As part of our "
She Moves Us

" interview series, she speaks about what it was like to be the only girl in the football team, how she unwinds after a stressful time at work and how her life motto has been to "Go get what you want!".

When Elise was a little girl, she was fascinated by uniforms and wanted to join the military. It represented aspects that are dear to her, such as patriotism and loyalty. "I wanted to give back to my country and to others in general. I admire those jobs because they are very demanding and that's how I am towards myself".
Eventually she found that spirit again in sports. "I played football and tennis at a high level. Therefore, I grew up in this world where I would always have to push myself and set the bar higher than it was a second ago". To get better at what she did, she said she had to listen to her coach but also make sure to get along with her team. "It was also a way for me to try to make the people I am close to proud of me". 
In 2010-2011, there weren't a lot of girls on football teams and mixed team were allowed only until the age of 15 in France. That's how Elise started football, in a boys' championship. "It wasn't easy at first, physically and on a technical level, it was very challenging for me so I had to find other ways to fit in. I showed them what I was capable of, I took my time and eventually the fact that I was a girl wasn't something that got brought up anymore. I was eleven and it was all normal to me". Elise quickly became the captain of the team and later on became captain of an all-girls team. 
Elise tries to use her experience in sports in her work as a manager. Being given such an important position was a great moment for her but also a tough one. She received some comments about her age but she took it as a new challenge. She decided she would continue to listen to herself, be open minded towards others and as a manager, do her best to ensure her team continued having a great time at PUMA under her supervision.
"We can only move forward if we work together", she points out. "I asked myself a lot of questions when I started as a manager. It took me a bit of time to understand what was asked of me and how to help my team to the best of my abilities". The key for her was to observe how each and every member of the team is functioning and then, with that knowledge, coach them in the right way instead of bossing them around. "I still have a lot to learn and I want to keep bettering myself", she mentions. 
Elise always wants to give the best of herself, not only at work but also with her friends, her family and her partner. She realized quickly that she would have to set some boundaries in order to be able to also recharge her batteries and not push too far beyond her limits. "I became aware I wasn't doing a sprint but a marathon and so I had to choose my battles. I still sometimes forget to take a break because sports is my passion, but I'm getting better at it."
"One of the ways I let off some steam is by taking my motorcycle, leaving Strasbourg for the Vosges and enjoying the sunset of the Alsace plain. It's one of the best getaways for me because it's a total change of scenery".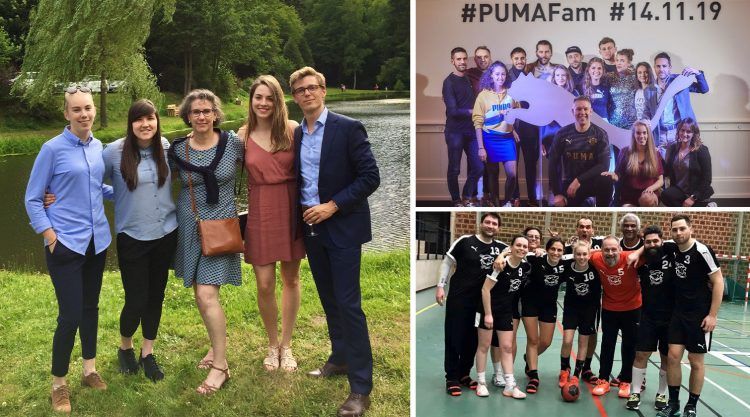 Elise had a great model to look up to: "My mother", she said. "She had a full time job and two kids to raise on her own, me and my older brother. It was a lot and she had to travel sometimes for her work, too. She showed me it was possible for a woman to make it. And she achieved all that in a time when it was much harder for woman to do so. When she returned from work and picked us up at our grandparents, I was extremely proud of her because I knew even if she couldn't always be there she was doing everything she ever wanted."
"My mother and the rest of the family always encouraged me to be myself. I only have a brother and male cousins and nobody ever told me I wasn't allowed to play one game or another because I was a girl; on the contrary. We had a lot of fun and I have always felt on an equal footing with men."
Today when she ends up being the only woman at business meetings, she doesn't pay much attention to it. She does feel like her feedback is just as valuable as that of a man, "I have been given the chance to show that I have good ideas and that I can bring an interesting point of view." She says she never felt anyone being biased towards her because of gender issues.
If Elise had to give any advice to women wanting to start a career in business it would be the following; "As much as possible go get what you want in life. If you show your motivation and do whatever you can to reach your goal, you'll get there. But most of all don't forget: You are not alone and you can benefit from other people's guidance".