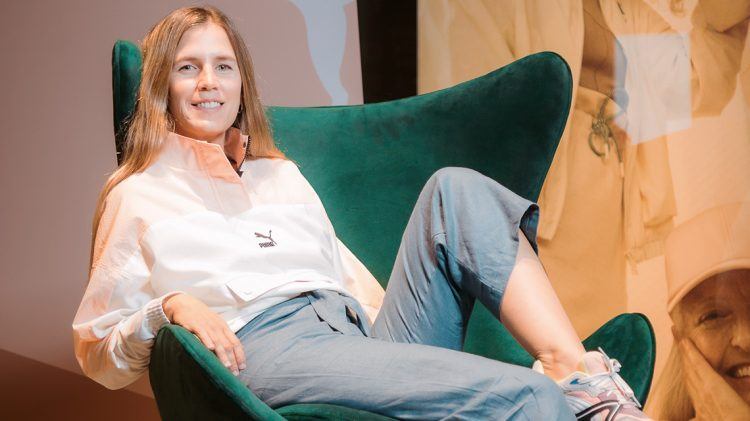 SHE MOVES US
"If you are committed,
you can achieve whatever you want"
She Moves Us: Interview with Agustina De-Francesco, Head of Retail General Administration
August 17, 2022
She Moves Us: Interview with Agustina De-Francesco, Head of Retail General Administration
August 17, 2022
Meet
Agustina De-Francesco

! Agustina has worked at PUMA for fifteen years and is currently Head of General Retail Administration in Argentina. As part of our

SHE MOVES US

platform, she opens up about her role models, her success factors and the importance of a good work-life balance. Read her story!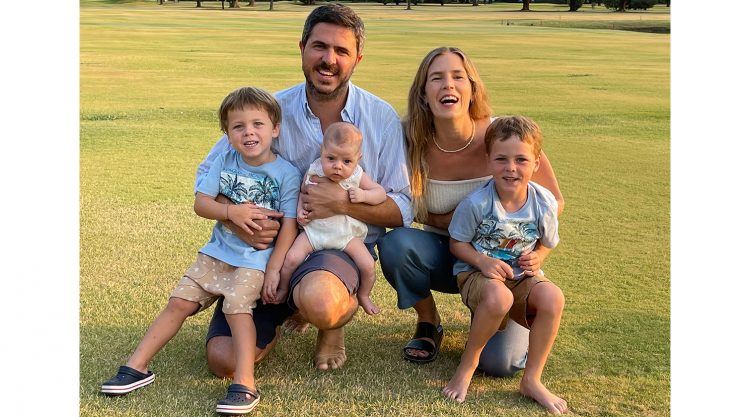 When Agustina was a little girl, she had no idea she would end up working for a sports brand. "I didn't have a strong feeling about a career in particular". As she saw her father and brother working in the business field, she decided she wanted to head in that direction, too, and become a business woman. "Today, what I like in my job is that it combines business and excitement".
In college, Agustina studied business administration. "My father and brother told me to study and work from a young age to gain experience". During her last year of college, at the age of 21 years old, Agustina started working for PUMA. Today Agustina is 36, has a husband and three beautiful children. "The company saw me grow and supported me when I took time off when my kids were born".
Agustina started working for PUMA as a Business Unit Manager. Today the position doesn't exist anymore. After only a few months, she transferred to the sales area. She stayed in that position for a few years before jumping to the merchandizing area of the business. "Again, I worked there for several years and then moved again, this time to the retail part of the company. I was only there for six months when the head of retail had the opportunity to move to Australia. The general manager, Gustavo came to see me and offered me the position. I am head of retail since March 2020. In total, I've now worked for 15 years in the company".
The pillars to become successful
Agustina's parents were always very supportive of her choices in life. "They taught me that getting an education was the best tool I could get in life. In my family, we believe that hard work and a good education, together with humility and being a good person, are the pillars to become successful".
Role model
Agustina is very close to her family, mostly to her mother, whom she considers to be her role model. "While growing up, I didn't fully realize it. When I became a mother myself, I understood how much she means to me. Now, I just want to be exact same mother as she has been with us". Agustina's mother showed her how to be a good person, how to stay determined and to always give herself a hundred percent in everything she does. "She is very generous, loyal and she cares so much for her loved ones. She taught me to persevere. She was always present for my brother and me; she still is today also—as a grandmother".
Team work
Both Agustina and her husband work from very early in the morning until early in the afternoon. When they come back home, they say they divide and conquer. "We each take on different tasks. He might take the kids to soccer while I stay with our 10-month-old baby or he will give the kids a bath while I prepare dinner… We do everything together. We work as a team and, most importantly, as equals. I think family life is all about supporting each other, being empathic and being there for the ones you love".
The perfect balance
Working as a top executive can be challenging. In Agustina's opinion, in order to manage to deal with such an important career and her personal life, finding the perfect balance is key. When she takes time off from work to spend it with her children, or to take them to the doctor or to soccer… Agustina makes sure she later on makes up the time she took for her family by working extra at her job. "Most of the time I really feel guilty not being around my kids as much as I would like to. Which parent doesn't have that feeling though? Still, I believe it's difficult to be a top executive, be an excellent mum, be gorgeous, do sports… sometimes you cannot do otherwise but choose. As long as you feel balanced and enjoy your life, it will be alright".
The different rules that were applied during the pandemic, such as staying at home, helped Agustina keep a proper balance in her life. "It showed us that we can work remotely, the same way as in the office. All my work is linked to my cellphone. Sometimes I can work from the waiting room of a doctor, or participating in a meeting from the parking lot of the school. I believe that nowadays, what is most important is to spend quality time with my children. I try to play as much as I can with them and to be there for them. Combining both professional and private life can be exhausting but soon my kids will be big and they won't need me as much anymore and I will miss that. I enjoy every moment I have with them right now".
Believe in your capabilities
The most difficult moment in Agustina's career was when she agreed to take her actual job. It was at the beginning of the pandemic. She says she felt overwhelmed. The stores were closed and all of a sudden, she had huge responsibilities and a new team to lead. "When Gustavo, my actual boss, offered me the position I am in today, my first thought was that I wouldn't be capable of doing it. After a few days of thinking things over, I said to myself that if he believes in me, I should believe in myself. I was really scared but if I hadn't said yes, I would have never known what I'm capable of. 'Who doesn't take risks will never win!' so I went for it and took the job. Sometimes I still feel insecure but I keep pushing myself to go forward and to believe in myself. Until now it has always paid off. Every day I wake up and I'm excited about going to work".
Agustina had the chance to see women in leadership positions before she got there herself: "It always felt normal to me, I never questioned it". Therefore, she doesn't think there is such a big difference nowadays between men and women at work. "In our committee team in Argentina for instance, we are 50 percent men and 50 percent women. In my retail team, we are mostly women. I think there is plenty of equality today between genders".
We work hand in hand
Agustina believes that the most important skills you can have as a leader, are listening to your team, communicating with them and staying empathic. "I like to be close to my team and to know how to help them when they need it. I want to make sure we work hand in hand together". When she became a team leader it wasn't easy at first, she says. "I tried to stay true to myself. I tried my best to apply everything my parents told me growing up; to be kind, to be there for others… I wanted to give my team the tools to make their own decisions and for us to work all together. I want to help them when there is a mistake that needs to be corrected and stand up for them when needed".
Focus on the present
Agustina tries not to think too much about the future but to focus on the present. "I try to enjoy every moment, like looking at my kids grow. The best thing we can do, in my opinion, is live and enjoy the present. We don't know what can happen tomorrow".
You are your own limit
The most important thing Agustina learned in her career is to do the best you can and to persevere in everything you do. "If you are committed, you can achieve whatever you want". The advice she would give to someone willing to follow the same path as her is "to be yourself, to believe in yourself, to care about the people around you and to stay empathic. You are your own limit but you can also set your own limits. Set your goals and go for them. Also don't forget the people you work with are like a second family so I would treat them well. You spend most of the time in your day with them".