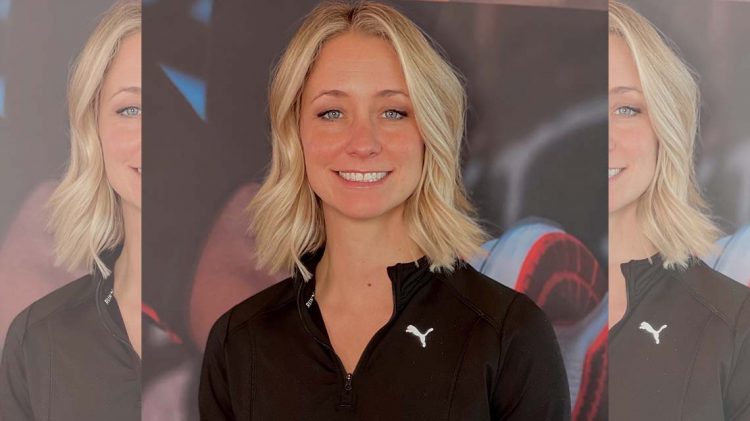 SHE MOVES US
"Give
yourself
a break!"
SHE MOVES US - Interview with Global Director BU Run/Train, Erin Longin
September 15, 2021
SHE MOVES US - Interview with Global Director BU Run/Train, Erin Longin
September 15, 2021
As
Global Director of the Business Unit Run/Train

,

Erin Longin

has helped restart PUMA's running category and accompanied the successful launch of the new line of running shoes with the company's advanced

NITRO technology

. As part of our "

SHE MOVES US

" series, Erin talks about her career, being a mother as well as a manager and about the importance of a work-life balance.

Erin Longin has spent most of her career at PUMA, just over 13 years. When she graduated from college, a lot of insurance companies and finance companies came to her school and tried to recruit her and other students. She would go to all these different career fairs and interviews… "It all seemed so boring," she remembers. Then she found out about a department store that was recruiting for their executive training program, which was bringing young people in to learn to become buyers for the Boston-based the company. "There was a financial and business side to it but we would also study the consumers, the consumer trends, fashion trends… all of that sounded much more interesting to me than what the other companies were about".

Erin entered the program and was a buyer for many categories including cosmetics, accessories and sportswear. When the company merged, everyone got relocated to New York and Erin was considering that change and move because "I was young and in my twenties". Eventually, she decided she wanted to keep working in sportswear, joining Timberland for a few years before PUMA reached out to her in 2008. "I had always admired PUMA as a brand with their long history in sport, combined with a unique connection to fashion and culture".

Right now, Erin oversees the business unit that creates the products for the categories of running, training and what is called 'studio', which is mostly a yoga and pilates type of product. In this role, she oversees the footwear and apparel creation teams, plus a dedicated marketing team that reports to her as well. "It's by far my favorite job so far and I am very passionate about it. Running, fitness, yoga; these three categories were already a part of my personal life. Having the chance to oversee a team that creates products for these three sports is just very exciting for me. And our team is amazing! The team is what is for me the most important about my job. We have such talented people! People that are themselves passionate about these sports categories. Plus, there is still so much that we can do. It doesn't feel like we have come anywhere close to maximizing our potential and I think that's what keeps our whole team energized. It's just fun to be a part of it!", she explains with a lot of enthusiasm.

Sports has a special place in her life, mentally and physically. "I would never claim to be somebody who has a big history in competitive sport. I played competitive sports because I wanted to be part of the teams and the social aspects. I did gymnastics when I was young, I was a fitness instructor in college… I felt like I always had that connection to being in shape, being fit, being healthy that is something that I carried on through the years.
For me it's more of a lifestyle and it has taken different forms depending on where I am in my life. I used to do a lot of these studio fitness classes but when I started to have children, I didn't have as much time to do all of that. Then I started running whenever I could. If I had 30 minutes I would go for a run because I couldn't go do the 90 minute yoga class".

Part of why Erin goes running also has to do with getting some "me time". "Our house is really busy. Our boys ages 4, 6 and 8 are always playing, always fighting, always wrestling, always wanting to do sports. With little ones there is constant movement. It's very rare when they are all sitting down calmly. That is part of why I go running. I will go outside in all kinds of weather, my husband thinks I'm crazy but it is my time alone and my time to get out of the house and do something for myself".
It's the same with work, she says. "I look at it like it is something for me. It's something I enjoy doing. I love being home with the kids but I like to have that balance and have both in my life. I have always been that way. It never occurred to me to stay home and stop working". That was never something that appealed to her.

However, Erin says she experiences some guilt when she has to go on business trips and doesn't see her three boys as often as she would want to. "But I think it's important as well that children can look up to women and as a mom I can also sometimes prioritize my work and be successful and show that to them. I want my boys to always have that positive opinion of women and know that they are equal to men and that we can have a full-time job and travel and also come home and be a great mom. I think that's what I saw from my mom and grandma when I was growing up and that's what I wanted my boys to see as well".

Looking back, Erin confesses there were two women in particular who shaped who she is today, her personality and her approach to life. The first is her grandmother. "She was very strong-willed. She was very much in charge but also very compassionate. I found that to be an important combination – loving and strong. She was somebody I was always inspired by and very close to".
The second is her mother who is very similar to her grandmother. "She would take care of our whole family while maintaining a full-time job. She brought us up in a very loving household. She was a teacher and she instilled in us the importance of education and hard-work. She was the loving force behind our whole family and still is". Erin is trying to pass that on as well to her family now that she is a mom herself. "I'm a pretty good multi-tasker, my team always laughs and says I can take on 10 things at once. Sometimes that is what it takes to make it through my day but certainly my family will always come first". When they need her, Erin is there for them.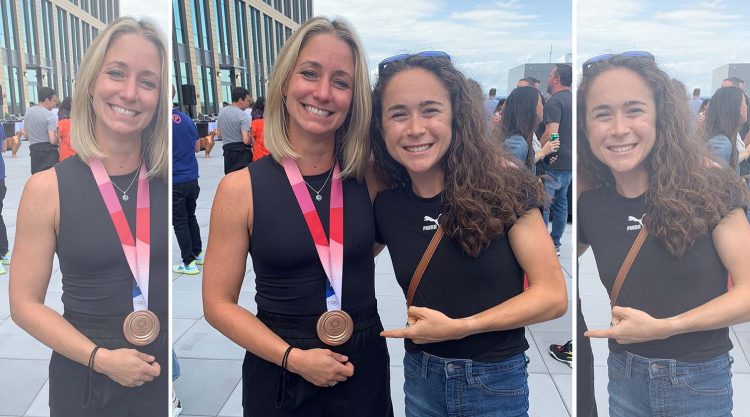 A lot of women and men on her team have families of their own and to have to juggle between their work and home life. Nevertheless, Erin underlines how much of a collaborative group she is part of, "They are always there to help out. We don't worry if we have to take a sick leave or go take care of one of our children". There is definitely a lot of awareness and compassion on her team for work-life balance, whether you have kids or not.
"In my opinion you have people who are much happier at work when they know their co-workers and their colleagues and their managers are there to support their personal life too. That's always been the case for me, I've gotten the support I needed when I needed it". That's why it is of great importance to Erin to pass that on to the team as well.
Erin says that having kids and having this more complex work-life situation to deal with than she did previously, has helped her change and has helped her to prioritize. "I believe it's one of the things that made me a stronger employee and a better co-worker. I focus on what's important and before I had an intensity for every little thing. I now ask myself what has the most value every day and based on that I decide on my priorities and I'll spend my days on that. Even at home choosing my priorities helps me get through and still be successful. I make sure to focus on the areas where I will have the most impact".
Erin remembers giving advice to someone by telling them "You don't have to answer every single email and stay up until 2 in the morning. You are going to burn out if you do that. Instead prioritize the ones you need to get to right away. The most urgent first and the others can wait".
"I think we are seeing it a lot now with women and mothers in the work force, especially during Covid when everything became even more complicated and intense for people at work and at home. We see a lot of women suffer with that feeling of burn-out and that kind of deflation of 'I can't juggle it all'", she says. "I can really relate to that. For myself, I'm really trying to make sure that we are taking some time off, closing our computers, walking away for a little bit. Therefore, what I would also advise someone who might follow my footsteps is "to give yourself a break".
For the future, she hopes that younger women who are coming out of college, out of university, and who are starting their first jobs, know they can have both a great career as well as being a great mom. "They don't need to sacrifice one or the other. Companies now are offering more support for employees. We've seen maternity leaves in the US get much better over the last few years. With continued support out there, women are capable of anything!".