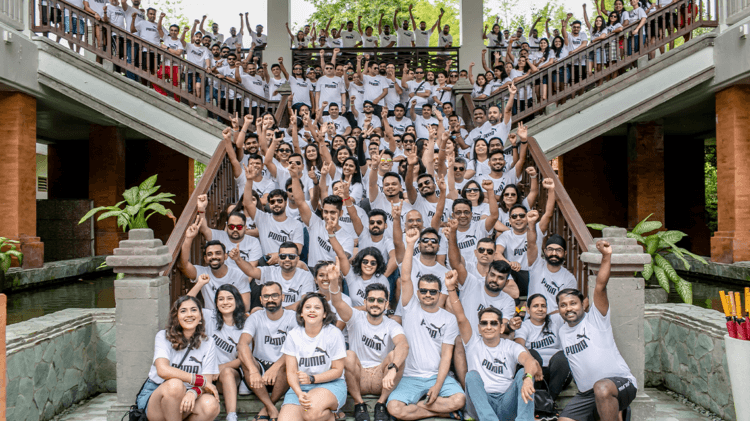 People at PUMA
PUMA India's
#BaliTakeover
Building bonds, having fun, and embracing the PUMA spirit
June 13, 2023
Building bonds, having fun, and embracing the PUMA spirit
June 13, 2023
PUMA India embarked on a three-day outbound adventure in Bali, where they engaged in various team-building activities and had an absolute blast. The trip was a momentous occasion since it marked their first international outbound trip in four years. The PUMAs dubbed it the "Bali Takeover," and it seemed to have lived up to its name. Read on!
Throughout the time in Bali, the PUMAs engaged in a wide range of activities that not only brought them closer together but also fostered teamwork and camaraderie. As the photographs show, they were able to capture the PUMA spirit at its best – from chilled-out moments to lively dance-offs.
An unforgettable Bali adventure
Day 1 kicked off with a glamorous award ceremony where PUMA India honored their top performers of the year. Each department rocked a unique and stylish theme, showcasing their fashion prowess. The leaders took the stage and shared their stories of growth, failure, life lessons, and ultimate success. It was an evening filled with pride and celebration.
Moving on to Day 2, the first half was dedicated to an enlightening Experiential Learning session led by Ameen Haque, an expert storytelling coach, innovation champion, and diversity advocate. Ameen shared invaluable insights on using storytelling as a powerful tool for personal and professional growth and the PUMAs were inspired to embrace the art of storytelling in their business endeavors and life journeys.
The second half of Day 2 witnessed the spectacular PSL Squad Launch. All six squads collaborated and delivered innovative presentations to introduce their respective teams. Each squad showcased their unique strengths and achievements, fostering a sense of unity and shared purpose. Following the event, the PUMAs let loose with a night filled with laughter, delicious food, and epic dance moves.
On Day 3, our employees had the opportunity to explore the vibrant streets of Bali, indulging in some chill time and shopping delights. But the fun didn't end there! As the sun set, they gathered for an unforgettable beach party.
"Our Bali Takeover showcased not only our commitment to fostering a positive work culture but also our dedication to creating unforgettable experiences for our employees."
The PUMA India team returned home with hearts full of cherished memories, stronger bonds, and an immense sense of pride in being part of the fastest sports brand in the world. Keep up the spirit, PUMAFam!