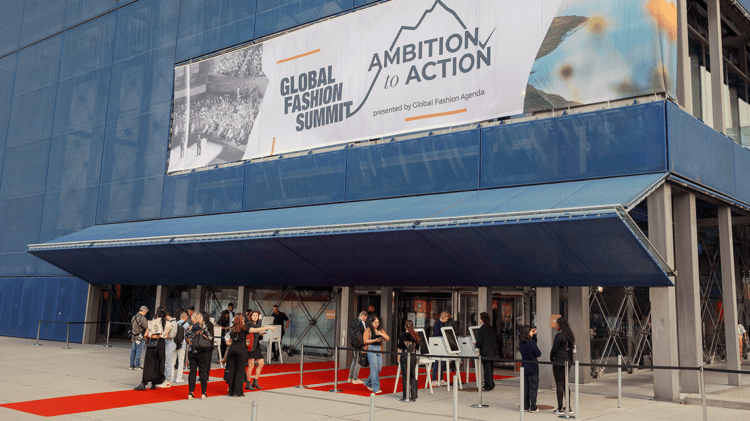 Global Fashion Summit
PUMA's Sustainability Engagement To Take Center Stage
June 27, 2023
PUMA's Sustainability Engagement To Take Center Stage
June 27, 2023
PUMA is participating in this years Global Fashion Summit in Copenhagen, the leading platform for sustainability in the fashion industry presented by Global Fashion Agenda. The summit features an exciting program where PUMAs participate on and off stage – including the GFA Designer Challenge and a panel discussion on leveraging fashion logistics. Read on to delve into the details!
GFA Designer Challenges: PUMA's Sustainable Creative Journey
A highlight of the Global Fashion Summit is the GFA Designer Challenge, an interactive showcase that celebrates the extraordinary work on sustainable design.
PUMA's Global Creative Director Heiko Desens will be featured in the initiative, alongside other exceptional Creative Directors and their design processes from original idea to final product; matching style and ingenuity with supercharged, sustainability-focused solutions.
In response to the challenge Heiko Desens partnered with designer Nicole McLaughlin, to creatively find solutions to the challenge of reducing waste from the supply chain through upcycling material cut-offs.
"Taking part in the GFA designer challenge is a great platform to share our concept 'sweep the factory floor' and to receive honest feedback. Most importantly, it's an opportunity to inspire others to be bold in finding solutions to waste. We've found this challenge to be unpredictable, yet invigorating, resulting in unique designs. At PUMA we are constantly striving to do better through collaboration, which is key to pushing the boundaries with innovation. We're excited to build on what we've started with Nicole McLaughlin and look forward to sharing the journey. There's only one forever, let's make it better."
"The designer challenge is important to push the limits of design and share the hardships in a transparent way. There are struggles and challenges, but we learn, apply, and do it better."
🎬 Watch

"Sweep the Factory Floor"

which spans McLaughlin's New York Studio and our PUMA headquarters in Germany to show the creatives at work!
Panel Discussion: Leveraging Fashion Logistics for Decarbonization
In addition to the GFA Designer Challenges, our Global Director of Logistics, Thomas Liske, contributes to the panel discussion on "Leveraging Fashion Logistics" at the Global Fashion Summit. He will share his insights on how innovative global logistics solutions can facilitate the fashion industry's transition from ambition to action in decarbonizing the supply chain.
With sustainability at the forefront of our priorities, we exemplify our commitment to fostering creativity, collaboration, and innovation on the path to a more sustainable future within the fashion industry.
We are looking forward to celebrating the visionaries and changemakers who pave the way toward a more sustainable and responsible tomorrow at this years Global Fashion Summit!