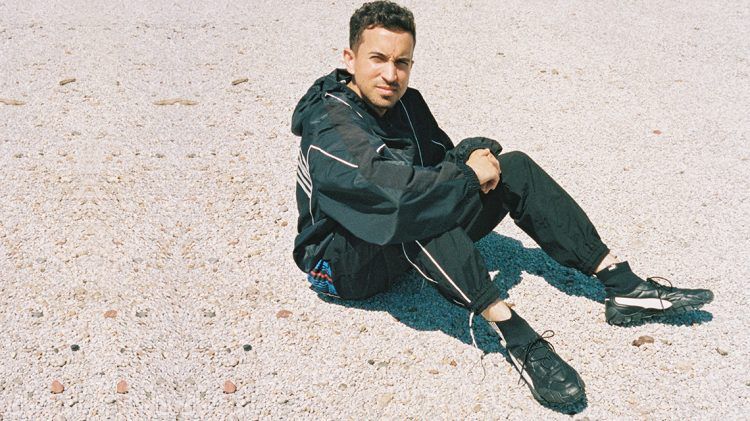 Get the Look
Get the Look:
PUMA x PUMA
Low-Key Royalty
September 17, 2020
Low-Key Royalty
September 17, 2020
The new PUMA x PUMA mashup is straight-up fashion goals. This internally curated collection takes a look back at some of the finest moments in PUMA history to deliver some modern and culturally relevant pieces that are perfect for the present.
Inspired by the iconic PUMA KING boot and its football legacy,

this gender fluid collection brings us some imperial looks

fit for Kings and Queens.
The Shoes
The fancy footwear in this collection draws design elements from the classic PUMA KING and then reworks them into progressive (and majestic) new pieces.
Our 'King' look revolves around the exalted Centaur KING. With its knitted sock construction, high-fashion design elements and football-inspired details, this is a shoe worthy of upholding the KING legacy. The all-black design combined with a regal white formstrip gives us a fresh and modern take on the classic KING boot.
On the other hand (other foot?) our 'Queen' look is built upon the majestic Kyron QUEEN. Again with football-inspired details, the shoe has a retro chunky silhouette and detachable tongue that gives it a versatile flair. With a fresh white leather design and pops of royal blue accents, we are kind of worshipping these sneakers and their low-key noble vibes.
Outfit for Kings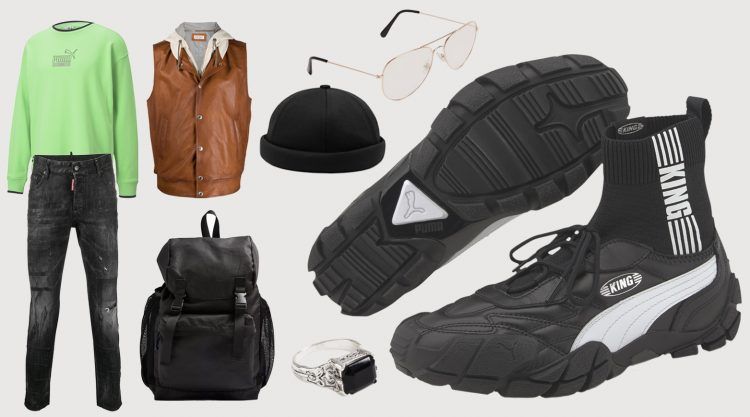 For the Kings
Working from bottom up: as a base you can never go wrong with a classic pair of skinny jeans. These  ones in particular have incorporated some interesting design elements along with a cropped cut that allows the knitted sock component of the Centaur KING to shine through.
Above this we had to go with another item from the capsule—a bright and bold green PUMA KING Sweatshirt. A standard item of the sportstyle heritage, the funky hue gives something modern and dynamic to the outfit. Layered on top you can try a sleeveless jacket, such as this brown leather number. The sleeveless jacket vest is big this season and offers an easy-going luxe reimaging of a preppy vintage essential.
Outfit for Queens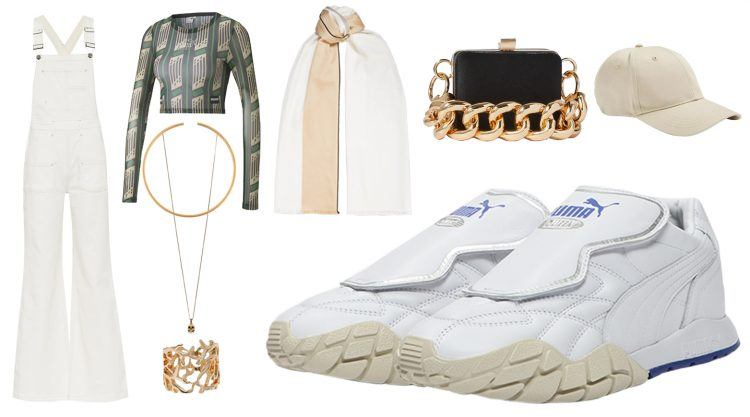 For the Queens
At the core of the outfit made especially for our fashionable queens is the PUMA QUEEN Cropped LS. With wraparound graphic print, reflective print on the front and a perfectly fitted cut, this is a statement piece of the highest order.
Building outwards we went with a crisp white pair of overalls to wear over the crop top. This is a trend that has broken free from frumpy farmer girl overtones and now makes a very chic statement in the fashion world. The invigorating white pairs with the Kyron QUEENS to give us those bold monochrome feels, while at the same time causing the pops of colour running throughout the look to shine.
The Accessories
The accessories that accompany these outfits continue to play with this low-key royalty theme.
For the bold queens of style, a black satin clutch with chunky gold chain gives off a kind of extravagance that we are here for. Paired with a daring gold layered necklace plus a chunky filigree ring and you're radiant. To offset this opulence, throw on a chilled-out baseball cap—the favourite camouflage of celebs around the world—and wrap up with this creamy cashmere and silk shawl. Magnificent!
For all the Kings, Emperors, Princes and Czars: don't trip up on the details. You can stay quite simple when styling this look, such as going for a basic black rucksack, but you can also feel free to play around a little. A black and silver ring makes a subtle but splendid statement; the transparent aviators with gold frame also give a kind of incognito royal feel, like in the 'Queen' outfit with the ballcap. Top it all off with a brimless beanie—the beanie is a steadfast streetwear staple, but by leaning into this new brimless trend your look feels at once timeless and modern.
With the PUMA x PUMA collection we have the depth of a legacy paired with an innovative spirt. Inspired by the meaningful football heritage of the PUMA KING, this capsule is full of low-key royal items for the modern King and Queen. Stay authentic but do not forget to embrace your inner nobility every now and then!