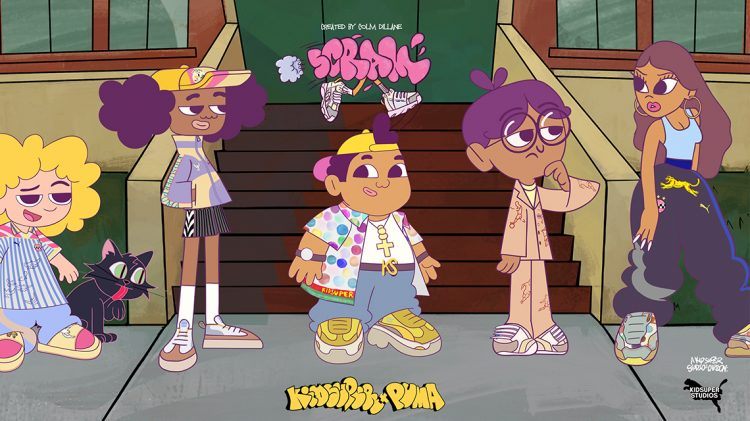 Get the Look
Get the Look:
PUMA Style Rider x KIDSUPER STUDIOS
A Whimsical Watercolour Work of Art
September 15, 2020
A Whimsical Watercolour Work of Art
September 15, 2020
This ultra-fun alliance between
PUMA and KidSuper

delivers a fresh take on some classic sportstyle pieces. Featuring an array of imaginative and artistic items, we are so excited for the launch of this playful sneaker and apparel capsule.

Inspired by the whimsical watercolours of the Style Rider shoe

and its carefree lightness, we imbued this energy into a matching autumn outfit for you to enjoy.
The Shoes
KidSuper Studios is an art collective and lovechild of Brooklyn-based clothing/creative designer Colm Dillane. For the debut of this collaboration Dillane has applied his unique creativity to some classic PUMA silhouettes. One of our favourite items born of this pairing would have to be these Style Riders done up in KidSuper style. Asymmetrical from left to right and adorned in an eccentric watercolour print inspired by a true PUMA King, Pele, these sporty kicks are innovative and imaginative. The combination of the passion and energy of football merging with the creative liberation of art has us hooked and feeling fine.
The whole Outfit
Featuring the PUMA Style Rider x KIDSUPER STUDIO
Sneakers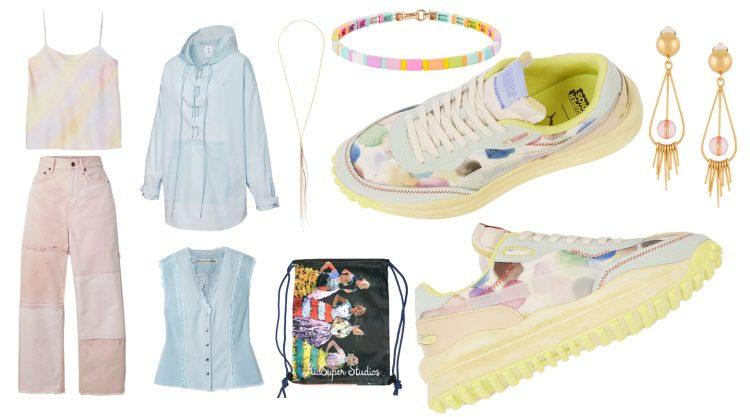 The Outfit
So, we rolled with this playful and artistic aesthetic. For the lower half we went with a pretty pink pair of frayed patchwork jeans. Patchwork is appearing on runways around the world and seems to be big for Fall Fashion in 2020. Besides, we loved the subtle effect of the varied tones in these trousers—comfortable, on trend and giving off a lovely retro flair.
Next up is a matching satin camisole. With its soft pastel hues, it almost appears to be a watercolour masterpiece in itself. Languid and luxurious, this piece pairs so nicely with the whimsical detailing of the Style Rider sneakers. Overtop we went with a rather funky denim vest. Also featuring frayed patchwork details and organic cotton, the light wash of the fabric feels aligned with the overall look, plus the unexpected oddity of the vest adds something unique to the ensemble.
As the weather cools down you can still look cool with this delicate and chic jacket. The retro PUMA windbreaker has got you covered, literally, as the chilly autumn breeze blows in and the light blue shade matches perfectly with the rest of the items. Functional and fashionable.
The Accessories
Not to be overlooked: these accessories aren't kidding around. We went with a long fringe necklace, playing with the dangly and frayed elements throughout the look—loose, breezy and effortless. Same thing goes with the tear-drop earrings (featuring matching pink spheres of the same pretty hue as the jeans). Add a multi-coloured choker that is one-part edgy, one-part eccentric artist and wrap it all up with a flamboyant bag drawn from the same collection and you have yourself a look.  
With this playful fashion pairing, get ready to have some fun. Fashion can be liberating as you break free from the normal rules and express your inner creativity. Be as passionate, whimsical and effortlessly unique as you like. Stroll from the football field to the art show and check out the new PUMA x KIDSUPER collab. It drops on PUMA.com, selected PUMA stores and retailers on September 17.