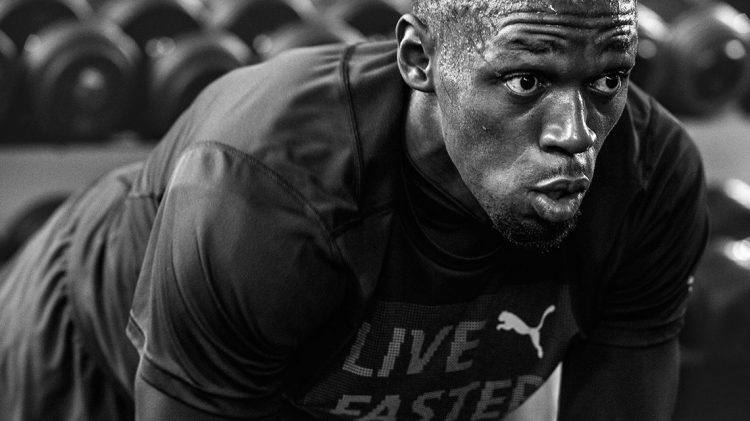 Be focused on what
you need to do
Usain Bolt gets ready for his maybe last Olympics
July 25, 2016
Usain Bolt gets ready for his maybe last Olympics
July 25, 2016
He knows what he wants – another three Olympic gold medals on top of the six he already has.
Usain Bolt, the fastest man in the world, is determined to claim the "Triple Triple" and break his own world record over 200 meters at this summer's Olympics in Rio de Janeiro.
CATch up met up with him in London and found out about how he feels about his last Olympics. Or will he keep going after Rio? Read on and find out.
Usain, you have been training a lot obviously. How are you feeling to go into the competition?
I am feeling good, which makes me confident. If I run as good as I am feeling, it is going to be great. So as long as everything goes smoothly for now, I am going to be really confident going into the competition.
These could be your last Olympics. What does this mean to you?
This is really big for me. I am working on something that no one has ever done before. I am really looking forward to it. I just wanna change the game and set the bar higher for everyone, so I am excited and at the same time I am looking forward to it.
You said you want to go for the "Triple Triple" in Rio, claiming another three gold medals. Why is this so important? You already have six. What is the difference?
The difference is three gold medals (laughs). I want to set the standard high. Three Olympics will be difficult for someone to beat, because that athlete would have to go for four Olympics, which means he would need to actively compete for 12 years. And this is almost impossible.
A lot of athletes have not gone to Rio because of the Zika virus. How do you feel about this?
I do not worry about these things. I have a job to do. And if I want to be the best in my sport, I have to go. I let my team deal with these little details and make sure that everything is fine when I get there. It is part of the job. Sometimes things happen that you have no control over, but you cannot be focused on the side show. You have to be focused on what you need to do.
 At the World Championships in Beijing last year, Justin Gatlin stumbled slightly in the finals. Coming off your injuries, are you worried that in Rio it might come to a closer race?
This year, I am not worried. Last year, I really was, because I wasn't in any form of race shape. This season, I have already done a few races and and I have been training well. So I am not worried and much more confident going to the Olympics.
One of your main strengths is the confidence you have once you are in the starting blocks. Is this something you need to work on or is it a gift?
After the World Junior Championships in 2002, I thought, if I can win in front of my own crowd, I can win in front of strangers. I think Jamaica is really tough. They really can't take you any higher, if you win. But if you lose, there is gonna be issues. So over the years, I have learned that if I can win in front of a Jamaican crowd, then it is easy for me to compete in front of anybody. So I am never any nervous about anything.
When you think about your life after Track and Field, how does it make you feel?
For me, I will definitely miss competing. But then I think about the training and I will not miss that so much. But I will try my best to stay as close as possible to the sport and help anywhere I can.
You are turning 30 soon. Does the training now feel tougher?
You notice little things. Especially, last year when I had a knee injury. These things take more time to get to where you want to be. But when it gets harder, you have to push yourself. I really embarked on that this season, that I really pushed myself and tried to work as hard as possible. I am focused on where I want to go.
 If you think back to the 2002 World Junior Championships, where you won Gold over 200 m and became the youngest ever junior world champion, what would the Usain today tell the 15-year-old back then?
Don't be so nervous!
I was a nervous wreck that day of the final. It was one of my worst moments and one of my greatest at the same time. I would tell the young Usain to calm down. It was so stressful for me, because it was the first big games and I was competing in front of my home crowd. It was one of the toughest things I have ever done. And I accomplished it.
PUMA signed Barbados the other day and now endorses all Caribbean teams. In what way do you think you have impacted commerce decisions of PUMA to go for these teams?
Caribbean is cool. It is the way to go. I feel that the Caribbean has really produced a lot of top athletes over the years and I think PUMA has noticed that the Caribbean is continuing to do well. And we have cool colours also. So it is easy to make nice gear. PUMA has just seen the potential and is trying to capitalize on that.
Isn't rivalry a problem when the Caribbean teams have the same sponsor?
For me, PUMA is like a family. They have always treated me good. I have no issues with PUMA at all. Otherwise, I will just call Pascal (Rolling) and get him to sort it out … No, seriously. PUMA is a family for me, I do not look at it as a company. I have been with them forever, all my track career. I am looking forward to continuing with PUMA after my career. Bjørn, where is the contract?
You hold the 100 meters and the 200 meters world records. Which one means more to you?
The 200 meters, because over the years I have really worked hard on every aspect of the 200 meters and perfected it. I really, really would love to break the 200 meters this year.
Do you think you can do this?
I have always said that for me there is room for improvement over the 200 meters and it all depends on how I am feeling on a particular day. The 100 meters will be hard for me, because it is so technical and it is all about getting a good start. But there is room over the 200 and I really want to go for it.
Do you see any sprinter today who in the future can beat your record?
No. I think it will take a long time before somebody comes who can break my records. You never know what the future holds, but I do not think it will be anytime soon.
You have won so many titles. What keeps you motivated?
It is all about setting goals during a season. I always have a goal of what I want to accomplish. Defending my titles, for example, keeps me going. And if I want to be the greatest at the end of my career, I will have to keep winning.
 You have mentioned a few times that you would carry on beyond 2016/17. Which goal would make you go on?
My coach has said to me: "You can always go for the 2020 Olympics. Just take a year at a time. See how you feel every year and see what you want to do." If at the end of the season, I feel like "Yeah, this is it", then I will retire. But I am not focused on retirement. If I can motivate myself to go one more year, why not? If the sport needs me, why not?
There seems to be a lot of distrust surrounding this sports. Have you ever felt that even though you are not accused of anything, the whole sport is tarnished?
I have always said that all I can do about it is try to encourage athletes to work, just work, because hard work will just pay off. I just do my part and hopefully, young athletes will follow and the sport will get better during time. This is all I can really do, plead to other athletes to stay focused and work hard.
Was there ever a situation in public where you really had to defend yourself?
I have never had a problem anywhere in the world. You might see a few comments on Instagram or Facebook, but directly to my face: No.
What do you respond to that?
There is no reason to respond to stuff like that. I just prove myself, I get tested all the time, and every time I get tested, I share this on Snapchat. So everyone can see how many times I get tested during the year.
Looking into the future, what are your plans?
I have no idea. I am sure I will be a part of the PUMA family. Hopefully, I will still be in Track and Field. One thing I am trying to help start is a clinic in Jamaica for the athletes, trying to get cheaper medical care for them. Because when you get injured, medial treatment it is not cheap. This is something that I like to help with.