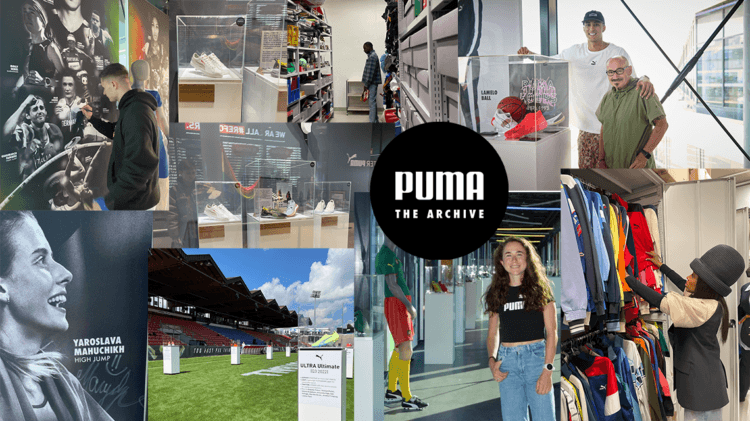 PUMA Archive
The PUMA Archive in 2022
Take a Look at Our 2022 PUMA Archive Stories
February 24, 2023
Take a Look at Our 2022 PUMA Archive Stories
February 24, 2023
PUMA Archive

lies at the very centre of maintaining PUMAs history and inspiring its future. 75 years of sports history and innovation can be found in the archive, and the archive is only going to continue to grow.

In 2022, the Archive team welcomed many of our PUMA Ambassadors and visitors to our HQ, launched important media activations, and attended and hosted many important exhibitions to bring PUMA's archive around the world. Our PUMA Bridge has seen an impressive revamp, with new ambassador posters, showcases, product stories and employee interviews. Check out what the Archive team achieved last year!
2022 at a Glance
590

shoes were digitised (bringing the total to 4608)

829

catalogues were scanned (bringing the total to 1291)

131

bridge tours, with

1151

attendees in total

107

Archive visits, with

471

attendees
Digital PUMA Archive

database tool

for PUMA Archive management and Product Management/Design

PUMA Archive Calendar 2023

for PUMA75, with a PUMA history fact for every week of the year
PUMA Ambassadors and Visitors Take a Bridge Tour
February
March
Yaroslava Mahuchikh

(high jumper, gold medalist 2022 European Championship)
April
June Ambrose

(creative director PUMA basketball women)
Joshua Vides (conceptual artist)
May
Nikola Djota Milosevic (football freestyler)
Teodora (singer)

Hendrik Pfeiffer

(long distance runner, silver medalist 2022 European Championship)
Jakob Michaelson (Unisport – football content creator)
Nicole McLaughlin (designer)

Klaus Wolfermann

(javelin, gold medalist 1972 Olympic Games)
Uwe Ritzer (Süddeutsche Zeitung, journalist)

Skepta

(rapper)
June
Kyle Kuzma

(NBA basketball player, NBA champion 2020)

Mike Camargo

(Upscale Vandal, fashion consultant)

Alexandra Popp, Lena Lattwein, Kathrin Hendrich

(DFB Women's football national team (runner-up Womens euro 2022)
July
Iceland National Team (KSI Women's football national team)
August
Füchse Berlin (German Handball Team)
September
Molly Seidel

(long distance runner, bronze medalist 2021 Olympic Games)
Nessi (musician)
Nico Backspin (music journalist)
November:
Skepta (rapper)
Mike Camargo (Upscale Vandal, fashion consultant)

Felix Streng

(Paralympic track and field athlete, gold medalist 2021 Paralympic Games)
SPVGG Greuther Fürth (Womens teams)
December
David Rau (football content creator)
Exhibitions in 2022
March
PUMA Store Herzogenaurach: Sustainability Display (on-going)
April
Design Museum London: Designing the Beautiful Game (until August 2022)
May
Design Museum Den Bosch: Sneakers Unboxed (until October 2022)
June
Schoenenkwartier Waalwijk: Put On Your Red Shoes (on-going until April 2023)
Museum Mineralogie Munich: 50 Years of the Olympic Games in Munich (on-going until March 2023)
Haus der Bayrischen Gesichte Regensburg: Bavaria and Olympia 1896-2022 (on-going until July 2023)
PUMA Store Berlin: PUMA Slipstream Launch
July
Pinakothek der Moderne Munich: Designing for the Olympics (until October 2022)
World Athletics Championships: PUMA House – Eugene, Oregon
August
PUMA Football: ULTRA Ultimate Launch – Fastest Event Ever: Evolution of Speed
Deutsches Sport & Olympia Museum: ARTLETICS 2.0 (until October 2022)
September
Football Museum Spring Hannover: Maradona, der Göttliche?
October
PUMA Run: Cologne Marathon – Evolution of PUMA Running
November
PUMA Showroom: Salzburg, Austria
PUMA Football: KING Ultimate Launch – KING Day
PUMA Family Meeting: Abu Dhabi, UAE
ULTRA, Fastest Event Ever: Evolution of Speed
Sustainability Display at our HQ
Media Activations
PUMA Archive is a hit on social media when it comes to showcasing the old and the new. For the African Cup of Nations, PUMA Football dived deep into our football jersey and shoe archive to show followers PUMA's history in African football. Similarly, we opened the PUMA Vault for the 2022 FIFA World Cup – where PUMA team Morocco made history. Other media activations include TRINOMIC, seit 1990!, #FOREVERFASTER depuis 1950, Unisport – Hidden Gems from the PUMA Archive, FIGC – Forever Italia, a Timeless Story, and Hanging out with Legend Giorgio Chiellini.
View this post on Instagram