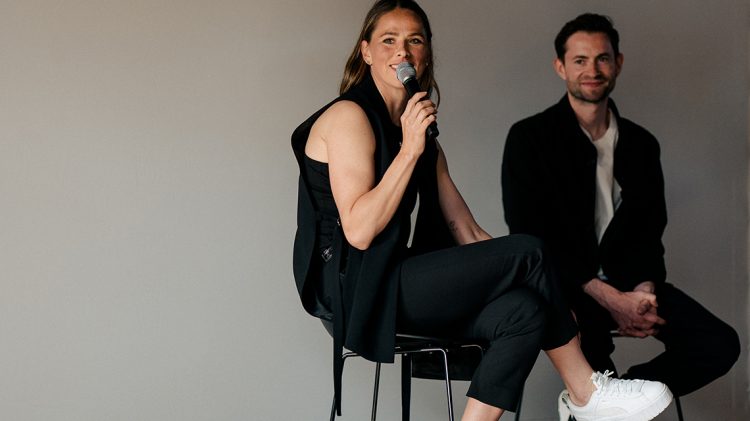 SHE MOVES US
A story that
needed to be told
PUMA documents Sara Björk's journey to motherhood
May 26, 2022
PUMA documents Sara Björk's journey to motherhood
May 26, 2022
Our documentary "Do Both" with and about footballer and PUMA athlete Sara Björk Gunnarsdóttir launched with an exclusive screening in Lyon on May 16th. The 12 minute long documentary shows Sara's athletic process while being pregnant and how she made it back to training at a top level in a very short time after giving birth. Sixty people participated in the intimate launch event, including family & friends of Sara, journalists and many players of her teammates from Olympic Lyon, like Dzsenifer Marozsán. The screening was followed by a Questions & Answer session with Sara. It was hosted by Lawrence Tallis, the director of the documentary. Check out the images from the event and make sure to watch the inspiring film yourself!
It is impressive to see how Sara got back. "There was clearly a story that needed to be told,"said Marina Amoros, Manger BU Marketing Teamsport. "Sara wanted to show that you do not have to choose between your career and starting a family," adds Marina. And, look where Sara is today! She just won another Champions League with Olympic Lyonnais and is ready to lead the Icelandic national team in the European Championships in England this summer.
We hope to encourage other athletes and women to keep on working to make their dreams come true.
"By sharing her journey, including the mental and physical challenges she has faced along the way, we hope this will inspire and give insight to athletes around the world. In a time when women's football is going from strength to strength, it is important to bring awareness to such key topics and to show that society's perceptions do not need to determine your path. The documentary with our partner Copa90 is a beautiful insight into her strength and unique character."
– Matthias Baeumer, General Manager BU Teamsport at PUMA