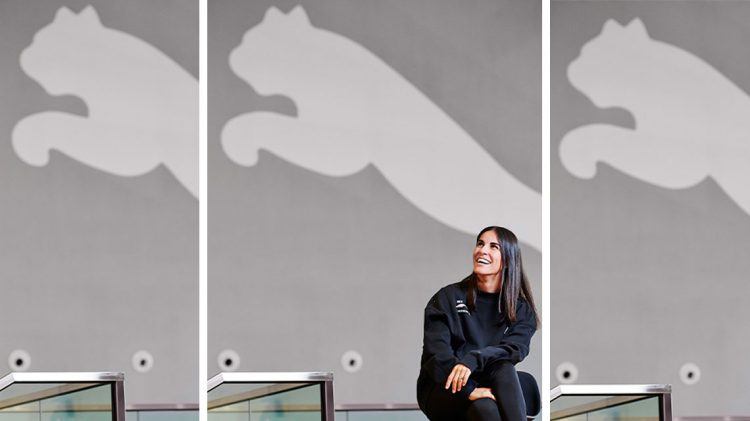 SHE MOVES US
"Sports gave me a lot
of identity
and personality"
She Moves Us - Interview with General Manager Sportstyle, Maria Valdes
April 21, 2021
She Moves Us - Interview with General Manager Sportstyle, Maria Valdes
April 21, 2021
She was born in Santiago de Chile, dreamt as a child about organizing the Olympic ceremony, played handball in the national team of her home country and is now General Manager Sportstyle at PUMA. The career path of Maria Valdes sounds straightforward at a first glance. Did she plan for her career to look like this?
As part of our
SHE MOVES US

 platform, Maria participated in an internal virtual talk that aired on International Women's Day last month. This interview is based on that conversation. Here, Maria opens up about home, role models and the effect of her professional sports career on her management style.
You have worked for L'Oréal, Inditex and are now with PUMA for 10 years. What are the main lessons you learned after all this experience?
Maria: I think I have been very lucky to work for three amazing brands, all of them top in their individual areas of the business. L'Oréal was a great school. I started as an intern in the HQ in Paris. I worked in product marketing for Skincare for Latin America. Understanding the process from formula, to packaging to marketing to sales, gave me a great base for the future. And actually, I there discovered my love for product creation. Then I moved to Inditex, to the headquarter of Footwear and Accessories. Zara and it's own operated retail are extremely fast and very dynamic. Every detail counted. I was working hand in hand with other product managers. I learned to understand what trends are scalable and which were not. This clearly had an impact in my decision making. Now I am with PUMA and very close to my passion, sport. This step had a lot of meaning for me. The international culture, the link to sport, the opportunity to create global ranges, has fascinated me since day one. I was coming from a brand that reacted to trends and here, I am challenged to create new ones. I am working with amazing teams and we take on board every challenge.   
Maria, what did you want to become as a child?
Maria: I remember to be excited for all sports events. I often watched Chile participating in any sport on TV and became very passionate about it. Please keep in mind that we are not the best performance country, so it was a very suffered and still is a very suffered fan life. The countdown for the opening of the Olympics was very important to me. It was my dream to organise the opening ceremony. I always asked myself, if I would organize the Olympics, in which country would they be and what topic would I pick for the opening. That always put a smile in my face.
How do you manage family life and also have this high profile job?
Maria: I personally think you need to understand that you cannot do things alone. I always encourage people who ask me, how do you do it? I say, I try to build very strong teams: one team is the team at work and one team is the home team. They have always been there for me and supported me. My home team starts with my husband. He is a very supportive husband, he always motivates me and pushed me in my career. We both have very demanding careers. He is a professional handball player, so we need to work together and combine our pretty much defined, busy calendars. 
How do you keep up your optimism during the pandemic?
Maria: 2020 was a tough year, but I always try to see things positive. From a business perspective I saw it as challenge. I tried to rethink our process, to plan on a day to day base and to manage a team under completely different circumstances. I tried not to over-plan things, to keep calm and to show empathy towards the situation. Important for me was to celebrate success and to constantly look back to review what we had achieved as a team and to learn from the experiences. On a private base, we spend a lot of time as a family and really enjoyed it. We were lucky to be in Germany, where lockdown was not as extreme as in other places in the world. Ice cream and a lot of chocolate helped us.
Who moved you in your career? Do you have role models?
Maria: I have been very lucky to have very good mentors and role models throughout my life. Very good bosses, friends and my husband as a professional athlete always inspired me. But if you ask me to highlight one person today, it would be my mom. She is a very successful businesswomen in Chile. She was the only member of her family that went to university. Coming from the working class in Chile, she broke many social barres. She showed me, it pays off when you work hard, are responsible and have strong values. She showed me with her own example that I could achieve in life whatever I want, regardless of my origin, my gender or my age. Together with my Dad, they build a beautiful family with four kids and they gave us the best education they could and strong values.
Maria, you played handball for a longer time.

How does your past as athlete affect your work at PUMA and your management style?
Maria: I love the fact you call me an athlete. Thank you. I think sports gave me a lot of identity and personality, and that has to do with the sacrifice you need to make in order to deliver. You need commitment, responsibility, discipline and the ability to deal with pressure very often. I mainly practiced team sports. So, since a very young age, I am used to work in teams. That is something I like and I enjoy and I think I can compare my handball times to today's life at PUMA. In a team you need to know each other, you need to be familiar with the individual strength and weaknesses and you need to know about skill sets in order to to put the best combinations together.
Dream big. Surround yourself with people that help you to make that dream come true. Ask yourself, what makes you happy and try to be as honest as you can with the answer to that. The other one would be to work hard, be responsible. As easy as it sounds, you need to also push yourself and you need to deliver whatever your responsibility is. Play by the rules. And then, be persistent. Life is a long run.