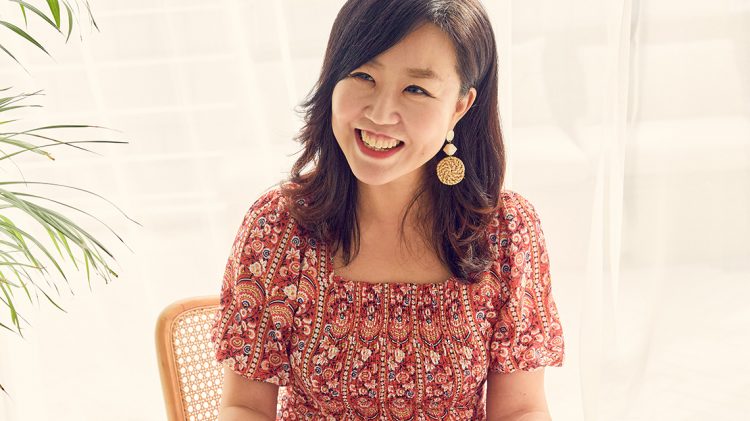 SHE MOVES US
KEEP
ON
DREAMING
Interview with Director Sales & Marketing Korea, Na Young Lee
September 29, 2021
Interview with Director Sales & Marketing Korea, Na Young Lee
September 29, 2021
When

Na Young Lee

joined the Sales & Marketing field, it was a very male driven environment. In her first year on the job, she struggled, she kind of felt like she has failed. Today, Na Young is

Director Sales and Marketing at PUMA Korea

, gained plenty of international experience and worked for other big players in the industry. What did she do to become the woman she is today? Find out more about her mindset, dreams and approach to life in this She Moves Us
interview.
From Greek Mythology to the Canadian Embassy
Na Young Lee was an ambitious kid from the start, although Sales & Marketing wasn´t on her radar when she was a child. "I wanted to become an archeologist. Back then I was very much obsessed with Greek and Egyptian culture, mythology, mummies and pyramids. It all came from reading books and comic books. I think I had this sort of adventurer spirit and wanted to explore unknown things without knowing what I really want or even what I am good at." Today, she has traveled the world just like an archeologist and still has the passion for the field.
For her, it all came into perspective when she decided to go to Canada, mainly to learn English. While she was there, she had an aha moment. "Spending time abroad all by myself without my parents, without my friends, was the moment when I slowly realized what I wanted to do with my life." The experience abroad also changed Na Young´s view on life. After her return from Vancouver, she started a part time job at the Canadian Embassy in Seoul. "There, I met so many amazing women. They truly inspired me. I wanted to be like them one day. They all had these international manners and this passion for their careers."  Today, Na Young describes those women from the embassy as their role models, as determined, caring, international and passionate for their job.
A caring Marketer & a caring Mom
When Na Young started her career in marketing, she also started looking up to women who had fought hard for gender equality. She wanted to start a family. She wanted to be dedicated to both, job and family alike. "There are so many women out there who are doing both great."  Na Young followed their example, but there were moments when she felt unsure about her career choices. She remembers a moment when she received the job offer to work in the United States at the headquarters of a big clothing company. A huge opportunity! "It was back in 2014 and I would have been the first Asian woman responsible for global marketing. It was an undeniably great opportunity, but what about my family? My husband had his own career in Korea. It was a dilemma. Should we live separately?", Na Young recalls.
The family gave it a try. Na Young went for it and took the job in the U.S. The husband stayed in Korea. "Everyone I met in the States thought I am a single mom raising my son alone. It was a very tough decision to be made, but I learnt so much, professionally and personally." Na Young has no regrets, but admits it certainly was one of the most difficult things for her. Na Young calls herself a very competitive person when it comes to business and performance. She simply likes to win.
But things weren't always smooth. Ten years ago, she realised that she had slightly lost the balance between the job, family and friends. This also impacted her health. She says she learned a lesson from those days: "I've found better ways of balancing work and personal life. The first tactic was to switch on/off. The minute I leave the office, I try to switch off work and switch on my personal life. It took me some time to adapt it, but now it works well. The second tactic is fitness. I started to work out with friends. Doing fitness became an important part of my life. It gives me energy and confidence and I am so grateful to work for a sports brand because I can be advocate for the power of sports."
Less about Gender, more about Attitude
Na Young doesn´t believe women plan their careers differently than their male counterparts.
"It's more about individual personality and characteristics. Everyone will face their own challenges and obstacles in their career. It is not defined by gender. At the end of the day, it's all possible if passion and dedication to the dream are there."
"In Asian culture, there are ying and yang and that's the pursuit of balancing everything right. Regardless of gender, we all have both traits. The only difference is some happen to have more ying than others. Someone can be softer in communication, or someone can be direct. I guess we are still living under the perception of women being softer and men being tougher. However, if you ask anyone in my team, they say I am tougher than anyone."
Na Young recalls the moment when she first stepped into a meeting where she was the only woman. Funnily it was at a beer company. Here, she worked in a junior marketing role. "Almost 90% of employees were men." Na Young remembers she first felt intimidated and was afraid of speaking up, but her "go-getter" attitude and personality helped her to regain her confidence.
Taking all of this into account, and in a retrospective, Na Young summarizes, "Do not stop dreaming of what you want to achieve and who you want to be. If you can dream it, there will be opportunities for you to make your dream come true. Your dream can't be defined by anyone but you. You are the owner of your dream."