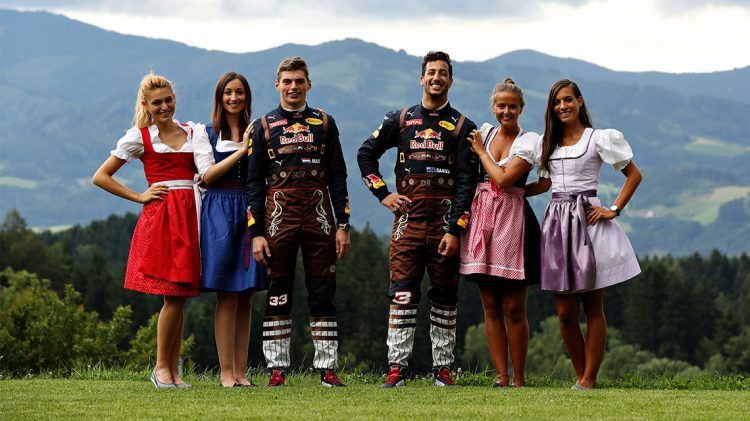 Racing in
Lederhosen
Red Bull Racing hits the track Austrian style
July 4, 2016
Red Bull Racing hits the track Austrian style
July 4, 2016
All Formula 1 fans' eyes were on Austria last weekend – and on the drivers from our partnered teams, who took all three top positions in the Austrian Grand Prix, including one in lederhosen.
The first place on the podium went to Lewis Hamilton from our partnered team MERCEDES AMG PETRONAS. He won a thrilling Grand Prix having started from the pole position and leading the first 21 laps of the race. After a collision with teammate Nico Rosberg on the last lap, Hamilton passed over the finish line in first position with a time of 1:27:38.107.
The third place went to Kimi Räikkönen (+6.024 after Hamilton), who drives for our long-time partner Ferrari; and between them, in second place, stood Max Verstappen from our team Red Bull Racing.
Verstappen didn't just get attention for coming in second (+5.719 after Hamilton), but also for his rather unusual racewear – a lederhosen race suit!
Both Max Verstappen and his teammate Daniel Ricciardo hit the Red Bull Ring in special Austrian style. Especially for the Red Bull Racing Team's home GP, we redesigned their fireproof race suits with a local "home kit" look, adorning the traditional colours with an Austrian lederhosen. Originally, the lederhosen race suits were planned only for Friday, but the two drivers loved them so much, they kept them on throughout the GP.
At PUMA, we're always trying to bring a little more fun to Formula One. With Red Bull Racing, we have a partner with really similar brand values, which makes something like this possible. Their home Grand Prix was the perfect backdrop for our special Austrian racewear! Thanks to the team around Maurizio Sicco in Turin, who managed to produce the suits in Forever Faster speed!