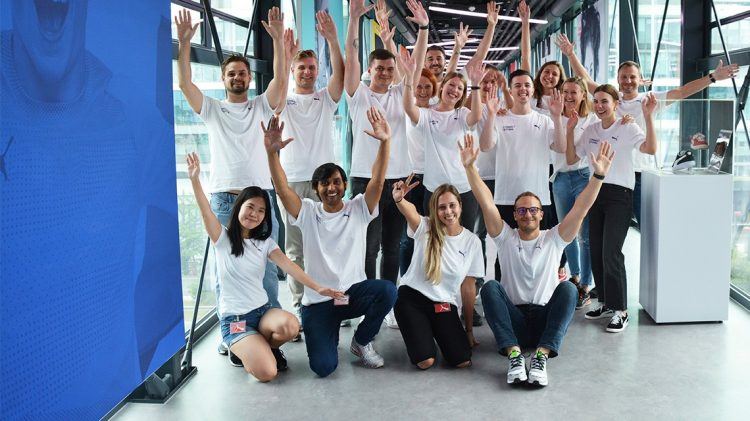 New Ways of
Working and
Connecting at PUMA
How innovative digital communication can save precious time every week
August 1, 2019
How innovative digital communication can save precious time every week
August 1, 2019
Are you still racking your brains if
"newfinal_V6.pdf"

or "finalFinal_V6.pdf" is the right document? Or are you still looking for

this one e-mail

that someone must have sent you yesterday, or was it the day before?
There is a way out of this struggle!
The McKinsey Global Institute (MGI) found out that twice as much potential value lies in using social tools to enhance communications, knowledge sharing and collaboration within companies. 
One of such tools is Microsoft (MS) Teams, a collaboration app that helps teams stay organized and have chat-based conversations. According to the Forrester Total Economic Impact Study, MS Teams can save users between 1 to 8 hours per week due to improved collaboration and information sharing. 
Having recognized these values, PUMA started to transform how people work and collaborate.
Until now, people had to use different tools to exchange information and collaborate be it in their day to day business or on projects. It was difficult for our user to understand when to use which tool. Also, the communication was time consuming and unorganized. Connect@PUMA introduces a program that offers a central space where communication happens.
Connect@PUMA is the next level of collaboration and information sharing providing a great platform for the often geographically spread out teams at PUMA. The first tool that was launched within Connect@PUMA was MS Teams. 
The idea behind it: facilitate the communication, collaboration and integration within PUMA in an innovative way. "When talking to our employees, we recognized a great wish to connect with each other in alternative ways that are not just work related to build their own communities based on interests, sports or backgrounds," Pia Madison, Head of Employer Branding and HR Communications at PUMA, explains. "We want to support that and through Connect@PUMA, we will launch a platform where employees can build their own networks later this year."  
Rolled out in three phases throughout the next months, Connect@PUMA comprises multiple features and tools that meet the employees' feedback and daily challenges such as sharing files, exchange views on a project or getting quick feedback.
How do Teams at PUMA benefit from MS Teams?
Living the Agile Life
>> MS Teams facilitates our collaboration. Communication often is so complex that it needs to be super concrete. For example, we use Microsoft Planner a lot as a KANBAN to negotiate our projects and deadlines. We believe that Connect@PUMA is helping us to live the agile value of 'people and interactions over processes and tools'.
Matias Redard, Head of Global Go-To-Market / Merchandising Operations at PUMA
Never lose track anymore
>> Connect@Puma makes the way of working and communicating much clearer to follow. At the moment, we are using it as a general communication platform as well as a platform for group project work, for example Agile working projects. Major benefits are the real time adjustments of documents and easier tracking of information. The App for mobile phones is also very convenient to use.
Looking forward to the next roll out and seeing what functions have been incorporated.
Sarah Guenther, Senior Assistant to General Manager Sportstyle
The sky is the limit (or your fantasy)
>> MS Teams is the new way to connect and work together without any limits – the limit is our fantasy! In Teams, I can reach out to the people I work with in a smart, easy and fast way. That's fantastic. I have my Teams and Projects in one App, it is a revolution.
Stefano Mauri, IT Manager
Everybody, unite!
>> MS Teams unites what was previously lying on many individual computers or desks. Now, nothing can be missed anymore. It's a strong tool to organize a group of people on each project!
Maurizio Sicco, Teamhead Motorsport Racewear
Based on the results gained through their survey, the MGI estimates that the productivity of knowledge and interaction workers could raise by 20 to 25% through social communication tools. Connect@PUMA can go a step further, help making us Forever Faster and developing us into relationship workers!