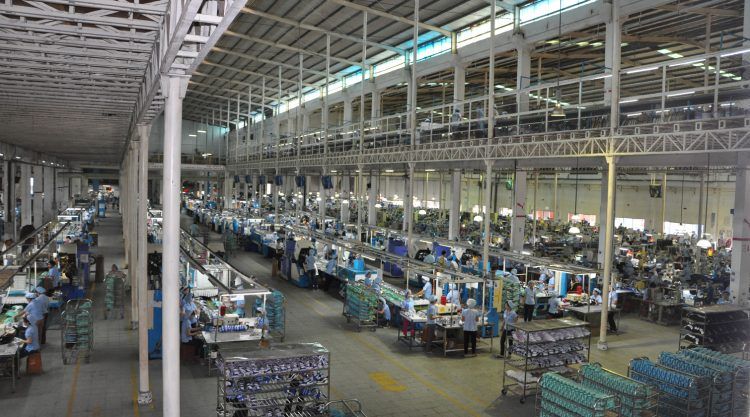 Forever Better
Finance and
Insurance
How PUMA encourages its suppliers to improve their sustainability performance through finance and insurance products
November 11, 2021
How PUMA encourages its suppliers to improve their sustainability performance through finance and insurance products
November 11, 2021
The best sustainability performers get the best terms: That's the basic philosophy behind PUMA's innovative Forever Better Vendor Financing Program. For the first time ever, this industry-leading program was expanded in 2021 to also give better terms for product liability insurance to those suppliers who make the biggest effort in terms of environmental and social sustainability.
"Our sustainability teams are already working with our manufacturing partners to improve our environmental and social footprint," said Frank Waechter, Global Director Treasury and Insurance. "By also offering better financing and insurance terms if a supplier prioritizes sustainability, we create a win-win situation."
PUMA regularly audits its suppliers to ensure that they meet our requirements when it comes to working conditions and environmental performance. A supplier that gets an A rating, has met the conditions of the PUMA Sustainability Handbooks and it has also ensured that it will continue to comply with our Code of Conduct.
PUMA's vendor financing program, which helps suppliers bridge the gap between producing the product and the moment they get paid for it, was launched in 2016. It was the first in the sporting goods industry which took a supplier's sustainability score into consideration. For a supplier, it pays off to improve environmental and social standards.
Last year, the financing program recorded its highest-ever uptake and we are likely to see continued high levels of financing in 2021. While in 2016 only about $100 million were financed through this program. This doubled to about $200 million in 2019 and again sharply increased to $580 million in 2020. In the first six months of 2021, financing volumes remained at a high level of $322 million.
This year, PUMA's vendor financing program was named the Best Supply Chain Solution at the Asset Triple A Treasury, Trade, SSC and Risk Management Awards.
The financing program allows a supplier to "sell" their PUMA invoices to a funding partner, such as HSBC, BNP Paribas, Standard Chartered or the International Finance Corporation (IFC) and receive their payment within 5 days. If the supplier is rated "A" during PUMA's sustainability audits, it will get better terms on these transactions from these banks.
For a supplier, it is attractive to use the program, as it does not touch their existing bank and credit lines, while at the same time reducing the gap between the delivery of goods and payment.
But there is more: In 2021, we teamed up with our insurance partner Chubb to expand the program to include better terms for product liability insurance. Such an insurance policy is needed to protect PUMA and its suppliers against the costs that arise in the unlikely event that a product is faulty and needs to be recalled. The underlying assumption is that suppliers which enjoy a very good sustainability score, are responsible for no or minimal product claims only. That's why it is only fair that their insurance premiums are lower. Frank adds proudly: "This is further proof of PUMA being a true innovator in sustainable finance."
Our Forever Better strategy aims to make the company more sustainable in everything it does. For example, we want to reduce the carbon emissions coming from purchased goods and services by 60% by 2030, relative to revenues. That means that we need our suppliers to be on board. The Forever Better Vendor Financing and the new Insurance Program are important tools to incentivize our suppliers to make the necessary investments to move towards more sustainable solutions and help us achieve our goals.