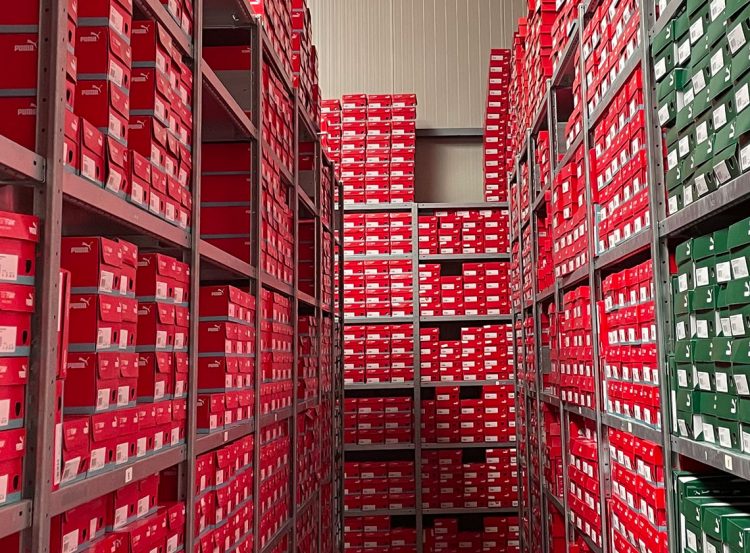 Forever
Better
Packaging
How PUMA makes its packaging and retail supplies more sustainable
September 14, 2021
How PUMA makes its packaging and retail supplies more sustainable
September 14, 2021
The shoeboxes you see in our stores today look the same as they always have, red, green or black, but now they have a secret: They use significantly less cardboard than they did before.
As part of its 10FOR25 targets, PUMA is looking at the environmental footprint of the company as a whole and aims to embed sustainability into all of our products to make a positive impact at scale. Better packaging is part of that journey.
"We took a holistic look at the design of our shoeboxes, and we realized that we were using too much material," said Jordan Eichenberger, Head of Labelling and Packaging at PUMA Group Sourcing.
Jordan and his team started a redesign of the boxes and looked for ways to reduce the amount of material used, while keeping the boxes just as sturdy as before.
By using less material in our shoeboxes, we save 2800 tonnes of cardboard per year. If we consider that it takes about 12 trees for a tonne of cardboard, reducing the weight of the shoe boxes has saved 33600 trees – more trees than in New York's Central Park.
But we are even going one step further, as the cardboard boxes are made of more than 95 % (by weight) recycled cardboard.
As a part of our 10FOR25 strategy, we will also eliminate consumer-facing plastic bags from our owned and operated stores and, wherever possible, make our retail supplies more sustainable.
Our consumer-facing plastic bags are already made of 80% recycled content but in 2021, we cut their use in half. To put it into numbers, that is 200 tonnes of plastic we did not use.
But we will not stop there. While we have already eliminated consumer-facing plastic bags from our owned and operated stores in countries such as China and India, we will stop using such plastic bags anywhere in the world by 2023.
Instead, PUMA will only use recycled and FSC-certified paper bags in its stores, no matter whether you shop in Herzogenaurach, on Fifth Avenue or in Krasnoyarsk.
The switch to more sustainable alternatives for our shoppers wasn't without challenges, as Martina Lagler, Senior Teamhead Global Retail Business Development, explains.
"In general, recycled paper is not as durable as plastic, so the development phase was quite a challenge and I am super happy that we are finally able to offer such a high-quality bag. We also had to make sure to have the relevant documents in place to prove full traceability throughout the production supply chain of the material and its recycled content," Martina recalls.
And there is more happening in our stores: Our customers who want to wrap their PUMA purchases for a special someone, will also receive a gift bag made of recycled and FSC-certified paper soon. The bags PUMA uses for shipping online orders will also be made with 100% recycled plastic and we found more sustainable alternatives for the hangers and shoe trees in our stores.
Other packaging improvements may be less obvious to PUMA customers, as they are only used to keep our products dry and clean during transport. But the polyethylene bags that protect our apparel and accessories on their way to the store and in warehouses will also be made exclusively from recycled polyethylene by Spring/Summer 2022. We also reduced the average thickness of these bags from 50 to 30 microns, a 60% reduction which once again saves 400 tonnes of material per year.
With all of these measures, we will take another step on our journey to make PUMA more sustainable and be FOREVER BETTER.