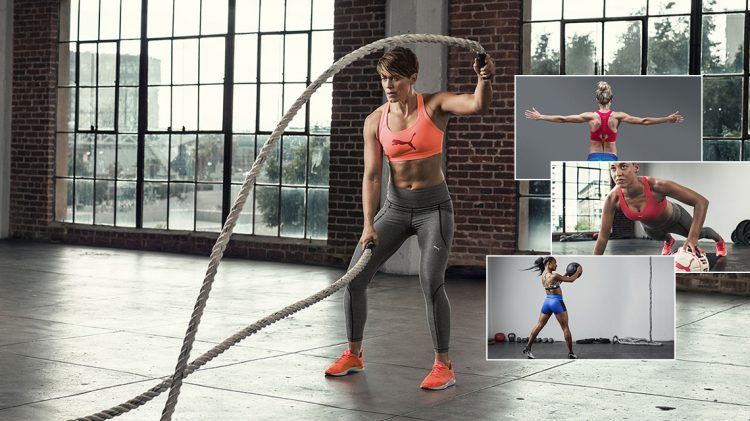 Girl
Power
Songs by strong women
October 5, 2016
Songs by strong women
October 5, 2016
PUMA's new "Do You" women's campaign – led by ultimate
cool kid Cara Delevingne

– is dedicated to women unapologetically being themselves and

celebrates female individuality

in all its facets. Inspired by PUMA trailblazers like Rihanna and Cara, we put together a collection of songs by women that march to the beat of their own drum.
Control (1986) – Janet Jackson
"Control" marked the emancipation of Janet Jackson as an artist and ultimately as a person. She sings about no longer letting other people make decisions for her career and life. The song is a motivation to take charge of your own life.
Superwoman (2008) – Alicia Keys
Alicia Keys supports the notion that not all heroes wear capes. On "Superwoman" she sings about embracing your vulnerability and finding strength within yourself. The song is the perfect pick-me-up for anyone doubting their potential for greatness.
Hollaback Girl (2005) – Gwen Stefani
When Gwen Stefani started out with No Doubt, she always had that certain something. Her solo debut album "Love. Angel. Music. Baby." (2004) is loaded with girl power. On "Hollaback Girl", she is bubbling over with attitude and proudly takes the high road.
BO$$ (2014) – Fifth Harmony 
Fifth Harmony leaves no room for doubt: they are the ones calling the shots. Citing Michelle Obama and Oprah as their role models, the girl group is making a plea for being a financially independent woman and not relying on anyone else for support.
 Can't Hold Us Down (2003) – Christina Aguilera feat. Lil' Kim 
Similar to Janet Jackson's album "Control" (1986), the release of Christina Aguilera's "Stripped" (2002) signified a liberating moment. Aguilera dared to explore more adult themes and "Can't Hold Us Down" calls attention to double standards for women and is all about female empowerment.
NO (2016) – Meghan Trainor
In early 2016, Meghan Trainor won the Grammy Award for Best New Artist. On "NO" Trainor is turning down a guy who just does not get the message. The song is a fun R&B pop song but conveys an important message.
Video (2001) – India.Arie 
India.Arie's "Video" is a very special song. She sings about self-love and accepting yourself, including your so-called flaws. Even 15 years after its release the lyrics are powerful in times where women are still constantly judged for the way they look.
Bang Bang (2014) – Jessie J feat. Ariana Grande & Nicki Minaj
Bang Bang" shows combined girl power at its best. Jessie J, Ariana Grande and Nicki Minaj come together and they all benefit from each other's individual talents. Together they created a catchy and energetic tune.
I Will Survive (1978) – Gloria Gaynor
This classic Gloria Gaynor song is the ultimate tale of survival and moving on. "I Will Survive" is proof that you can turn a bad situation around and get your happiness back. And let's be honest: if you haven't danced to this song all by yourself, you haven't lived.
Werkin' Girls (2012) – Angel Haze
Female rappers making it big with their skills and getting the credit they deserve still does not happen as often as it should. Rapper Angel Haze has made a name for herself and her work on "Werkin' Girls" is nothing short of impressive.
Bad Girls (2012) – M.I.A.
Like the title suggests, M.I.A. wants people to know that "bad girls do it well". A "bad girl" meaning a female who defies society's expectations of what a girl should be like. The accompanying music video supports the Saudi Arabian "Women to drive movement".
So What (2008) – P!nk
"So What" starts by P!nk casually singing about losing her husband, but she is not even fazed. Instead, she puts on her new attitude like a piece of clothing and focuses on the good things happening in her life. More power to her!
What It Feels Like For A Girl (2001) – Madonna
Madonna has always had a "love me or hate me" attitude. As a serial rule breaker, she never shied away from being herself – even if it included making others uncomfortable. In this song, she honestly addresses the struggles that come with being a girl.
Shake It Out (2011) – Florence + The Machine
Lead singer Florence Welch is known for her powerful vocals and poetic lyrics. "Shake It Out" is an uplifting tune urging you to let go of regrets and doubts. It is a firm reminder to oneself that there is always light at the end of the tunnel.
Run the World (Girls) (2011) – Beyoncé
"Run the World (Girls)" is the power anthem for girls and women everywhere. Beyoncé exudes confidence and swagger, proclaiming that her "persuasion can build a nation". The message is clear: there is nothing girls cannot do.