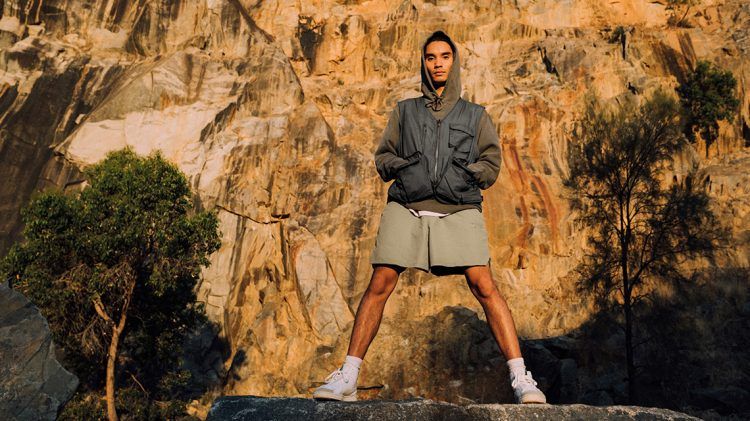 Get the Look
Get the look:
MMQ EARTHBREAK
Textures of the earth
April 2, 2021
Textures of the earth
April 2, 2021
A culmination of PUMA evolution, the MMQ line – "Machs mit Qualitat" or "Made with Quality" in English – is renowned for its detailing, subtly and, of course, #quality.
With the launch of the latest MMQ collection 'EARTHBREAK', premium pieces are updated with textures and tones inspired by the natural world.

Influenced by these down-to-earth and urban utilitarian themes we put together a ready-to-wear outfit to help you hit the ground running.
The Shoes
Classic PUMA footwear like the Ralph Sampson, Suede and Mirage were given the special treatment this time, however the Mirage OG EB, with its athletic silhouette, was the ideal everyday shoe to complete this ensemble. Super lightweight with a foam wedge midsole, for the new EARTHBREAK collection the shoe has been given a natural transformation with faded earthy tones and we are really digging the grounded vibes.
The whole Outfit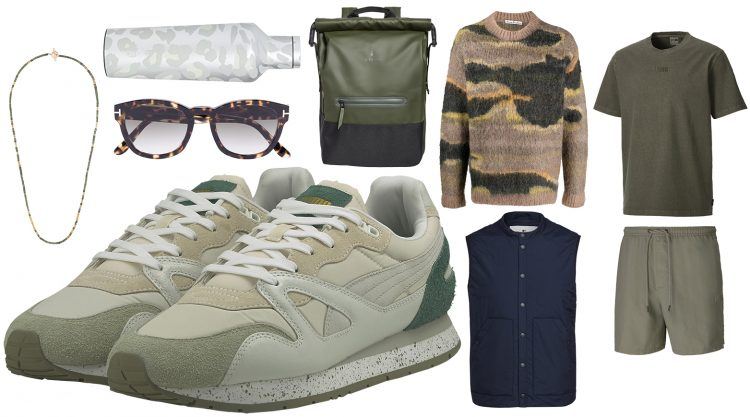 The Outfit 
The apparel items in this line are united by a sophisticated minimalism and futuristic functionality. A matching shorts and tee set in a sleek shade of vetiver form the foundation of the look. Classic lines, soft yet eye-catching material and quality stitching – the set is at once no-nonsense and simplistically stylish. Plus the matched streetwear combo perfectly echoes those monochrome athleisure suits that are being frequently featured on the runway this spring.
To avoid becoming too matchy-match while still sticking with the minimal feel, we introduced another layer with depth and interesting texture with this cozy woven jumper. An abstract print reminiscent of dusty coastal terrain and soft-hues that complement the tones displayed in the shoes, the jumper is a comfortably chic addition. You can then incorporate some more elements of functional fashion by throwing an item like this navy blue ripstop vest overtop. Mixing technical and natural materials, it fits the on-trend utilitarianism without going overboard, and is both practical and in vogue.
The Accessories
Finishing touches complete the transformation. This forest green beaded necklace is a subtle detail that elevates the look. A buckle rolltop backpack made of highly durable material in a military green ties into both the colour scheme and utilitarian theme. Round frame tortoiseshell sunglasses are both practical for the sunny spring weather and a clever way to introduce a new pattern into the outfit. And speaking of patterns, a snow leopard print canteen pays homage to the naturalistic inspiration and gives a cheeky little bit of fun to the look–  plus if we're playing with futuristic elements and earthly aesthetics, nothing is more relevant than reducing your plastic consumption and using a refillable water bottle, right?
PUMA's latest MMQ EARTHBREAK apparel and footwear collection has us connecting to our natural roots and looking towards the future.
Featuring elevated streetstyle silhouettes with a sophisticated minimalism and strong urban utilitarian motifs, feel fashionable and ready for anything.