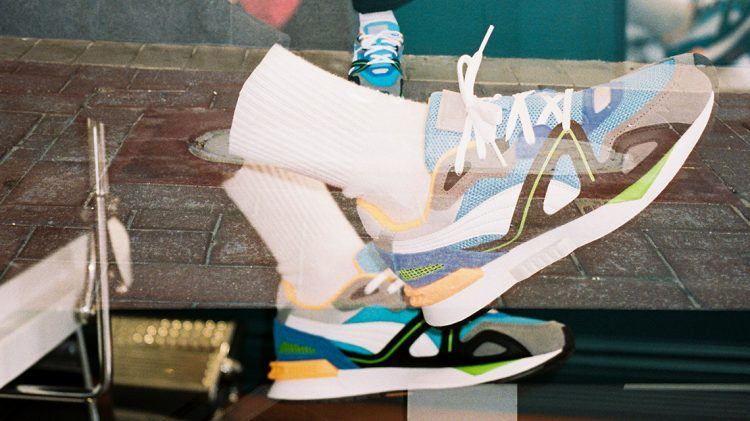 Get the Look
Get the Look:
Mirage Mox
Dance to your own beat
December 5, 2020
Dance to your own beat
December 5, 2020
Inspired by the world of electronic music and DJs,

the new Mirage Mox by PUMA certainly marches to its own beat. And no wonder—from the underground parties of the '90s to what is now a global phenomenon, the electric music scene is all about vibrant self-expression.

Motivated by these amplified sneakers we selected an edgy outfit that showcases your individuality and offers its kudos to musical influences

throughout time.
The Shoes
With trippy colours, futuristic features, and eye-catching layers of materials, these expressive shoes shape up into something special. Working with the iconic silhouette of the Mirage legacy, celebrated for its stable support and lightweight foam technology, Mirage Mox brings its own flair to the floor with a vivid orange and blue palette that energizes the eye. Between the funky colours and comfy fit they are the perfect sneakers to dance the night away.
The whole Outfit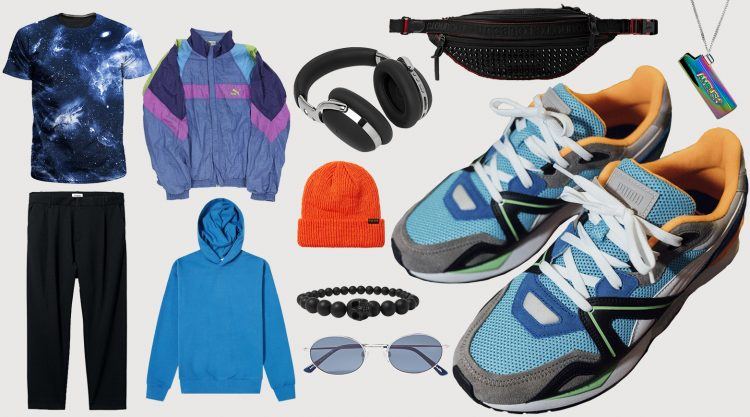 The Outfit
Music is deeply ingrained in our culture and has had a huge effect on streetwear style and fashion in general—before streetwear there was clubwear. So, we dug back in the archives for some EDM inspired trends to pair with the Mirage Mox' musical vibe.
Although baggy trousers and cargo pants have long been the go-to for club-goers, wide-leg silhouettes are poised to be a fit for the future of fashion. These slightly tapered classically cut trousers make the perfect base for the outfit, giving it a contemporary feel without drowning out the other elements.
Moving up, we went with this hypnotic galaxy tee, plucked straight from the EDM scene. Print shirts and graphic tees are must-haves in festival fashion; in a deep, dynamic blue, we thought this shirt was a near-universal hit.
Speaking of—there is nothing more universal than a well-fitted sweatshirt. Comfortable and contemporary, in the ideal shade of blue, this classically cool piece unifies the different elements of the look.
Next up: yes, we are retro-referencing but not definitely not regressive. This vintage Puma jacket celebrates historical leaps and bounds in the rave scene, sportstyle tradition, and all the places where the two have interwoven. The bright aesthetic grabs your attention and doesn't let go.
The Accessories
We were quite liberal with the accessories this time. This black resin bead bracelet with skull detailing feels a little punk or grunge, while the iridescent lighter case necklace is both practical and lit. Stylish sunglasses with frames that are an ode to the '90s pair with a striking orange woolly hat that is both no-nonsense and still down to have some fun. Finish it off with a studded leather-trimmed nylon and mesh bag, which combines a multitude of materials and layers; wear it cross-body or slung casually over a shoulder and use it to store all your goodies.
Baggy in some places and fitted in others, the more shapeless structure ensures your freedom to move to your heart's content.
With the newly launched Mirage Mox, we celebrate the world of electronic music,

looking back at musical fashion trends of the past and looking forward to future days of dancing the whole night long.