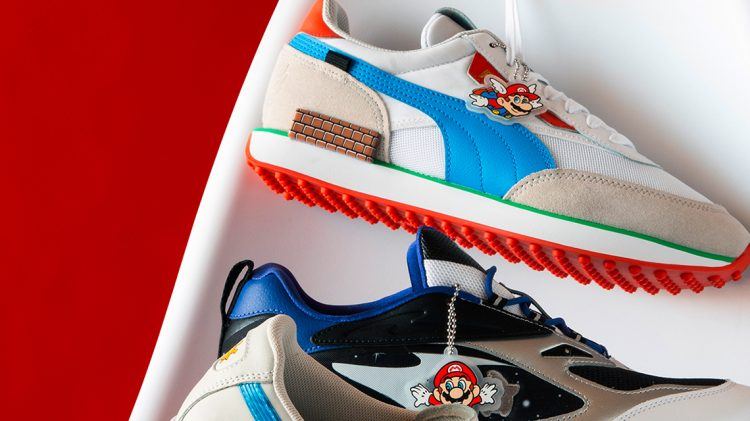 Get the Look
Get the Look:
FUTURE RIDER SUPER MARIO 64 ™
A timeless tribute to fun and games
November 25, 2020
A timeless tribute to fun and games
November 25, 2020
Life is but a game. With the newest
SUPER MARIO 3D All-Stars Collection by PUMA,

we can't help but be reminded of this. Created to commemorate the

35th anniversary of the Super Mario Bros.

franchise, this footwear and apparel collection is an homage to Mario's many adventures. We were inspired by the playful new Future Riders and put together a matching ensemble for all you gamer guys and girls out there.
The Shoe
We find these sneakers to be endlessly entertaining. Inspired by Super Mario's very first 3D adventure, they stay true to the Nintendo DNA by incorporating the familiar colour palette of the game. A classic mesh upper with suede overlay is embellished with a removeable badge showing off Mario in his iconic red and blue outfit (complete with the Wing Cap no less).
Moving down, we notice additional details—bricks on the midsole, a wing embellishment on the heel, Mario's logo on the hangtag and even graphics on the sockliner – the shoe is brimming with childhood memories of our favourite Nintendo protagonist.
The Future Rider Super Mario 64, RS-Fast Super Mario Galaxy, and the Clyde and RS-Dreamer Super Mario Sunshine will be available starting Friday, November 27th. The Future Rider Nintendo Entertainment System shoe will be launching globally on Friday, December 4th. 
The whole Outfit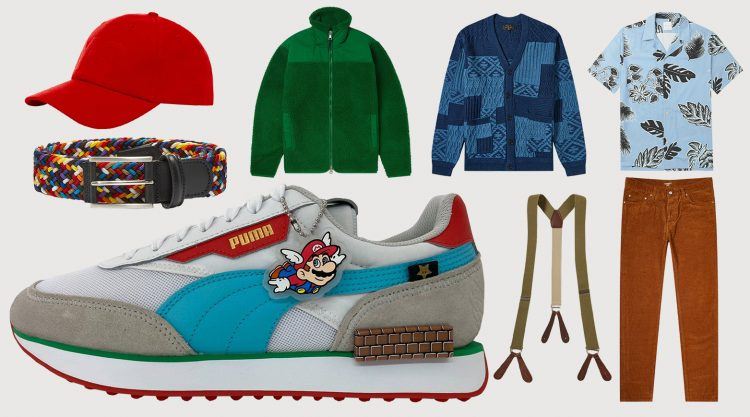 The Outfit
Naturally, the accompanying outfit had to hit the right level of geek chic. Bottoms up—these soft and durable corduroy trousers are also ageless. Did you know: their name comes from France in the 1700's 'corde du roi' or 'cord of the king'. A legacy in material form, this luxe pair of chestnut pantaloons provide a firm foundation for the look.
We may be moving into winter, but you have permission to wear your Hawaiian shirt whenever you like. We are seeing a resurgence of popularity for the classic dad-on-vacation item, and with a year like the one we've just had, perhaps we deserve some Aloha cheer.
Speaking of Dads, maybe they were on to something, fashion-wise. Cardigans are also big right now, and this gorgeous blue patchwork piece is making us feel so cozy and nostalgic. Wrap it all up with another layer of warmth and comfort in the form of this bold green fleece jacket. A statement piece, a staple and just simply snug, the fleece finish makes us feel like a kid again, ready to head outside (or plug in our Nintendo console) and play. Plus, the greens and blues of all these layers nicely complement the colour variants seen in the sneakers.
The Accessories
The final details: a super funky woven belt is exploding with pixelated tones that have us feeling giddy. Stylish suspenders fasten to the trousers and harken back to the good ol' days, securing the outfit's nerdy/vintage vibe. Last but not least; a bright red cap that Mario himself would be envious of.
For many,
Super Mario represents timeless good times,

and even 35 years later it remains one of the world's favourite games. With the new SUPER MARIO 3D All-Stars Collection, and these snazzy Future Riders, embrace your childhood nostalgia and go have some fun!